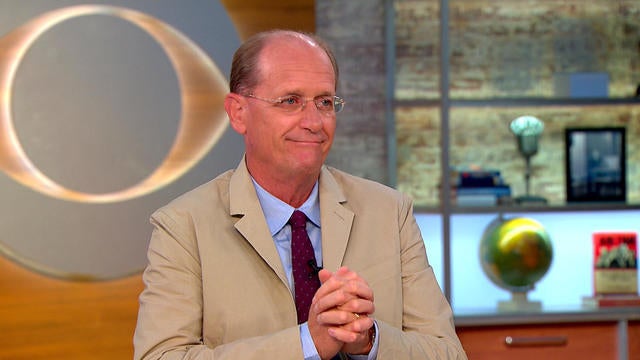 Amtrak's CEO shares his vision for rail's future
Amtrak and other train services are back on track Tuesday morning at the busiest station in the country: New York's Penn Station. More than 650,000 people and more than 1,300 trains pass through the bustling hub daily, which recently underwent a two-month long renovation involving 360 workers installing 897 track ties.
But the work at Penn Station is just the beginning of upgrades the sprawling system needs nationwide. Amtrak's new president and CEO Richard Anderson joined "CBS This Morning" to discuss his goals for the rail system.
Anderson, previously the CEO of Delta, says he came out of retirement for a job with no paycheck to "serve."
"Amtrak is an iconic brand in America and it provides an essential service to many communities," Anderson said. "It's critical to getting people to work every day."
While Japan's bullet trains can reach speeds of 200 mph, Amtrak's fastest trains can only go 150 mph on short sections of track. The CEO of the National Safety Council has called Amtrak "decades behind" other countries in terms of speed. Unfortunately, Anderson doesn't see this changing any time soon.
"In countries like Japan and France, they have dedicated high-speed, much straighter tracks that are built for a very different passenger experience. And we haven't allocated or made the public policy decision – except for the Acela in the Northeast corridor – to make those sorts of investments," Anderson said.
However, he is optimistic about the role of trains in America's future as the popularity of ride-sharing in lieu of car ownership continues and with young people flocking to high-density urban areas.
"More and more mass transit and commuter trains should play a more important role in how we live in urban areas," Anderson said. "First imperative is to get the infrastructure fixed and the work we did at Penn Station shows Amtrak can do a great job doing this. And we have a lot of investment to make in the Northeast corridor. Second, we gotta clean up our trains, run our trains on time, fix the interior of our trains and grow our services in the regions that provide the highest levels of service to the communities around the country," Anderson said.
Anderson said the timeline for these goals is "multiyear."
"If we could just get our train speeds up and operate more nonstop service in very densely populated urban corridors, it would be a great service to the traveling public in America. Think about what Acela has done and we're on the verge of putting a new Acela system in place," Anderson said.
Amtrak is actively working on replacing its current Acela fleet with 28 new train sets that will increase capacity by about 40 percent – meaning half-hourly service between D.C., New York and Boston, according to Anderson.
While the company did consider decreasing the space between seats to make fares more affordable, they ultimately decided against it, Anderson said.
"The thing about much of what we do at Amtrak, our average fare is about $80 and on the commuter rails it's less than $10 on average," he said. "Our coach on Amtrak is much, much better than first class on an airline."
Some people have called for the privatization of Amtrak as a solution to problems that have plagued the train system over the years. Anderson says that won't work.
"You can't really privatize it because there are pieces of it that have to be subsidized," he said. "You could privatize if you wanted the pieces that are profitable but that wouldn't make a lot of sense. Look, this is basic infrastructure. I think the subsidy last year for highways was $40 billion, subsidy for aviation was about $16 billion and when you think about what we do and what's sort of fundamental to public policy, it's to fund infrastructure."
Thanks for reading CBS NEWS.
Create your free account or log in
for more features.