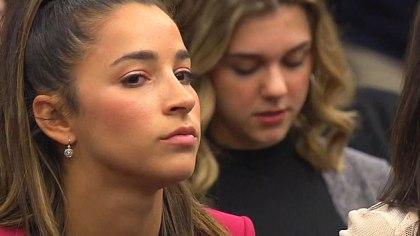 Olympic gymnast Aly Raisman confronts Larry Nassar in court
LANSING, Mich. -- Six-time Olympic medalist Aly Raisman faced her abuser in a Michigan courtroom on Friday. The Needham, Massachusetts native is one of more than 140 women who say former USA Gymnastics team doctor Larry Nassar sexually abused them under the guise of medical treatment.
"You are so sick," Raisman told Nassar. "You took advantage of our passions and our dreams. I am here to face you, Larry, so you can see I have regained my strength. That I am no longer a victim, I am a survivor. I am no longer that little girl you met in Australia, where you first began grooming and manipulating. You caused me a great deal of physical, mental, and emotional pain. You never healed me."
"As for your letter yesterday, you're pathetic to think that anyone would have any sympathy for you," she continued. "You think this is hard for you? Imagine how all of us feel. Imagine feeling like you have no power and no voice. Well you know what, Larry? I have both power and voice, and I am only beginning to just use them. I will not rest until every last trace of your influence on this sport has been destroyed like the cancer that it is."
Raisman then turned her anger toward USA Gymnastics on behalf of the "powerful army of survivors."
"Neither USA Gymnastics nor the USOC have reached out to express sympathy or even offer support," she said. "If over these many years, just one adult listened and had the courage and character to act, this tragedy could have been avoided."
During her testimony, Raisman asked Judge Rosemarie Aquilina to sentence Nassar to the "maximum extent of the law."
"Let this sentence strike fear in anyone who thinks it is okay to hurt another person," she said. "Abusers, your time is up. The survivors are here, standing tall, and we are not going anywhere.
"And please, your honor, stress the need to investigate how this happened so that we can hold accountable those who empowered and enabled Larry Nassar," she concluded. "So we can repair and once again believe in this wonderful sport."
The courtroom applauded Raisman when she finished her speech. Aquilina also praised Raisman for her strength, telling her, "You are part of an unstoppable growing force."
Earlier in the week, Raisman -- a member of both the 2012 and 2016 U.S. Olympic teams -- said she planned to submit a written victim impact statement for Nassar's sentencing hearing, according to CBS Boston. Testifying in person, she said, would be too painful. However, on Friday morning, she appeared in the courtroom and delivered her victim impact statement.
Also testifying Friday was a fellow member of the 2012 "Fierce Five" Olympic team, Jordyn Wieber, who received a hug of support from Raisman. Wieber described talking to her teammates about Nassar's treatments.
"I had no idea he was sexually abusing me for his own benefit," she told the court. "I even talked to my teammates, Aly Raisman and McKayla Maroney, about this treatment and how uncomfortable it made us feel. None of us really understood it."
McKayla Maroney submitted a written statement about her abuse, which was read to the court on Thursday. Two-time Olympic team member Gabby Douglas has also claimed abuse by Nassar, as well as Raisman's 2016 teammate Simone Biles.
Nassar is being sentenced for seven counts of sexual assault. Victim impact statements began on Tuesday, with about 100 victims expected to speak over the course of five days.
Nassar is already serving a 60 year sentence for child pornography.
Thanks for reading CBS NEWS.
Create your free account or log in
for more features.