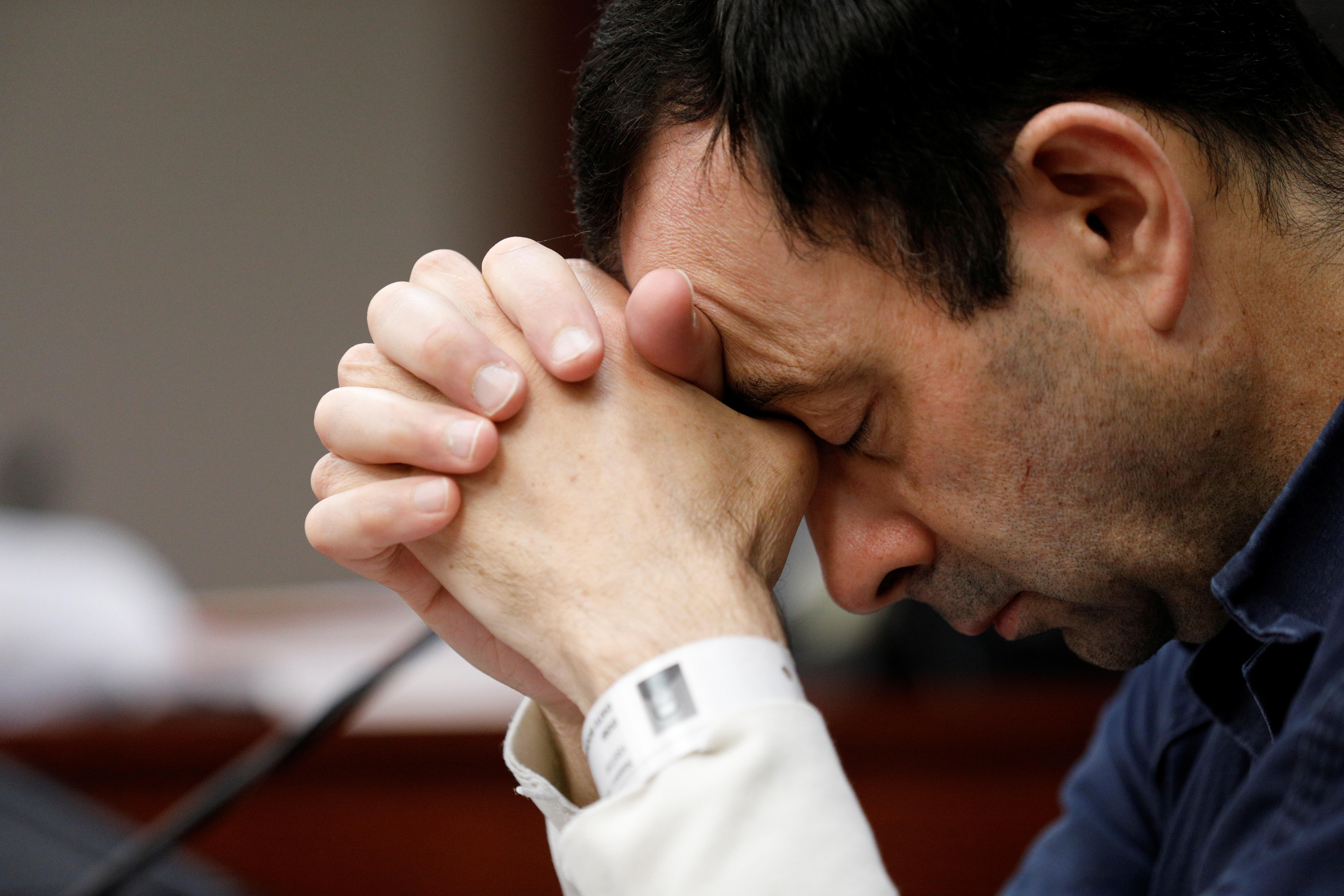 Larry Nassar faced dozens of assault victims in Michigan court
LANSING, Mich. -- A judge is holding an extraordinary four-day sentencing hearing for a disgraced Michigan sports doctor who sexually assaulted young elite gymnasts. Larry Nassar returned to court Tuesday in Lansing.
Dozens of women and girls who were victims were allowed to speak.
Please note, some of their accounts may be graphic:
Jessica Thomashow
Jessica Thomashow, 17, said she was sexually assaulted by Nassar when she was 9 and 12 years old while receiving treatments for a rib misplacement and stress fracture injury to her ankle.
"I was alone in the back room with him. He had me lie down on the table. And he sexually assaulted me," Thomashow said. "He touched the most innocent places on my body that day. When it was over, I was so confused. It was awful and embarrassing. I left and kept the disgusting thing that had just happened to me to myself."
"My dream of becoming a sports medicine doctor ended that day," she continued. "I no longer felt safe and I had problems with trust."
Thomashow said she has "paralyzing" flashbacks to Nassar's actions.
"You took advantage of my innocence and trust," she said. "What you did to me was so twisted. You manipulated me and my entire family. You had no right to do that. You have caused so much pain in my life."
Chelsea Markham
The adoptive mother of Chelsea Markham addressed Nassar on her daughter's behalf during the hearing. While training as a gymnast, Chelsea fell off of a balance beam at the age of 10 and injured her back.
According to her mother, she received treatment from Nassar for several years. During one of her treatments, Nassar allegedly "put his fingers" inside Chelsea, but his hands "weren't gloved."
Chelsea burst into tears on the car ride home and told her mother that Nassar had "hurt" her.
"This was a man that was supposed to be the best in his field," her mother said. "But he abused her. For my daughter, it just became a serious bout of depression."
When she was 13 years old, Chelsea quit gymnastics in wake of the abuse. And in 2009, she took her own life because she couldn't handle the pain, according to her mother.
Jade Capua
Jade Capua, 17, told the judge Nassar stole her innocence when she was 13 years old while receiving treatment at the Michigan State facility in Lansing.
"I couldn't fathom the idea of what had just occurred," Capua told the judge, noting that Nassar stole her "innocence, privacy, safety and trust" during the office visit.
"There are some days that this horrifying experience fills my brain and I can't think about anything else," she continued. "It left a mental scar that unfortunately will always be something that happened. However, I'm a strong believer that wounds heal into scars, and these scars become stories that you share and heal from. Justice must be served."
Capua concluded her statement by telling Nassar he is "not a healer" and that she is "no longer broken" by him.
Alexis Moore
Alexis Moore says she sustained 10 years of abuse and neglect by Nassar during home and office visits.
"For years, Mr. Nassar convinced me that he was the only person who could help me recover from multiple serious injuries. To me, he was like a knight and shining armor," Moore said. "But alas, that shine blinded me from the abuse. He betrayed my trust, took advantage of my youth and sexually abused me hundreds of times."
When Moore was just 9 years old, she underwent treatment for a broken pelvis. At the time, Moore said she felt she had no reason not to trust Nassar because he previously treated her cousins and was friends with her mother and aunts.
During the hearing, she told Nassar he "abused his power."
"I cannot look back anymore," Moore concluded. "I am determined to becoming more involved in making this world a better place."
Rebecca Mark
Rebecca Mark received treatment for a lower back injury, which she sustained during an indoor soccer game as a freshman in high school, from Nassar. She said she'd collapse after practices in pain, but not playing was not an option.
Mark's parents became concerned and set up an appointment with Nassar.
During the office visit, Mark said that Nassar did a scan on her body. At one point, he positioned himself in a way so that her mother could not see his movements.
"I stood straight up in his office where he poked and prodded me," Mark said. "My mom know this doctor would be getting close, so there was no cause for concern. He molested me, and he molested me with my mom in the room."
"My mom and I talked about the appointment afterwards, but I didn't really have the words for what Larry had done. I thought he was looking out for me."
During her statement, Mark said that Nassar's actions made her "feel disgusted and weak." She clarified that she didn't "understand it was abuse" until she was an adult.
Bethany Bauman
Bethany Bauman, 31, addressed Nassar through tears while describing "vivid memories" of an hour-long assault that occurred in an exam room.
"Having to relive my experiences over and over almost 20 years later brings back so many memories and emotions," Bauman said. "I even avoid talking about it with those close to me because I get closed off and irritable."
Bauman told the judge she has since sought therapy to cope with her anxiety and emotions.
Danielle Moore
Danielle Moore accused Nassar of sexually abusing her over the course of a number of years while she was receiving treatment for a back injury, beginning as a young teenager.
"All aspects of my young life was torn apart. I will never be whole again," Moore said. "The pain of the abuse continues to make me feel broken, insecure and worthless ... I've thought about killing myself."
Moore admitted that she's engaged in self-harming behaviors and has stayed in abusive relationships. She spent 30 days in a trauma treatment center, but upon her discharge, she was forced to restart her career and life from scratch.
"I was stuck in the pitch blackness even though the other person was trying to hard to turn on the lights. I still feel unworthy of a pain-free life," she said. "The past year and few months have been the most difficult and trying time of my life. Because of this, I had to resign from my job. As I fell deeper into depression, I no longer wanted to live."
Since the alleged abuse, Moore has made several accomplishments, including earning two master's and doctorate degrees. But she says she's "never once felt worthy of her accomplishments" because of Nassar.
"I feel worthless because of what you did to me," Moore told Nassar as she concluded her statement. "You abused your power, authority and stature to prey on others who were already in pain, helpless and without a voice. I hope that your self-pity is as dark and more terrifying than my feeling of hopelessness."
Nicole Soos
Nicole Soos said Nassar used "his power and position in society" to earn the trust of his young patients in order to gain sexual gratification. Soos said she was sexually abused by the doctor at a young age when she was a figure skater.
"I laid there in pain, unable to speak, staring blankly at the wall, desperately searching for a way to escape," she said. "A tense sense of terror, anxiety and disbelief came washing over me."
According to Soos, the "treatments" occurred multiple times. They ate away at her "innocence as a child."
"This is what I received in return for my dedication to the sport," she said. "The nightmares about what he has done have haunted me night after night. I feel disgusting. I find it hard not only to trust those I've been in intimate relationships with, but also those in positions of power. I have poor self-esteem and frequent episodes of anxiety and depression."
"I was letting the fear, the shame, the guilt own me," Soos continued. "I decided it was time to stand up to Larry Nassar."
Megan Halicek
Megan Halicek claims she was sexually abused at the age of 15 inside Nassar's office. At the time, she was training for Level 10 gymnastics and suffered from a badly fractured spine.
According to Halicek, her gymnastics career was falling apart. But then, she met Nassar, who at the time she thought was "an absolute God."
"He was the only one that could help me," she said. "He was absurdly nice and did everything he could to make me feel comfortable when he saw me. Most of all, he gave me hope. Here I was, a scared little girl in excruciating back pain. This grown man confidently offered me salvation, healing freedom."
"But he turned out to be a monster," she continued. "He was an unwarranted intruder to my most private, never been touched places. Again, and again, and again he abused me all while telling me tales of his Olympic journey."
Halicek recalled she felt as though Nassar's form of "treatment" had been performed on others "many times before."
"I closed my eyes tight, I held my breath and I wanted to puke," she said. "To this day, those feelings are still there."
One day, Nassar finally told Halicek the truth -- her back was untreatable and she would have to quit her beloved sport.
Brianne Randall
"At the time my father was terminally ill with cancer ... Mr. Nassar took advantage of my situation."
"Nassar would penetrate me vaginally and touch my breast ... I was too scared to do something. After he completed his 'treatment,' we sat there. We would schedule weekly meetings."
"I felt powerless and like there was no one I can trust ... my anxiety was at an all time. I began medication and therapy. From this day I still suffer from anxiety ... 13 years later."
"I continued my life as a physician's assistant ... for 13 years I wondered if I was the only one ... and wondered if I scared him enough by filing a police report ... sadly this was not the case."
"I broke down in a huge wave of guilt ... I felt like I should have stood up ... as the victims grew, I was horrified. Mr. Nassar took away the innocence of so many girls. I do feel a sense of relief that no other child will be abused."
"I hope some day he will realize the affects he has had on the victims and their families."
Victim 2
Victim 2 wishes to remain anonymous and submitted a letter to the court.
"I felt dirty and helpless ... so very lost and very sad. I had to relive all of [Nassar's] treatments and remember how he touched me and how he penetrated me without gloves ... and how it affected me."
"In the last year I have had to put a brave face on for my children ... I've had to forgive my parents for not being involved ... I've had to explain to my husband why intimacy has been an issue for me."
"All I wanted to do was compete in my sporting game ... Dr. Nassar was recommended to me ... his reputation, his authorities, his accolades shrouded the truth ... I endured several sessions ... of endless digital penetration. He treated me like an animal ... a piece of meat."
Anna Ludes
Ludes, 25, submitted a video to the court which was played Tuesday.
Lindsey Schuett
Schuett, 34, submitted a video to the court which was played Tuesday.
She was abused by Dr. Nassar when she was a teenager.
"I was going to scream and wail until he [Nassar] never touched me again."
"He will manipulate people wherever there is an opportunity."
Larry Nassar sentencing
Judge Rosemarie Aquilina is expected to order a sentence Friday.
Nassar pleaded guilty to molesting females with his hands at his Michigan State University office, his home and a Lansing-area gymnastics club. He also worked for USA Gymnastics, which trains Olympians.
The Michigan attorney general's office is seeking at least 40 years in prison for the 54-year-old Nassar. He's already been sentenced to 60 years in federal prison for child pornography crimes.
Olympic gold medalist Simone Biles on Monday said she was among the athletes sexually abused by Nassar.
CBS News' Lauren Meltzer and Peter Martinez contributed to this report.
Thanks for reading CBS NEWS.
Create your free account or log in
for more features.