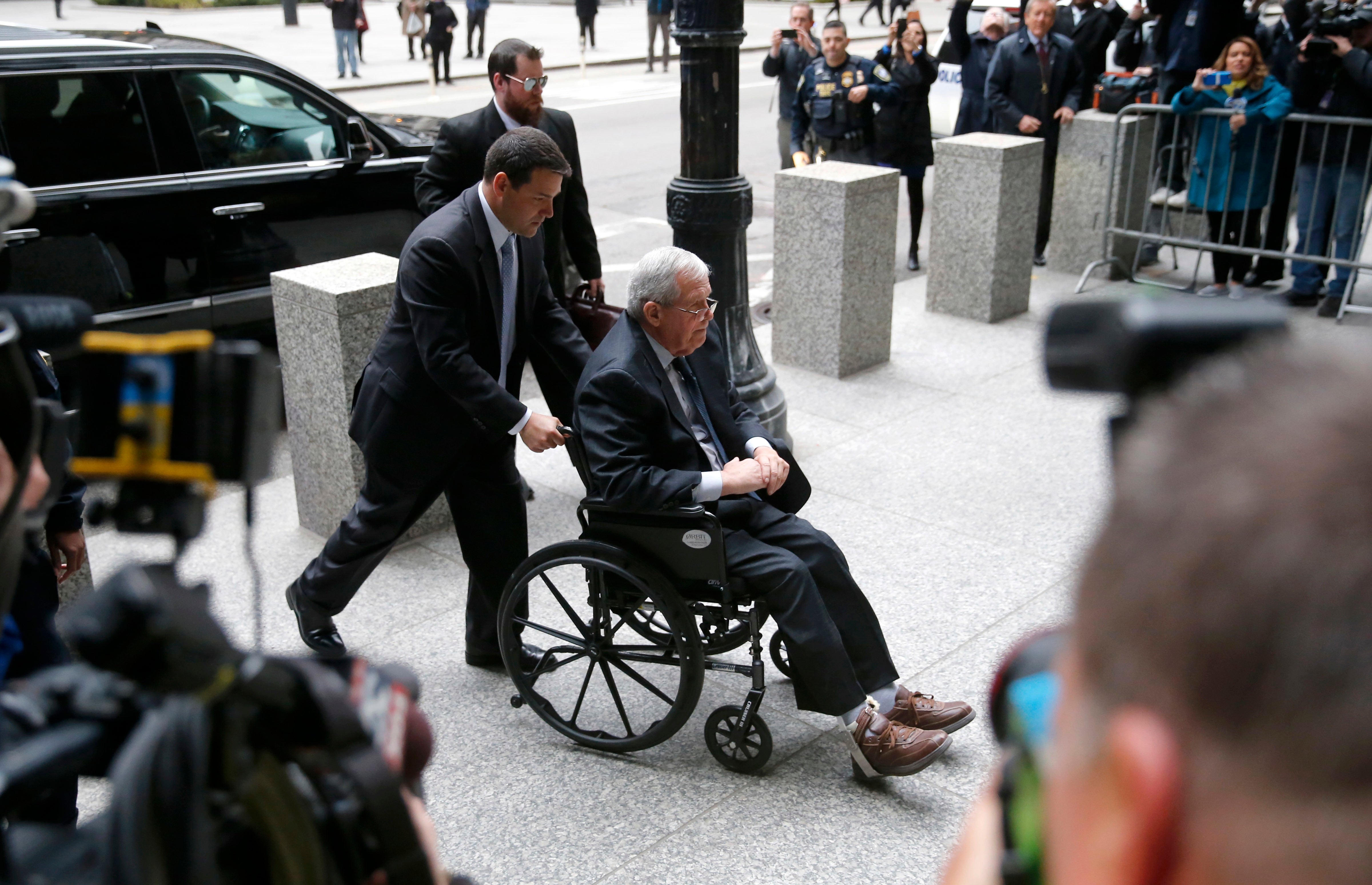 Dennis Hastert admits sexually abusing teenage boys
Former House Speaker Dennis Hastert on Wednesday admitted to sexually abusing teenage boys during his time as a high school wrestling coach in a Chicago suburb before his career as an elected official.
Struggling to stand in federal court Wednesday, 74-year-old Hastert gripped his walker, approached the microphone and said that he "mistreated" some of his wrestlers and apologized.
"They looked to me, and I took advantage of them," Hastert said as he awaited his sentencing after pleading guilty last fall to breaking federal banking laws in a hush-money case. "I apologize to the court and to the people of the United States."
Judge Thomas Durkin sentenced Hastert to 15 months in prison, a $250,000 fine, along with two years of supervised release on the condition that he get sex offender treatment. Prosecutors had recommended a six-month sentence. Durkin called Hastert a "serial child molester" and said he must not contact any of his victims.
"That's necessary to protect the victims," the judge said.
One of the men who has accused Hastert of sexual abuse years ago identified himself in the courtroom Wednesday before Hastert spoke.
The man, previously known only as "Individual D," identified himself as Scott Cross, 53, who lives in Chicago and works in finance. He has a wife and two children.
"Coach Hastert sexually abused me," said Cross, who teared up at times as he identified himself publicly for the first time.
The allegations stem from the time Hastert worked as a wrestling coach at Yorkville High School in a Chicago suburb between 1965 and 1981.
Scott Cross, dressed in a business suit, recounted that he was alone in the locker room with Hastert, who told Cross he could help him lose weight by giving him a massage. Cross said that after a few minutes of a massage, Hastert tried to perform a sex act on him and Cross said he then jumped up and ran out of the room.
Cross said he felt alone and embarrassed and never told anyone about the incident and never discussed it with Hastert.
"I've had trouble sleeping and working," he said, and called the decision to come forward a "huge personal struggle."
He is the younger brother of longtime Illinois House Minority Leader Tom Cross, who served in that leadership role from 2002 to 2013 and retired from the legislature last year. The Chicago Tribune notes that Cross has credited Hastert with introducing him to politics and helping him move up the ladder.
In court, Hastert's lawyer said the former speaker had suggested that the elder Cross could write a support letter on his behalf. But the Tribune reported that by the time the request was made, Cross was aware that his younger brother was "Individual D" and he "did not respond." Hastert's lawyer mentioned the request in order to suggest that Hastert's mental health is severely diminished and could explain why he has lied throughout the investigation.
Prosecutors also called Jolene Burdge, the sister of an alleged Hastert victim who died in 1995. Burdge testified first and read aloud a letter her late brother wrote to their mother five months before he died of AIDS, and she accused Hastert of "sexually molesting" her brother.
"You took Steve's right to develop his sexual identity in a normal, healthy way," Burdge said directly to Hastert, who arrived to court Wednesday in a wheelchair. "Don't be a coward, Mr. Hastert. Tell the truth. What you did wasn't misconduct; it was sexual abuse of a minor."
Admonishing Hastert from the stand, she said, "You were supposed to keep him safe, not violate him," and she continued, "You took his innocence and turned it against him," turning him toward a life of high-risk behavior that eventually killed him.
"I will make you accountable for molesting my brother. I knew your secret and you couldn't bribe your way out," she added.
Hastert, an Illinois Republican, served in Congress from 1987 to 2007, and is the longest-serving House speaker, holding that post from 1999 to 2007.
Cross and Burdge's brother are among at least four victims who have made "credible allegations of sexual abuse," according to a report earlier this month in The Chicago Tribune.
There is also "Individual A" who remains anonymous. That man is suing Hastert for $1.8 million, his attorneys said Monday. He has also accused Hastert of sexually abusing him when he was a teenager.
According to a complaint filed in court Monday, in 2008, the man learned of someone else who had accused Hastert of abuse and confronted Hastert directly. Hastert agreed to pay the man $3.5 million to keep him quiet about the sexual abuse and from June 2010 to December 2014, Hastert paid the man $1.7 million of the total compensation. His withdrawals of the money is what led to the federal investigation that led to him being charged with breaking banking laws. Because Hastert breached the agreement, the man is now seeking $1.8 million.
Hastert pleaded guilty to the charge last October and suffered a stroke soon after that. Prosecutors recommended that the judge sentence him to six months in prison.
Attorneys for "Individual A" said in the complaint that the man suffered for years of severe panic attacks, bouts of depression, unemployment, careers changes, hospitalization and long-term psychiatric treatment.
In a recent memo, Hastert's attorneys said he is "profoundly sorry" for what happened and they asked that he only receive probation instead of a prison sentence.
On Friday, Former Senate Majority Leader Tom DeLay and a number of other former lawmakers and a onetime CIA chief wrote a letter asking for leniency in Hastert's case.
CBS News' Steven Portnoy and Paula Reid contributed to this report.
Thanks for reading CBS NEWS.
Create your free account or log in
for more features.