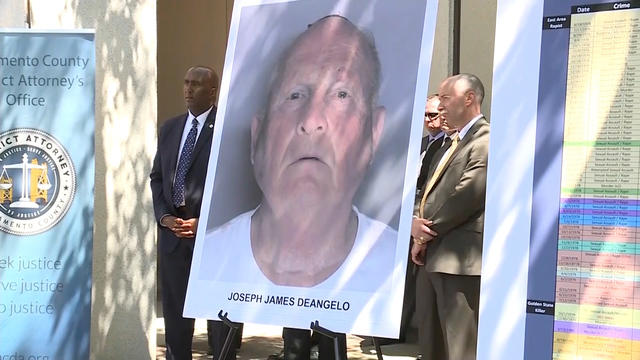 Alleged Golden State Killer's former boss: He was an average cop
AUBURN, Calif. -- Before police named him as the man they suspect of murdering 12 people and raping scores of women, Joseph DeAngelo was a police officer for the Auburn police department.
"There was nothing really while he was working at the Auburn Police Department that would say he was a mass murderer, serial rapist, burglar," former Auburn Police Chief Nick Willick told CBS Sacramento.
Willick was DeAngelo's boss at the Auburn Police Department from 1976 to 1979, first as his sergeant, then as the chief. He remembers DeAngelo as an average cop.
A picture of DeAngelo printed in a 1979 Auburn Journal newspaper shows him promoting a Babe Ruth baseball fundraiser with the police department. The photo was taken in the same era DeAngelo is alleged to have killed and raped dozens of victims.
Soon after the photo was taken, Willick fired DeAngelo for shoplifting.
According to Willick, DeAngelo was caught stealing a can of dog repellent and a hammer from a convenience store.
"If I remember correctly he didn't even have a hearing," Willick said. "I think he waived his hearing. He was prosecuted and we conducted our own investigation. And we terminated him based on the facts of the case."
Willick says the shoplifting case did not appear to change DeAngelo's alleged East Area Rapist crime spree.
"Looking at the history of the crimes, nothing slowed down; if anything it seemed to accelerate," Willick said.
Auburn wasn't DeAngelo's first stop as a cop. Another photo shows DeAngelo from a 1973 Exeter Sun newspaper.
The headline reads "Navy veteran serves Exeter as policeman."
The story includes the line, "law enforcement is his career he says, and his job is serving the community."
Authorities now suspect during his time with this Exeter Police Department from 1973-1975, DeAngelo was also operating as the "Visalia Ransacker," committing a spree of burglaries.
"Sometimes it's just the person next door and apparently, that's what Joe was," Willick said.
Auburn police have started to look for records from DeAngelo's employment. Any possible evidence of his will be turned over to prosecutors for their case against him.
Thanks for reading CBS NEWS.
Create your free account or log in
for more features.