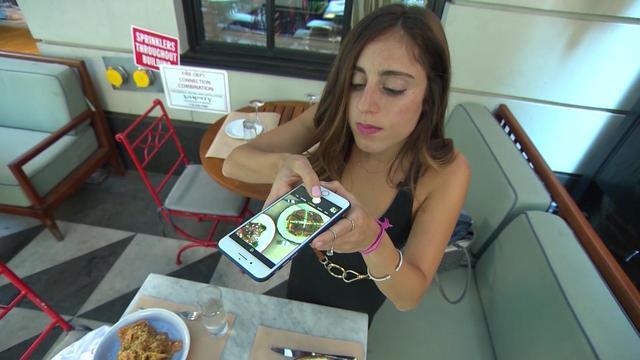 How one Instagram user turned her account into a career
NEW YORK -- When you're looking at pictures on social media, sometimes they seem perfect enough to be an advertisement. And sometimes, that's exactly what they are.
Social media influencer Alexa Mehraban's job sounds too good to be true. She takes pictures of food and posts them on Instagram. Companies pay her to do it.
"Once I started working with brands, and working on paid posts, and creating advertisements, I realized people were really starting to see the value in what I was doing," Mehraban said.
More than 270,000 people follow her "Eating NYC" Instagram account. She's considered a social media influencer because her posts theoretically influence her audience about what and where to eat.
Gil Eyal is founder of Hypr Brands, which runs a search engine for companies looking for the right influencer to sell their products.
"It's a basic rule of marketing," Eyal said. "The better you target, the more targeted your audience is, the better the outcome is likely to be."
Eyal said this new form of advertising is especially popular in the fashion, beauty and leisure industries. He said there are 10 million influencers, all of whom are supposed to identify paid posts as ads, but as many as 90 percent do not.
"Now, we're seeing a shift towards disclosure because the [Federal Trade Commission] has kind of stamped down and said, 'Okay, we're looking at you,'" Eyal said.
Mehraban has promoted brands as big as Oreo and McDonald's.
"I've kind of had the opportunity to watch this whole cultural transformation unfold," she said.
If a picture is worth a thousand words, for Mehraban, it can also be worth thousands of dollars.
Tune in Monday, Aug. 14 at 10 p.m. ET/PT on CBS and on our streaming network CBSN to watch "CBSN: On Assignment" get an exclusive look inside Instagram, where engineers are using cutting edge technology to create "kindness." Are they going too far to limit free speech?
Thanks for reading CBS NEWS.
Create your free account or log in
for more features.