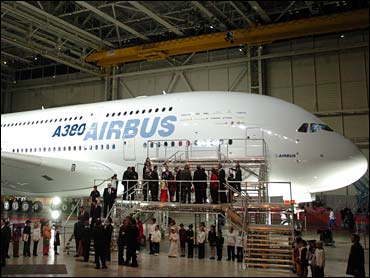 Airbus Unveils 'Superjumbo' Jet
Airbus showed off its giant A380, a double-decked behemoth that could revolutionize long-haul flying, at a lavish ceremony Tuesday with European leaders gathered for the first official look at the world's largest passenger plane.
Airbus is betting its newfound status as the world's leading jet maker on the "superjumbo" that has a 262-foot wingspan, a tail as tall as a seven-story building and which cost $13 billion to develop.
French President Jacques Chirac, as well as the leaders of Britain, Germany and Spain — Airbus' other three government backers — and CEOs from the 14 airlines and freight transporters that have so far ordered the A380 attended the elaborate ceremony at company headquarters in Toulouse, southern France.
Chirac called the A380 "a veritable liner of the skies" and said its debut "is for all of us a moment of emotion and pride."
"Your adventure is a great success for Europe," he told Airbus workers.
The show before almost 5,000 guests debuted with music, clouds of dry ice and dancers in the hangar where A380s are assembled, one of the largest enclosed spaces in Europe. Projected images of planes from the Airbus range sped across the hangar walls and dancers suspended on wires appeared to walk on thin air.
Children tugged on white cords to pull down a curtain, unveiling the plane lit in blue behind.
The launch of the A380 seemed certain to become a milestone in civil aviation history alongside the 747 and Concorde. Unlike the supersonic Concorde, however, whose claim to fame was how fast it crossed the Atlantic, this latest fruit of European aerospace cooperation will ultimately be judged on how fast it makes money.
Airbus has already taken 149 orders for the $280 million plane, "which for a plane of this size that has not yet flown is an extraordinary commercial performance," Airbus CEO Noel Forgeard said.
Airbus says companies have options on dozens more and that the program will break even after 250 sales — an objective it hopes to reach within three years.
In all, the company expects to sell 700-750 aircraft; "It's a plane that will fly for 30 to 40 years," Forgeard said.
Airbus trailed Boeing Co. until 2003, when it delivered more planes than its U.S. rival for the first time — a feat it matched last year, with 320 deliveries to Boeing's 285, and is likely to repeat this year.
Sustaining that lead will depend partly on the outcome of Airbus' audacious bet on strong demand for the A380. Airbus plans the first test flight of the 280-metric ton (308-ton) plane sometime before March 31.
In a three-class cabin layout, the A380 will carry 555 passengers — 33 percent more than the plane it is designed to displace, Boeing's veteran 747. The A380 has 49 percent more floor space — leaving additional room for features such as on-board shops, bars, casinos or even nurseries.
On a full tank, it will also carry passengers 5 percent farther than Boeing's longest-range jumbo, Airbus claims, producing costs per passenger that are up to one-fifth below its rival's.
How the plane's extra space is used will be left up to airlines, whose A380 cabin designs have remained closely guarded. In the future, low-cost carriers could operate the A380 with a single economy-class configuration accommodating as many as 800 passengers.
Virgin company chief Richard Branson said his airline, which has ordered six A380s, will offer private double beds for first-class passengers and casinos.
The chairman of Dubai-based carrier Emirates, which is so far the largest A380 customer with 45 orders, said the plane was a "key element in our future growth" and offers "the widest cabin of any aircraft in the world."
"It provides lower seat-mile costs and carries more passengers further and consumes less fuel than its competitors," Sheikh Ahmed bin Saee Al Maktoum said.
Chew Choon Seng, CEO of Singapore Airlines, said the A380 would increase passenger and cargo capacities "without increasing aircraft movements and without congesting the skies and adding to congestion on airport taxiways and runways."
Singapore Airlines will begin using the plane for services to London and Sydney when it becomes the first carrier to carry commercial passengers aboard the A380 in mid-2006, he said.
Airbus hopes to sell 750 superjumbos to airlines operating services between the busiest airports, mainly in Asia, which serve as hubs, or stopovers between connecting flights.
Boeing, on the other hand, sees demand for only 400 jets larger than its 747 over the next two decades, as air passengers increasingly gravitate toward direct flights aboard a new generation of smaller, long-range jets like its planned 7E7.
The superjumbo's entry into service next year is a challenge to already stretched airport infrastructure.
London's Heathrow airport says it is spending over $800 million, providing everything from double-decker passenger ramps to enlarged baggage conveyors capable of processing 555 passengers on one flight.
Other airports are spending billions more on similar improvements, but there is concern that some may not be ready in time.

Thanks for reading CBS NEWS.
Create your free account or log in
for more features.