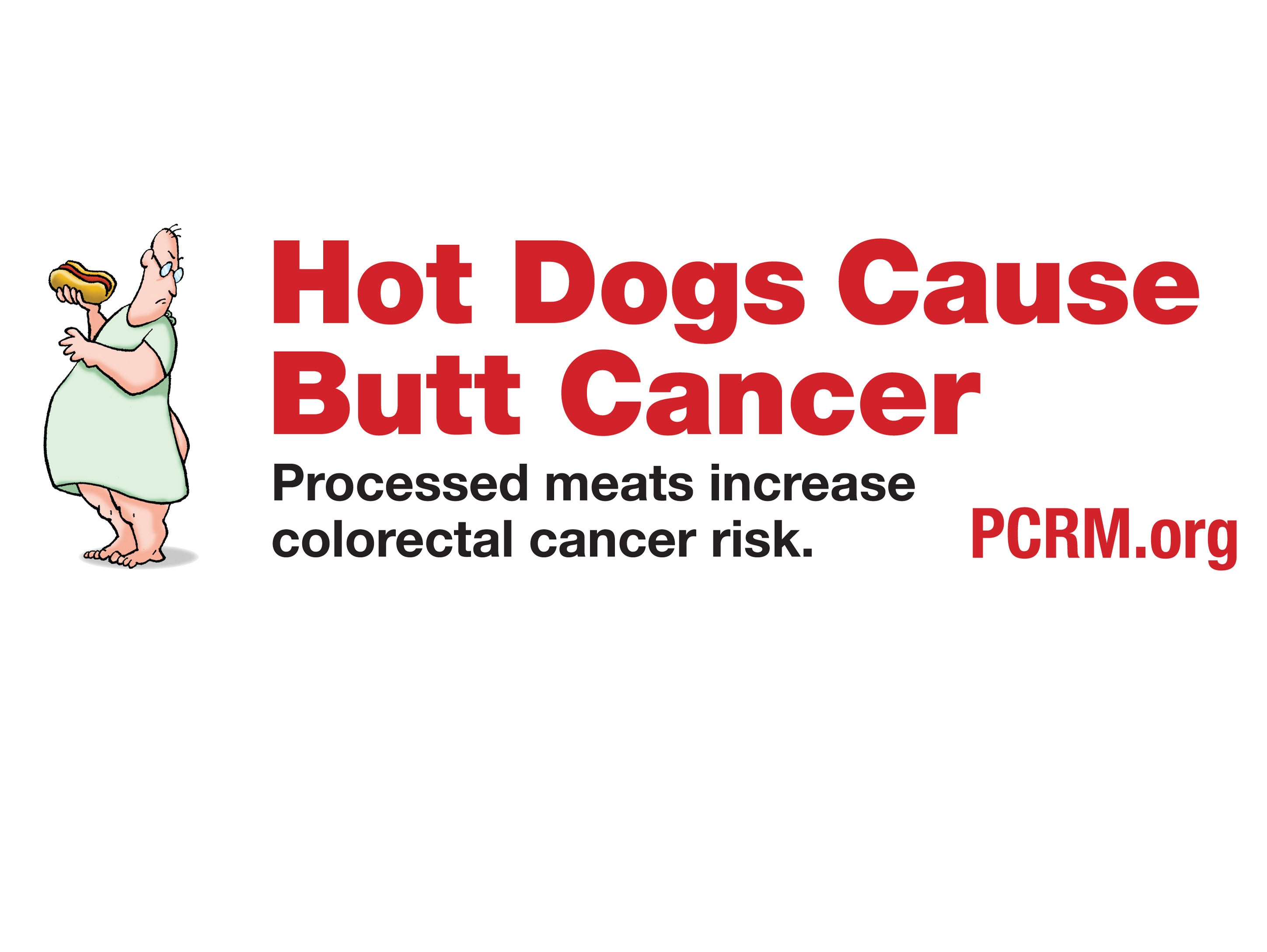 Advocacy group claims hot dogs cause "butt cancer" on Chicago billboard
(CBS News) - Hot dog happy Chicago residents are being told that their favorite meat may cause colon cancer. A new billboard has popped up in the skyline featuring a man in a hospital gown looking at his rear next to the words "Hot dogs cause butt cancer: Processed meats increase colorectal cancer risks."
The billboard is sponsored by the Physicians Committee for Responsible Medicine (PCRM), a non-profit nutrition advocacy group that focuses on diet as a way to prevent disease and reduce symptoms. Nutrition education director for PCRM, Susan Levin, told Healthpop that recent studies have helped highlight the importance of a healthy diet.
"The evidence is just overwhelming that processed meats do lead to colorectal cancer, or as the billboards say, butt cancer," she said.
Study: Red meat raises risk of dying, risk higher with processed meats
The American Cancer Society claims that in addition to hereditary factors and age, certain types of diets - especially those high in red and processed meats - can increase risk of getting colorectal cancer. Recently, a study in the Archives of Internal Medicine also showed that daily consumption of processed meats can increase a person's chance of dying from a chronic disease by 20 percent, Healthpop reported.
According to the National Cancer Institute, there will be 103,170 new cases of colon cancer in 2012 and almost 52,000 people will die this year because of it.

PCRM claims Americans consume 20 billion hot dogs a year, not to mention the large amounts of bacon, cold cuts and other processed meats eaten at each meal. The group decided to put the billboard in Chicago because hot dog restaurants supposedly outnumber fast food locations in the Windy City.
Using the term butt cancer is certainly a direct way to get the point across, but Levin said the dire need to educate Americans about the risk made the language necessary. According to a survey conducted by ORC International of Princeton, N.J. and sponsored by PCRM, 39 percent of Americans don't even know what the colon is.
"We're just trying to be really clear here because it's too dangerous not to be," she said.
Recent studies have also tied eating processed meats to increased risks for bladderand pancreatic cancer.

However, some in the hot dog industry are claiming that PCRM is making uninformed statements to promote a vegan cause. "Hot dogs are a great Chicago tradition and part of a healthy, balanced diet. They come in a variety of nutrition and taste formulas and they are an excellent source of protein, vitamins and minerals," said National Hot Dog & Sausage Council President Janet M. Riley in a press statement. "This group's claims are an effort to seek attention for their animal rights cause."
"PCRM is an advocacy group that pitches the adoption of meat-free diets and are clearly leveraging extreme and sensationalized tactics to further their agenda," said a spokesperson for Sara Lee, which produces Ball Park hot dogs, via e-mail. "We believe that the key to a healthy lifestyle is a combination of a moderate, balanced diet featuring a wide variety of choices and regular exercise. We are joined in this view by many health organizations, researchers, nutritionists and fitness experts."
In addition, one of the supposedly carcinogenic ingredients of the hot dog may not cause cancer. Research presented at the American Association for Cancer Research's 10th annual International Conference showed that colon cancer rates have not have changed since a mandate to reduce the amount of nitrate in hot dogs was put in place in 1978. Sidney Mirvish, professor emeritus at the Eppley Institute for Research in Cancer and Allied Diseases, said in the press release that this suggests that nitrates may not be carcinogenic.
Another Brigham Young and Harvard University study published in Epidemiology in 2004 involving more than 725,000 men and women showed no connection between red or processed meat and colon cancer, but did add that fish and poltry may lower risk.
While Levin encourages people to eat whole fruits and vegetables, she said she understands the hankering for a juicy, grilled hot dog. She says instead of heading for the typical brands, try a meat alternative like tofu or wheat gluten.
"Once you pile on the relish, sauerkraut and mustard, you can't tell the difference," she said.
Thanks for reading CBS NEWS.
Create your free account or log in
for more features.