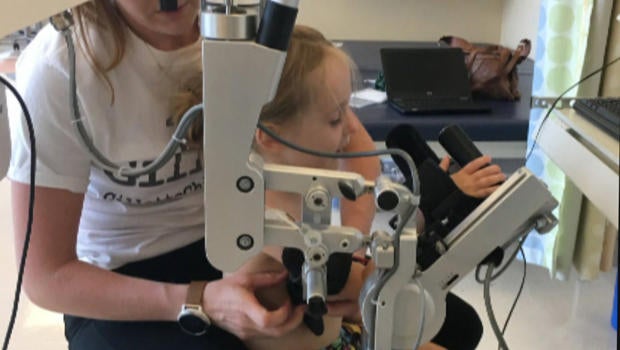 Unusual number of Minnesota children diagnosed with rare, paralyzing disorder
Health investigators are trying to figure out how some Minnesota children contracted a rare illness with polio-like symptoms. At least six children in Minnesota have been diagnosed and hospitalized with acute flaccid myelitis (or AFM) since September 20. On average, the Minnesota Department of Health sees only about one case per year.
Health experts say the disease can lead to paralysis and even death.
For one Minneapolis boy, he started to have trouble moving as he recovered from a cold. Elaine and Michael Young said that soon after their now-four-year-old son Orville developed a fever in July, he started losing mobility in his right arm.
"I said, 'Hey, buddy, can you lift your right arm?' And he goes, 'I can't,'" said Elaine.
The Youngs say doctors ran several tests, but only got closer to a diagnosis after a second MRI. "The results come back that he had an abnormality through his entire spinal cord," said Elaine.
Orville was diagnosed with acute flaccid myelitis, or AFM, and spent six days in the hospital. At his worst, the Youngs say, Orville was unable to move the upper part of his right arm and had difficulty moving his legs and sitting up.
Michael Young said, "I just felt so sad for him that this thing that we didn't know about and couldn't protect him from had happened and had taken a lot away from him."
Since mid-September, six children under the age of 10 were hospitalized and diagnosed with AFM in Minnesota. One possible way it can develop is from viral infections.
"It's very, very rare – it's about one in a million," said Kris Ehresmann with the Minnesota Department of Health.
AFM affects the spinal cord. Symptoms can include limb weakness, facial drooping, and trouble swallowing or speaking. Ehresmann said, "If you have a child that is having these kinds of symptoms, they should be seen, evaluated, immediately."
The Youngs say Orville has regained most of his muscle function, except in his upper right arm. They don't know if he'll be able to move it again.
Correspondent Jamie Yucca asked, "How confusing is this to him?"
"You know, he's a trouper," said Elaine Young.
Michael added, "He's remarkably, like, able to wrap his head around this as it's going on. He's kind of like, one day at a time, whereas we're worried about the whole rest of his life."
Orville is in therapy and faces possible surgery.
Since 2014, more than 360 cases of AFM have been reported in the U.S. There's still a lot doctors don't know about it, and there aren't specific treatments available.
Avoiding germs could help lower the risk of getting the disease, including washing your hands or staying up-to-date on vaccinations.
Thanks for reading CBS NEWS.
Create your free account or log in
for more features.