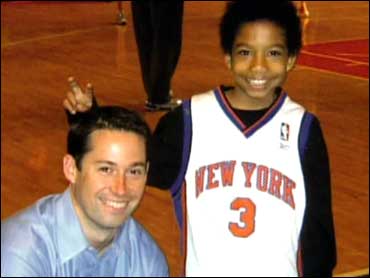 Acts Of Kindness Restore Kids' Hope
Hasani Houston is like a lot of 9-year-old New Yorkers. His dreams are simple: Perfecting his crossover dribble and honing the stroke of his outside shot.
But, as CBS Evening News anchor Katie Couric reports, those are just some of the skills Hasani had to learn on his own because five years ago today, his dad, a Port Authority police officer, was killed in the south tower of the World Trade Center.
"I really miss him," Hasani says. "I miss playing sports with him, and talking to him. He was like the only man of the house. I was the man of the house in training."
Two years after the terrorist attacks, Hasani's mom moved him and his younger sister from their New Jersey suburb into Manhattan. It was a new neighborhood, a new start, but there was a familiar void.
"I just needed somebody to have fun with him, throw the ball around, a male someone, to kind of just hang out with him," says his mother.
Enter Tuesday's Children, a privately funded charity created in the ashes of 9/11. The group's goal is to provide 9/11 families with effective programs and resources that will enrich their lives, like finding a mentor for Hasani. An unlikely match was found in David Herzog, a recently married, 30-year-old banker with no children of his own.
"It's been really cool to have him around — just someone I could talk to, like guy talking," Hasani says, laughing.
But trash-talking led to trust, and David his now been mentoring Hasani for a year and a half.
"He's become my best friend. And it's really making me feel a lot better," Hasani says.
If their friendship had a defining moment, it was last year, when on a crisp autumn afternoon, Hasani asked David to teach him to ride his bike.
"I came over in my normal gym clothes. We played basketball, so I had shorts and a T-shirt on and it was just a little too cold to go outside and do that," David explains. "He went to the closet and he pulled out a windbreaker, which I put on. I caught the reflection in the mirror ... and it was his dad's jacket."
When David asked Hasani if it was Ok if he wore the jacket, Hasani wasn't even fazed by it.
"It was cool. It didn't bother me at all," Hasani says.
But David says it was a surreal experience for him. "Holding the side of his bike, and taking him back and forth, you know, it kinda felt like we weren't the only two people there," he says.
Hasani says it "definitely" felt like his dad was maybe going along for the ride in a way.
Hasani says no one will ever replace his father, and David says he's not trying to. But it "takes away" a lot of the pain, he says.
"He's great," Hasani says, referring to David.
"I'm glad you think so," David responds.

Thanks for reading CBS NEWS.
Create your free account or log in
for more features.