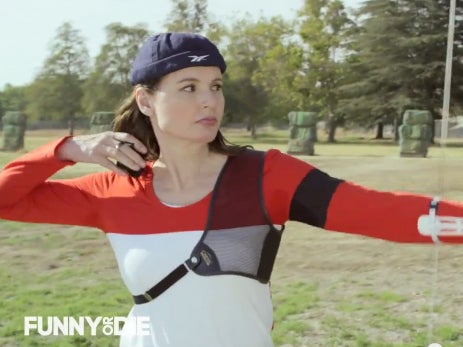 Actress Geena Davis has mad archery skills
(CBS News) Before Katniss Everdeen went Hungry, and Merida was Brave, actress Geena Davis was truly in A League of Her Own as the original master of archery (and handguns and hammers). Well, that's the way comedy website Funny or Die sees it, anyway. Check out its bad-ass depiction of Davis in the hilarious video above.
Reminding us just how many great movies she's done by referencing famous lines and witty quips throughout -- (not to mention sporting her baseball uniform from "A League of Their Own") -- Davis not only nails the bullseye and various other targets on the proverbial head, but she simultaneously slays with her humor and her deadly skills (sayonara paparazzo) in Funny or Die's latest celeb spoof.
With every raise of her eyebrow and wicked flick of her hair, Davis reminds us that she's really quite fabulous. And lest the Katniss-loving generation forget, she was here first. Calling attention to entertainment's most recent bow and arrow-touting heroines, she says: "Ladies, you're welcome for the inspiration" while holding up movie posters of Pixar's "Brave" and "The Hunger Games." And true to Funny or Die form, she's touting a cause: to "support gender equality in film, television, and archery." Oh, and also, there's no crying in archery.
Thanks for reading CBS NEWS.
Create your free account or log in
for more features.