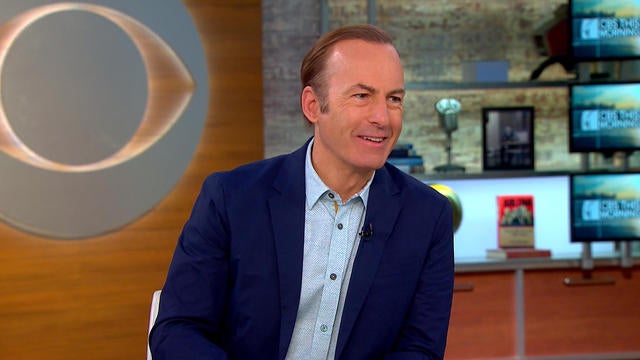 Bob Odenkirk on "hilarious" and "heartbreaking" series "Better Call Saul"
Actor Bob Odenkirk made a name for himself as Walter White's unscrupulous lawyer, Saul Goodman, in AMC's hit series "Breaking Bad." But that show's critically-acclaimed prequel, "Better Call Saul," isn't about the eponymous Saul -- it's about Jimmy McGill. The series is a deep and nuanced character study of how and why Jimmy, desperate to impress his lawyer older brother, transforms into the Saul we meet in "Breaking Bad."
The AMC show has earned nine prime-time Emmy nominations for its third season including Outstanding Lead Actor in a Drama Series for Odenkirk. It explores McGill's struggle to maintain his law practice as his ethical code slowly deteriorates.
Odenkirk told "CBS This Morning" that while Jimmy McGill is a "joy to play" he has a little more trouble portraying Saul Goodman.
"He really took a big step towards being Saul Goodman," Odenkirk said of the most recent season.
Odenkirk recounted a time when he even called the show's creator and executive producer and said, "'Does he have to do this? Does he have to be so bad? And they said, 'Hey Bob, that's the show!'"
"I do love this guy, I love this guy Jimmy McGill and Saul is somebody I don't like so much. He's a guy who basically -- very mercenary, selfish, the art of the deal kind of guy who just wants to use the people around him. He doesn't really care how it affects them. Jimmy is a guy who does care if he's hurt anyone," Odenkirk said.
While the series is billed as a drama, it is dotted with moments of levity that make use of Odenkirk's background in comedy.
"They write these hilarious moments for me and I come from comedy so when I get to do those comic moments it's a joy for me," Odenkirk said. "It's a wonderful thing to read a script and on page five there's this hilarious commercial he's making and a swindle he's putting on, and on page 10 there's an emotional, heartbreaking scene between family members."
The actor's appearance on "CBS This Morning" came just a day after President Trump's controversial press conference on the violent Charlottesville protests in which he blamed "both sides." He said it led to a "difficult" conversation with his 16-year-old daughter.
"It makes me feel terrible that this is the world that they are stepping into," Odenkirk said. "I try to get past being flabbergasted by it. But I guess we all have and ask ourselves what we can do to get things to change back into a better place."
To watch Odenkirk's full interview from "CBS This Morning," click the video player above.
Thanks for reading CBS NEWS.
Create your free account or log in
for more features.