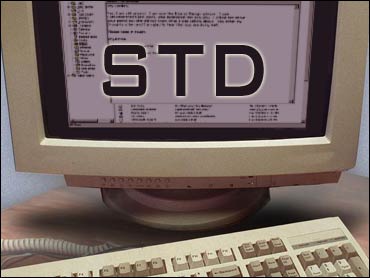 'Abstaining' Teens Still Get STDs
Teens who pledge to remain virgins until marriage have the same rates of sexually transmitted diseases as those who don't pledge abstinence, according to a study that examined the sex lives of 12,000 adolescents.
Those who make a public pledge to abstain until marriage delay sex, have fewer sex partners and get married earlier, according to the data, gathered from adolescents ages 12 to 18 who were questioned again six years later. But the two groups' STD rates were statistically similar.
The problem, the study found, is that those virginity "pledgers" are much less likely to use condoms.
"It's difficult to simultaneously prepare for sex and say you're not going to have sex," said Peter Bearman, the chair of Columbia University's Department of Sociology, who co-authored the study with Hannah Bruckner of Yale.
"The message is really simple: 'Just say no' may work in the short term but doesn't work in the long term."
Data from the study, presented Tuesday at the National STD Prevention Conference, was taken from the National Longitudinal Study of Adolescent Health. That study was funded in part by the National Institute of Child Health and Human Development and the Centers for Disease Control and Prevention.
Once the data from the early findings study have been reviewed by peers, they will be submitted for publication, Bearman said.
Critics of abstinence-only education saw the findings as evidence that adolescents benefit from sex education.
"It's a tragedy if we withhold from these kids information about how not to get STDs or not to get pregnant," said Dorothy Mann, executive director of the Family Planning Council, an organization dedicated to reproductive health services.
The study found that the STD rates for whites who pledged virginity was 2.8 percent compared with 3.5 percent for those who didn't pledge. For blacks, it was 18.1 percent and 20.3 percent. For Asians, 10.5 percent of virginity pledgers had STDs compared with 5.6 percent of non-pledgers. For Hispanics, it was 6.7 percent and 8.6 percent.
Bearman said that from a statistical point of view the numbers were the same. Overall rates combining all races wouldn't be valid, he said.
"The point is, substantively, that if you knew someone who pledged, and you knew someone who didn't pledge, you had no basis for thinking that one of them would have an STD over the other," he said.
The study also found that in communities where at least 20 percent of adolescents pledged the STD rates for everyone combined was 8.9 percent. In communities with less than 7 percent pledgers, the STD rate was 5.5 percent.
"It is the combination of hidden sex and unsafe sex that creates a world where people underestimate the risk of STDs," Bearman said.
The study's other findings:
59 percent of males who did not pledge abstinence used a condom during sex; only 40 percent of male pledgers used a condom.
28 percent of female non-pledgers were tested for STDs in the previous year, compared to 14 percent of female pledgers.
99 percent of non-pledgers and 88 percent of pledgers have sex before marriage.

By Jason Straziuso
Thanks for reading CBS NEWS.
Create your free account or log in
for more features.