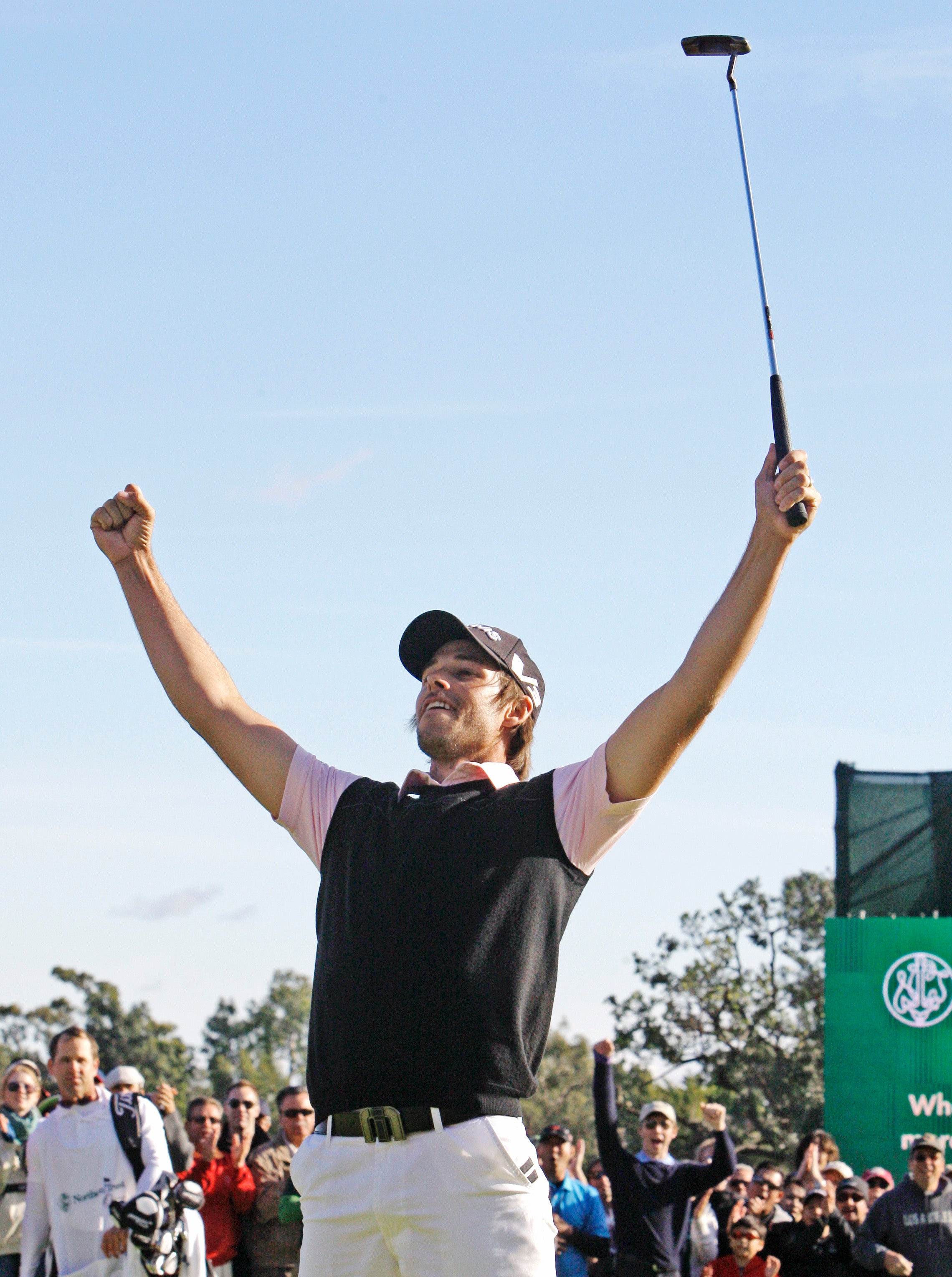 Aaron Baddeley wins at Riviera
LOS ANGELES - Finally a winner again, Aaron Baddeley raised his arms when his last putt dropped into the cup Sunday in the Northern Trust Open as his wife and two young daughters came over to share the moment.
They might have been among the few cheering him on at Riviera.
Baddeley could hear chants of "Freddie!" at every turn, and it got even louder when Fred Couples birdied the opening three holes to take the lead. Unfazed, Baddeley cared only about a victory that was just as meaningful to him.
"I thought Freddie was going to be tough today because winning is a skill, and Freddie has been winning quite often recently," Baddeley said. "When he got off to a good start, I was like, 'Freddie looks like he's going to have one of those days where he's going to play great.' I was still just trying to focus on my game, and try to do what I needed to do."
He did just enough. In a battle of generations, the 29-year-old Australian made his best putt after his only big mistake and closed with a 2-under 69 to hold off Vijay Singh and Couples, and win for the first time in four years.
Baddeley wound up with a two-shot win over Singh, who turns 48 on Tuesday. The big Fijian closed with a 69 for his best finish in more than two years. Couples, who still had hope on the 16th, bogeyed two of the last three holes and shot 73 to tie for seventh in his bid to become the PGA Tour's oldest winner in more than 35 years.
"I'm a golfer, so I'm disappointed," Couples said.
With his tender back, it only took one hole for Couples to fall apart. Tied for the lead, he pushed his tee shot into the barranca to the right of the seventh fairway in grass so thick he had trouble finding his ball. Couples gave it a ferocious whack, and the ball came out to the left and into a bunker. He wound up making double bogey, a three-shot swing when Baddeley holed a 20-footer for birdie from the fringe.
"I just didn't feel the same after that," Couples said. "I didn't really hurt myself, but I never hit a shot, and I just got it around. I mean, I couldn't hit an iron. I hit a few good drives, but I was afraid to hit the ground, hitting it that hard out of that stuff. I did get off to a good start, and that was where it ended.
"It's nothing bad," he said. "I'm not having any excuse. It's just after that point, I never hit a shot."
It was the third career PGA Tour win for Baddeley, whose game had slipped so much that he had plunged to No. 224 in the world. This isn't enough to get back into the top 50, but at least he can book a trip to Augusta National in April for the Masters.
Singh, who only three weeks ago had fallen out of the top 100 in the world for the first time in more than 21 years, had his highest finish since he won the Deutsche Bank Championship in 2008 on his way to the FedEx Cup. Despite back-to-back bogeys on the back nine, he gave himself a chance to the very end.
Singh said it was the best week with the putter in his career, which would include his 2000 Masters victory. He took only 105 putts for the week, including just one three-putt in the second round.
"That's a great, great thing to have when you're putting well," Singh said. "I haven't done that for a long, long time. This is going to get me some places."
Baddeley, who finished at 12-under 272, won for the first time since the 2007 Phoenix Open. He had been one of the early proponents of the "Stack & Tilt" swing method until deciding to go back to his old teacher, Dale Lynch, two years ago. His goal was to be able to move the ball both ways without having to think about it, and the swing held up just fine on a sunny afternoon along Sunset Boulevard.
"To be honest, it felt like coming home," Baddeley said of his return to Lynch, his first coach as a teenager in Australia. "Dale and I have spent a lot of hours together, and at times it's been frustrating, but like I said, that end product ... we knew what we were working toward, and that was the key."
Kevin Na made good putts on the last two holes for a 71 that put him alone in third place.
Couples was showing his age on the practice range, where his back is so tender that he only warms up with a driver and fairway metals to stay more upright. With a driver in hand, he teed up two balls at a time to keep from stooping over.
On the course, he looked like the Couples of old.
Couples opened with three straight birdies to bring Riviera to life, just like the old days. He chipped in for birdie from just off the second green, pointing his club to the cup with his left hand in a pose that has become familiar over the years. Then came a 20-foot birdie on the third to give him the outright lead.
But it started to come undone on the par-3 sixth, where the tee was moved forward and the pin was front and right, away from the bunker in the middle of the green. He flared it to the right and missed a 4-foot par putt.
And then came what he called a "comedy of errors" on the seventh.
Equipped with the lead, Baddeley never let it go. His only mistake was hitting into the trees on consecutive shots and missing a 2-and-a-half foot putt to take double bogey on the 12th. Baddeley responded swiftly, making a 20-foot birdie putt from the fringe with 8 feet of break.
He made pars the rest of the way, and no one could catch him.
"It's definitely been a couple of long years, but it was worth every bit," Baddeley said. "I really feel that the last couple years is actually what made it easier today ... the character that was just built in me."
Thanks for reading CBS NEWS.
Create your free account or log in
for more features.