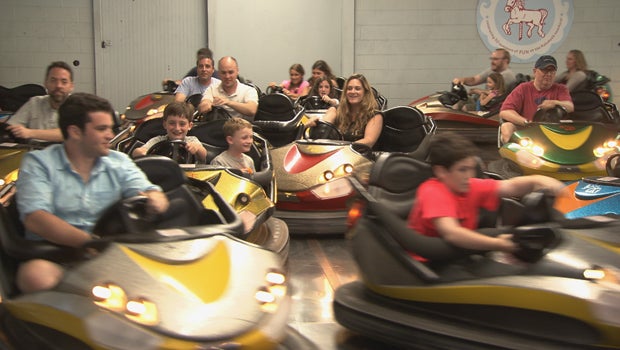 Generations of people looking for summer fun have found it on the boardwalk. Chip Reid has the proof of that:
It just wouldn't be summer for the Pentony family without a visit to Funland on the boardwalk in Rehoboth Beach, Delaware. And it's been that way since Sarah Pentony -- now 66 -- was a little girl.

Her parents brought her when she was a child, and she brought her children. Now her children are bringing their children.
Reid asked, "Why do you keep coming here generation after generation?"
"Because it's a wonderful place to bring kids; it's just so family-oriented," Pentony replied.
A summer evening here, they say, is like taking a step back in time.
"It's neat to see my kids riding the rides that I rode when I was a kid coming here!" said Adam Pentony.
Some of the rides, including the boats and the fire engines, have been at Funland since it opened 54 summers ago.
And there's something else that makes this place feel old-fashioned: the price. Where else can you get this much fun for 35 cents? They call it "today's fun at yesterday's prices."
Working the rides most nights is Al Fasnacht. He's not an employee -- his family owns Funland. This summer 23 family members are working here full-time (29, if you include the "ride-testers," some of whom are fifth-generation).
Al's family bought the property in 1962, one week after a nor'easter nearly wiped out the entire boardwalk. What would become Funland was about the only thing left standing.
And it would become his life.
"You're probably a little upset when you have to take a night off," said Reid.
"I sit upstairs and twiddle my thumbs and wish I was working," Fasnacht said.
Al, by the way, is 86 years young. He's been retired for 25 years, and yet he comes to work seven days a week.
So what would he do if he actually had to retire? "My friends at home say I should stay home for a summer, let the kids run the business, and I say you don't understand. The kids are running the business. Funland doesn't need me; I need Funland!"
Reid spent an early morning watching the family get ready for another 16-hour day. They all know their jobs -- restocking prizes, cleaning and maintaining the rides. And Al, who's supposed to be the boss, volunteers to take out the trash every morning.
"When you have no talent, you get what's left," he said. "And my job security is unbelievable. Nobody wants the job!"
Before the park opens, four-year-old Jay Curry and his cousins have the run of the place.
And when the doors come up, it's fun for everyone.
With a lot of tender loving care, the family hopes these rides and this park will last another 50 years.
And what is Al Fasnacht most proud of? "Our family, the fact that we've been able to work together all these years," he said.
And the secret to working together? "Love. Love is the secret."

For more info:
Thanks for reading CBS NEWS.
Create your free account or log in
for more features.