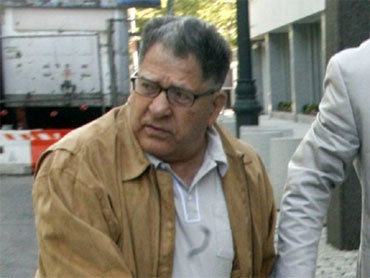 93-Year-Old Crime Boss Gets 12-Year Sentence
Updated 11:37 a.m. ET
NEW YORK - A New York judge has given an eight-year prison sentence to a 93-year-old mob boss.
John "Sonny" Franzese is so old that his recent extortion trial became nap time - even when his turncoat son testified against him. He knew Frank Sinatra in his heyday. And he's likely to die behind bars.
The government had asked the federal judge to sentence Franzese to at least 12 years in prison for racketeering conspiracy.
The defense had said Franzese, who suffers from an array of ailments, should be allowed to live out his life with his family. But prosecutors say the underboss of the Colombo organized crime family is a remorseless mobster who deserves no mercy.
Investigators caught him on tape in 2006 describing his favorite recipe for making bodies disappear: Dismember victim in kiddie pool. Cook body parts in microwave. Stuff parts in garbage disposal.
The reputed underboss of the Colombo organized crime family remains a remorseless mobster who deserves no mercy, "having denied so many of his victims the opportunity to live out their lives safely and securely with their families," prosecutors wrote in a sentencing memo.
Franzese's lawyer has sought to portray the nonagenarian as a harmless relic from "the age of Eisenhower and Lyndon Johnson and maybe the age of George Washington."
According to Mafia lore, he was a regular at the Copacabana nightclub, where he hobnobbed with Sinatra and Sammy Davis Jr., and also once had a stake in the classic porn film "Deep Throat."
But the government says Franzese's true legacy is something more akin to "Goodfellas."
Franzese's life of crime began in 1938, while he was still a teenager, with an assault arrest. Prosecutors say he was kicked out of the Army four years later after displaying "homicidal tendencies."
In 1947, court papers say, he raped a waitress in a garage. In 1966, he beat a murder charge accusing him of killing a rival and dumping the body - cement blocks chained to the feet - into a bay.
Franzese was convicted in 1967 in a bank robbery, sent to prison and paroled in the late 1970s. Though never convicted of another crime, authorities say he rose to second in command of the Colombos, one of New York's five Italian crime families.
Prosecutors say one reason Franzese dodged arrest in other murders is that he became good at making bodies disappear. Investigators caught him on tape in 2006 describing his favorite recipe for that: Dismember victim in kiddie pool. Cook body parts in microwave. Stuff parts in garbage disposal. Be patient.
"Today, you can't have a body no more," the latest court papers quote him saying. "It's better to take that half an hour, an hour, to get rid of the body than it is just to leave the body in the street."
The FBI arrested Franzese in a mob takedown in 2008 on charges he shook down Manhattan strip clubs and a Long Island pizzeria.
At trial last summer, prosecutors used John Franzese Jr., a former Colombo associate-turned-paid informant, to help convince jurors that his father's frail appearance was deceiving. The defendant, who used a wheelchair in court, briefly dozed off when his son began testifying.
"I'm not talking about my father as a man," Franzese Jr. testified. "I'm talking about the life he chose. ... This life absorbs you. You only see one way."
Junior testified that he tried to follow in the footsteps of his father, who used him to pass messages to other mobsters. But after developing a crack cocaine addiction, he wanted "to make up for what I had done in my life" by becoming a government cooperator.
A jury convicted the elder Franzese in July after five days of deliberations. A judge revoked his bail and threw him in jail.
In letters to the judge since then, Franzese's doctors catalogued what lawyers call his "serious maladies," including gout, high blood pressure and kidney disease. His family also wrote to say they saw a domesticated don while he was out on bail awaiting trial at his daughter's home.
"The Sonny Franzese I know as my grandfather is kind considerate, warm, and funny," wrote one granddaughter. "When he is around family he just loves to tell jokes, watch baseball on television, nap, and tell stories about the past."
Thanks for reading CBS NEWS.
Create your free account or log in
for more features.