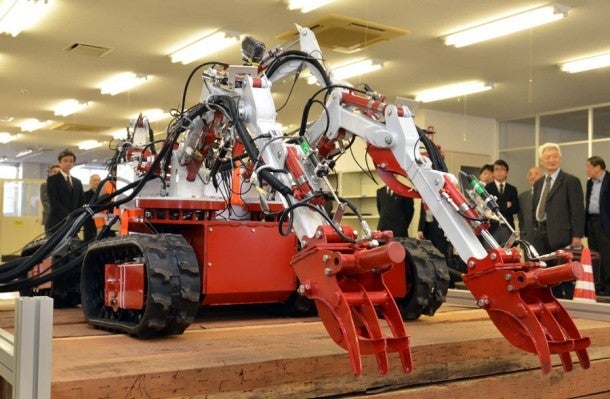 8-limbed robot to help Japan's Fukushima cleanup
They call it the Octopus and it just might prove instrumental in the cleanup of the rubble left over after the 2011 Fukushima nuclear disaster.
Armed with four arms and four leg-like crawlers, this remote-controlled robot can traverse complex terrains, extinguish fires and remove fallen trees. It also can be equipped with a fiber laser allowing it to cut through stone and a grappler allowing it handle nuclear waste.
The robot is the latest effort by Japan to apply its high-tech prowess to the recovery effort following the disaster that left 27,000 people dead or missing after the earthquake and subsequent tsunami. It sent a robot inside the crippled nuclear plant weeks after the disaster to check on radiation levels, and teamed up with the United States to send drones over the Fukushima nuclear complex to get a closer look.
Just last month, Tokyo Electric Power Co. said it was preparing to send a snake-like robot inside one of the three melted reactors to determine the extent of damage as part of an effort to eventually decommission the Fukushima Dai-ichi nuclear plant.
Unlike most of these robots, the Octopus is unique in that its various limbs can function simultaneously. Each arm can lift up to 200 kilograms (440 pounds) and all four arms can be used to lift the robot's body off the ground.
The robot is a collaborative effort between Waseda University's Future Robotics Organization and the Kikuchi Corporation. It was unveiled earlier this month at the Kikuchi plant in Minami-Soma Fukushima, an area previously designated a no-go zone from the nuclear disaster crisis.
Thanks for reading CBS NEWS.
Create your free account or log in
for more features.