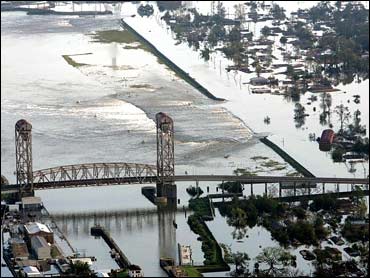 7 Cops Charged In Post-Katrina Shootings
Seven New Orleans police officers indicted on murder or attempted murder charges arising out of the post-Katrina chaos have 24 hours to turn themselves in.
The judge says there will be no bond for the four who are accused of murder and if convicted could face the death penalty. Three other officers were charged with attempted murder in the shooting.
The shootings took place under murky circumstances six days after the storm which deluged the low-lying city. Two men — one of them mentally retarded — were killed and four people wounded on a bridge spanning an industrial canal.
The shootings became one of the most widely cited examples of the chaos that ensued after Katrina flooded 80 percent of the city in August 2005.
The district attorney portrayed the officers as trigger happy.
"We cannot allow our police officers to shoot and kill our citizens without justification like rabid dogs," District Attorney Eddie Jordan said.
Two young men were killed and four people wounded on the Danziger Bridge, which spans the Industrial Canal.
At the time, the sweltering city was still littered with corpses as rescuers tried to evacuate stranded residents and looters ransacked stores.
Police initially said the Sept. 4, 2005, shootings occurred after shots were fired at Army Corps of Engineers workers.
Defense attorneys said their clients are innocent.
"As a wise man once said, a district attorney can get a grand jury to indict a ham sandwich," said Franz Zibilich, attorney for officer Robert Faulcon, who is charged with murder. "They heard only one side of the story."
After hearing weeks of testimony, the grand jury deliberated for two hours Thursday before issuing the charges. The foreman of the panel, Lee Madare, declined to comment in detail as he left the courthouse but asked a reporter, "Do you understand the word coverup?"
A spokesman for Mayor Ray Nagin declined to comment on the indictments. Police Superintendent Warren Riley and a police department spokeswoman did not immediately return messages from The Associated Press.
According to a police report, several officers responded to a radio call that two fellow officers had been hurt. When they arrived, seven people were seen running, and four began firing at police, the report said. The officers returned fire.
The victims were Ronald Madison, a 40-year-old mentally retarded man, and James Brissette, 19. The coroner said Madison was shot seven times, with five wounds in the back.
In addition to Faulcon, police Sgt. Kenneth Bowen and officers Anthony Villavaso and Robert Gisevius were charged with murder. Officers Robert Barrios, Mike Hunter and Ignatius Hills were charged with attempted murder.
Thanks for reading CBS NEWS.
Create your free account or log in
for more features.