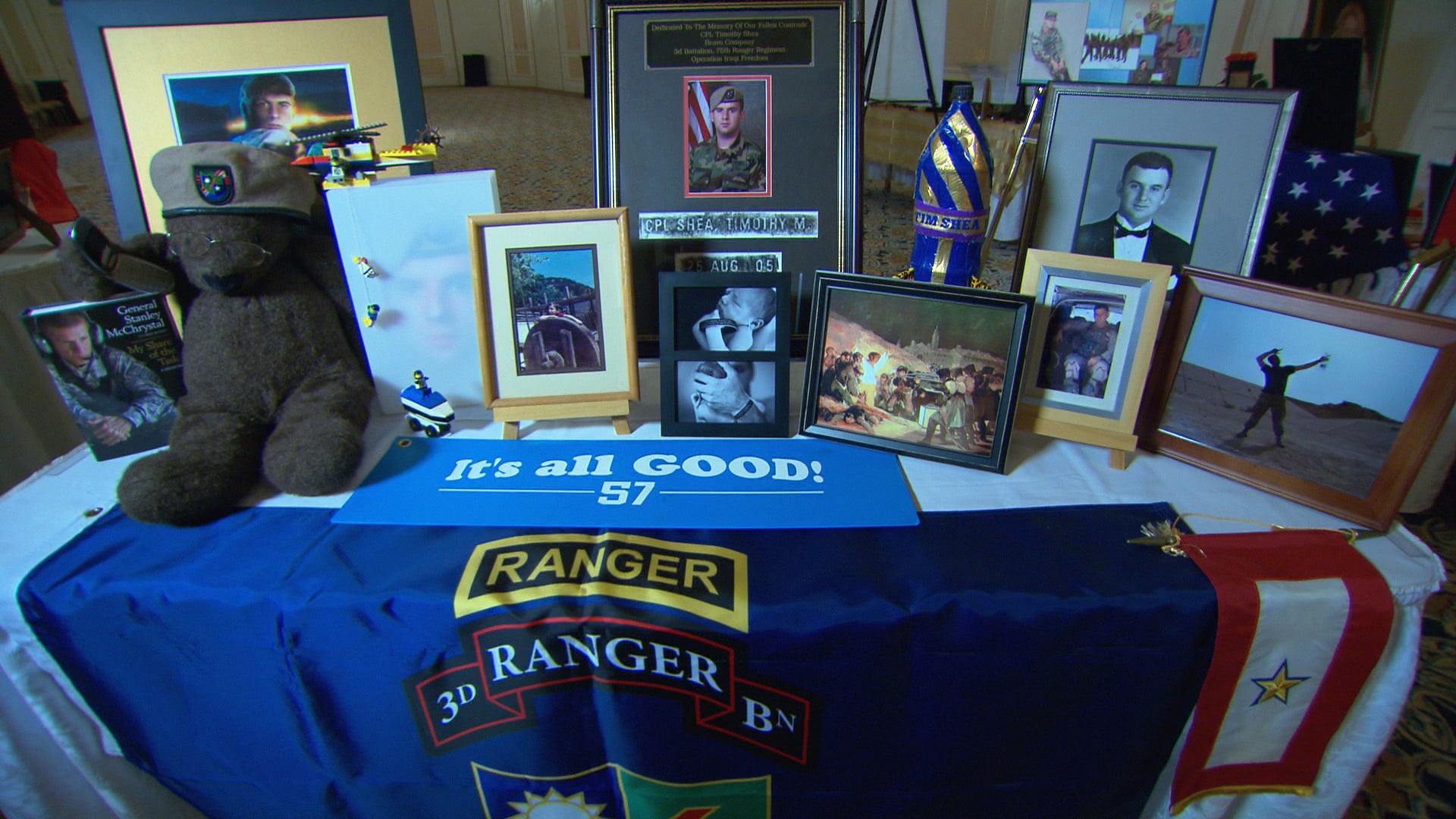 Telling a son's story through the things he loved
The knock on the door came at 9:30 p.m. Bill and Mary Shea were getting ready for bed when they got the visit that any parent with a child in the military most desperately dreads. A chaplain and two other soldiers had come to tell them their 22-year-old son, Tim, had been killed in Iraq.
On 60 Minutes this week, Scott Pelley interviews the Sheas and other "Gold Star" parents, a name drawn from the military service flags that hung in homes during the World Wars, on which a gold star symbolized a loved one lost to war. Roughly 200 parents who have lost children since 9/11 assemble each year in San Francisco to share their grief and console each other.
"Once we're inside here, we're safe," Mary Shea tells Scott Pelley. "We can be ourselves."
For one part of the event, the families create "tribute tables" to honor their children. In the clip above, the Sheas show Pelley some of the items on Tim's table - including a teddy bear with a cell phone - and explain why they recreate it each year. "You hope when people see it, that they'll get curious," says Bill Shea. "All Gold Star parents, they want their child to be remembered."
Retired Marine Major General Mike Myatt, president and CEO of the Marines' Memorial Association, has attended all 11 gatherings, and many participants consider his speech toward the end of the event a highlight.
In the clip above, Pelley asks General Myatt what he hopes to impart. "It's so unnatural for a parent to outlive their youngsters, their children. I can't imagine the grief," Myatt says. He hopes he can give them the solace of knowing their children's lives had purpose. "We want them to feel very proud that their son or daughter served," he says. "And that it was worth it."
General Myatt isn't the only one determined to honor the sacrifice of military families. The annual event for Gold Star parents is organized by a group of women who call themselves the "Blue Star Moms" of the East Bay Area, all of whom have children who are serving or have served in the military. These same moms also attend funerals for fallen service members they never even knew.
Nancy Totman, a Blue Star Mom who has attended dozens of funerals, says it's not about talking with the grieving parents. "Oftentimes, you don't get to speak with the family. But that's not why we're there," she says. "When I go to these funerals, I say, 'I'm a Navy mom. I'm a military mom and I care and I love you, and I'm so sorry about your loss.' And that's all sometimes they need to hear."
These videos were originally published on April 24, 2016.
Thanks for reading CBS NEWS.
Create your free account or log in
for more features.