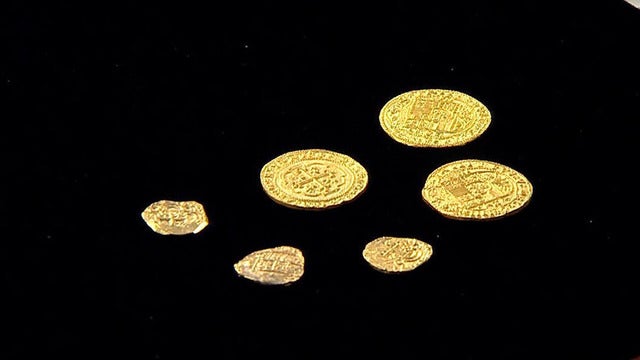 $4.5-million treasure discovered off Florida coast
Exactly 300 years to the day after a hurricane destroyed 11 Spanish ships off the coast of Florida, a salvage company made an incredible discovery worth $4.5 million.
Brent Brisben, 1715 Fleet Queens Jewels CEO, said the July 30 find was "magical" and "surreal."
"Not only to have these incredible artifacts come up with their great value, but to have it actually happen on the 300th anniversary is really something I can't articulate," Brisben said Wednesday on "CBS This Morning."
Brisben's team recovered 350 sunken gold coins including nine Royals, artifacts he said haven't been found since 1998.
"These Royals are perfect specimens of coinage of the time and they were made on royal order for the king of Spain to be mostly given out as [a] presentation piece," Brisben said.
The story begins in the 18th century. Eleven Spanish ships were destroyed in a hurricane off the coast of Florida as they saileds from Cuba to Spain. The Royals discovered, valued at $300,000 each, were made for the King of Spain, Phillip V.
Treasures from the wreck were first identified nearly 250 years later by Kip Wagner, a man who later formed a salvage team to search for the shipwrecks.
Brisben and his team - Jonah Martinez, Bill Bartlett and Dan Beckingham - made their discovery in just six feet of water, something Brisben said is not so uncommon for these types of treasure hunts.
"We work extremely close to shore, which is surprising to most people," he said. "These shipwrecks were pushed by the hurricane into the outer edge of the reef and then they were utterly destroyed by the wave action, so pieces of these ships have floated for miles all the way into the beach up into the dunes."
For beachgoers who stumble upon treasure, it's "finder's keepers," Brisben said, but out in the water, the only legal way to uncover history is through his organization.
Brisben's company currently owns the exclusive salvage rights to the remains of the 1715 shipwrecks and serves as custodian for the U.S District Court for the Southern District of Florida.
"At the end of the year, the state of Florida will come and review what we found, assert an interest into certain artifacts for purposes of displaying in their museum," Brisben said. "And once we work that deal out, the federal court adjudicates legal title to either my organization or the state of Florida."
And for eager treasure-hunting enthusiasts, Brisben is happy to let them give it a shot.
"I'm inundated, particularly after a story like this with people wanting to do it and so we vet them, but yeah, I try to give people the opportunity to live the dream," Brisben said.
Other treasures have been found recently. Earlier this summer, the Schmitt family, a subcontractor of Brisben's company, discovered $1 million worth of artifacts.
Since 2010, Brisben said he and his company have found close to $6.5 million worth of artifacts and estimates there is another $400 million waiting to be discovered.
Thanks for reading CBS NEWS.
Create your free account or log in
for more features.