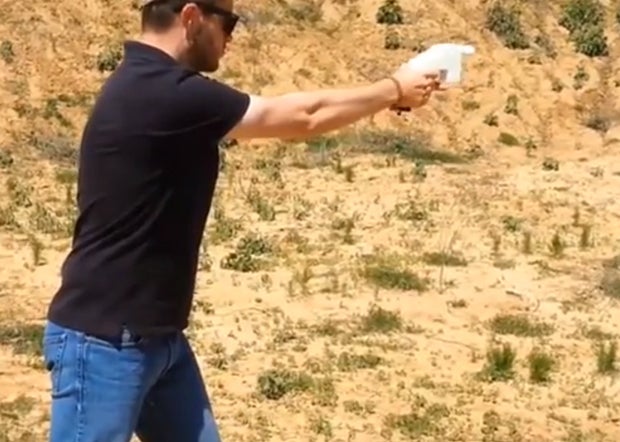 3D-printed gun blueprints pulled from Internet, at request of State Department
(CBS News) Blueprints for the world's first 3D-printed gun have been pulled from the Internet after the State Department ordered the gun's creator to remove the files required to print the gun from the Defense Distributed website.
Cody Wilson -- the 25-year-old law student behind Defense Distributed -- created the gun prototype and says the free blueprints were downloaded over 100,000 times in the two days before the government intervened. Fifteen of the gun's 16 parts are made of plastic that is undetectable by airport security.
The gun, named the "Liberator," was printed on a Stratasys Dimension SST 3D printer and was successfully test-fired last weekend in Texas, prompting some lawmakers, including Sen. Charles Schumer, D-N.Y., to call for a ban on printable weapons.
A State Department spokesman addressed their communication with Defense Distributed, saying "Although we do not comment on whether we have individual ongoing compliance matters, we can confirm that the department has been in communication with the company"
Wilson hosted the files outside of the U.S., uploading them to a Mega website based in New Zealand. User information of those who have logged into the site to download the files is encrypted.
"Liberator" gun made with 3D printer fires first successful shot
His effort to openly distribute the printable blue prints online is reportedly inspired by his law studies and 19th century anarchist writing. Defense Distributed is a nonprofit organization intended to "defend the civil liberty of popular access to arms as guaranteed by the United States Constitution," according to the organization's mission statement.
Wilson argues that everyone should be able to access a firearm and while he immediately complied with the State Department's request, he told Betabeat, "this is a much bigger deal than guns. It has implications for the freedom of the web."
"I still think we win in the end because the files are all over the Internet. ... To think this can be stopped in any meaningful way is to misunderstand what the future of distributive technologies is about," Wilson said.
Thanks for reading CBS NEWS.
Create your free account or log in
for more features.