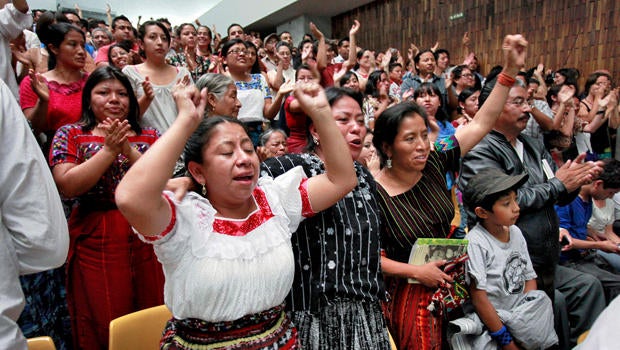 War and struggle showcased in 2017 Human Rights Watch Film Festival
Documentaries illuminating workers' rights, environmental activism, gender equality, police violence, and the morality of capital punishment, by filmmakers from around the world, are being showcased in the 2017 Human Rights Watch Film Festival.
The festival, now in its 28th year, has toured several cities in the U.S. and Europe since January, and is being presented in New York City beginning Friday, June 9 at the Walter Reade Theatre at Lincoln Center and at the IFC Center in Greenwich Village. Several films are being screened in advance of theatrical runs or broadcast or streaming dates. The festival runs through June 19 before traveling to Sydney, Australia.
Can't make it to New York? Some festival titles will also be available online via Mubi.
Read about the featured films, and view trailers via the links below.
The opening night feature at the festival (on Friday, June 9) is the New York premiere of the fascinating "Nowhere to Hide," a powerful first-hand look at the effects that war and the ISIS insurgency in Iraq have had upon the population.
In 2011 director Zaradascht Ahmed gave a video camera to Nori Sharif, a nurse at a hospital in Jalawla, who captured the lives of his family and the medical staff before and after the withdrawal of American and Iraqi forces, and the rise of militia and ISIS fighters. After staying to help those that remain in the midst of the takeover of the city, Sharif and his family flee, joining the thousands of displaced refugees whose lives have been ripped apart.
The film will open in New York on June 23, and on June 30 in San Francisco, Los Angeles, Toronto and Vancouver, with other cities to follow.
Winner: 2017 Nestor Almendros Award for courage in filmmaking; 2016 IDFA Winner for Best Feature-Length Documentary.
The closing night feature (June 19) is Brian Knappenberger's "Nobody Speak: Trials of the Free Press." The thought- and anger-provoking film honors journalistic freedom and the threats it faces from powerful and well-funded corporate and political forces.
The narrative evolves from two fascinating challenges to the First Amendment: the lawsuit, funded by venture capitalist Peter Thiel, aimed at the website Gawker for publishing a Hulk Hogan sex tape; and the purchase by Las Vegas casino owner Sheldon Adelson of the Las Vegas Review-Journal and the efforts by the paper's new management to stifle critical stories.
The lesson from the film: never take free speech for granted, and be very careful when anyone -- politician, pundit, lawyer -- tries to draw a line in the sand between what is constitutionally-protected speech and what isn't.
"Nobody Speak" will be released in select cities and available to stream via Netflix on June 23.
Other recommended festival offerings include:
"500 Years" (New York Premiere) -- This is the third film in the "Resistance Saga," in which human rights abuses in Central America have been explored by director Pamela Yates, previously in "When the Mountains Tremble" (1983) and "Granito: How to Nail a Dictator" (2011).
This latest film follows the monumental 2013 trial in Guatemala prosecuting former dictator Efrain Rios Montt for genocide against the indigenous Mayan people, and the subsequent popular uprising against corruption in government.
"The Blood Is at the Doorstep" (New York Premiere). After 31-year-old Dontre Hamilton was shot 14 times by a Milwaukee police officer, his family sought justice. While the movie's focus is mostly narrowed upon the family's conflict with city officials, the narrative also examines the broader context in which this personal tragedy becomes a lightning rod for activists eager to tie the death to other police altercations.
"The Good Postman" (New York Premiere) -- The mailman in a fading Bulgarian village which has become a stopping-point for refugees flooding across the border from Syria has an idea: run for mayor, with the proposition that the community take in refugees to bring the village back to life.
In "Lindy Lou, Juror Number 2" (New York Premiere), a woman who sat on a death row case in Mississippi and voted for the man's execution revisits other members of the jury more than 20 years later to question the morality of capital punishment, and examine how condemning a man to death changed their lives. A fascinating look at the effects of crime and punishment beyond those personally involved in a case of homicide.
Other films in the festival (not reviewed by press time) include:
"The Apology" (U.S. Premiere) – Three aging Asian women seek justice for themselves and other "comfort women" who were imprisoned and sexually abused by Japanese soldiers during World War II.
"Bill Nye: Science Guy" (New York Premiere) -- One of the most passionate advocates for why science matters makes his case in a climate in which some politicians, scoffing at data and reason, throw sand into the gears of progress. The movie will open theatrically this fall through PBS Films.
"Black Code" (New York Premiere) -- An exploration of how human rights activists around the world battle government surveillance, and use social media to wage war in cyberspace.
"City of Ghosts" -- Directed by Matthew Heineman (an Oscar-nominee for "Cartel Land"), this film follows citizen journalists in Syria covering the government's war upon its people and the horrors facing a population under siege. "City of Ghosts" will be released in theatres by Amazon and IFC Films on July 7.
"Complicit" (U.S. Premiere) -- Migrant workers in China, who journey to big cities for employment, become terminally ill due to the poor working conditions at electronics firms producing a majority of the world's smartphones and televisions.
"The Force" -- The winner of the U.S. Documentary Directing Award at the 2017 Sundance Film Festival, Peter Nicks' film examines the troubled Oakland Police Department as it struggles to undertake reforms follows unrest nationwide over police conduct in Ferguson, Mo., and elsewhere. Opens in theatres on September 15 through Kino Lorber.
"The Grown-Ups" (New York Premiere) follows a group of adults with Down syndrome who seek greater independence.
"Home Truth" (World Premiere) -- Three daughters of Jessica Gonzales, of Colorado, were abducted and murdered by their father, despite a restraining order. For nine years Gonzales pursued a lawsuit against the local police department about their failure to enforce that restraining order, taking her case to both the U.S. Supreme Court and an international human rights tribunal.
"Lost in Lebanon" (U.S. Premiere) follows four Syrian refugees seeking safety in Lebanon.
"Muhi - Generally Temporary" (New York Premiere) -- Owing to an immigration quandary, an infant Palestinian boy from Gaza suffering from a life-threatening disorder and his grandfather are stranded for seven years within the confines of an Israeli hospital.
"No Dress Code Required" (New York Premiere) -- Victor and Fernando, a Mexican couple, fight for the right to get married despite numerous legal and social hurdles.
"The Workers Cup" (New York Premiere) – Over one-and-a-half million migrant workers are currently laboring in Qatar to build facilities for the upcoming 2022 FIFA World Cup. This documentary examines the harsh living and working conditions they face.
Thanks for reading CBS NEWS.
Create your free account or log in
for more features.