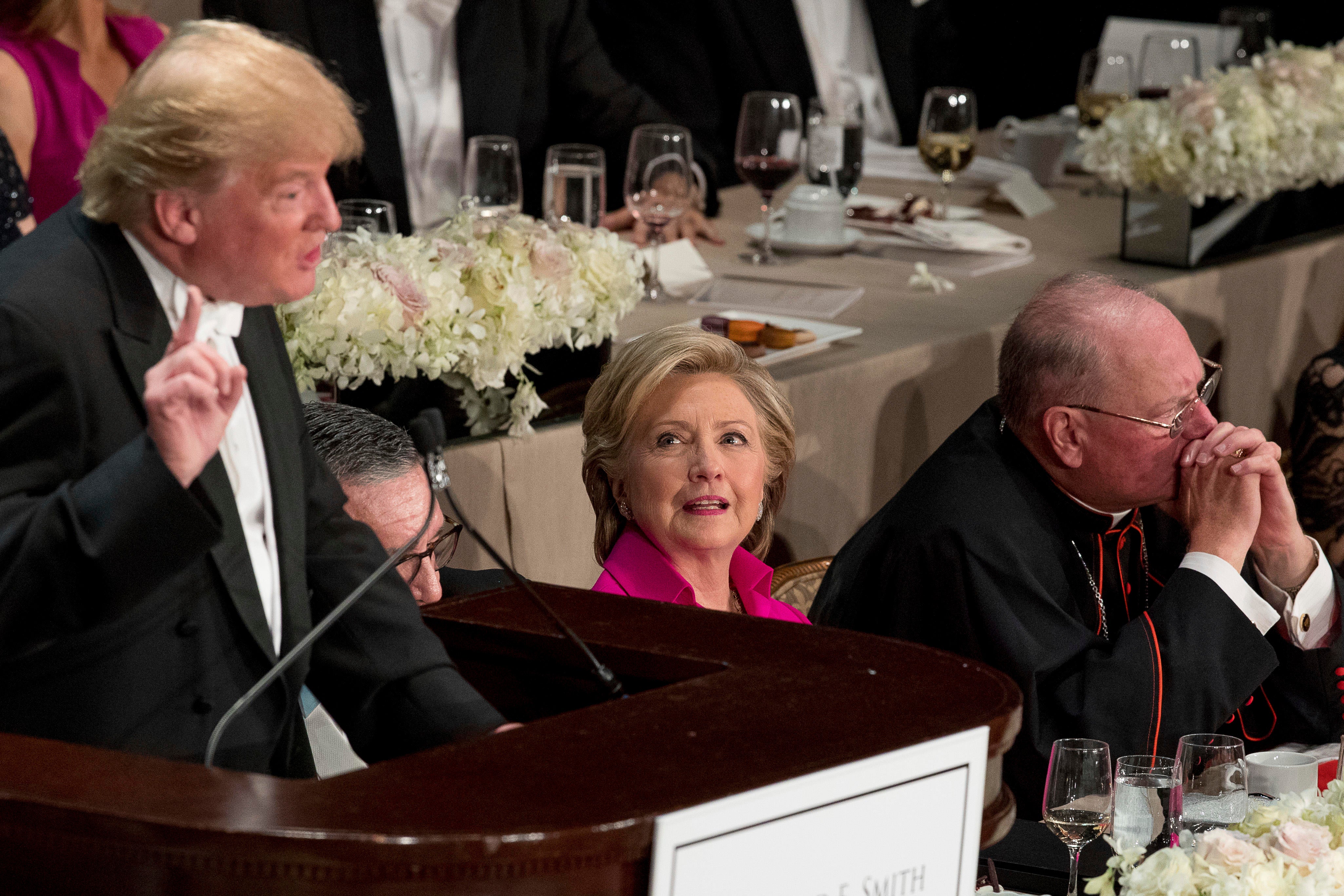 Trump and Clinton trade caustic jabs at Al Smith Dinner
Election Day is now just 18 days away, but even a charity fundraiser cannot stop the sniping between Donald Trump and Hillary Clinton.
The presidential candidates traded barbs at the 71st Alfred E. Smith Dinner in New York City which traditionally features the Republican and Democratic nominees. The light-hearted atmosphere took a turn during the speeches.
At the unlikely "dinner date," Clinton and Trump sat a few feet from one another for what was supposed to be a good-natured ribbing to raise money for charity. But the Republican nominee was met with boos when the mood shifted, reports CBS News correspondent Margaret Brennan.
A veritable act of God brought Trump and Clinton together.
"Hillary accidentally bumped into me and she very civilly said 'pardon me,'" Trump said. "Let me talk to you about that after I get into office."
The archbishop of New York got the two presidential candidates to break ahead and trade jokes.

"People look at the Statue of Liberty and they see a proud symbol. Donald looks at the Statue of Liberty and sees a 'four,' maybe a 'five' if she loses the torch and tablet and changes her hair," Clinton said.
The long tradition of candidates poking fun at themselves and each other at the New York charity white-tie dinner is meant to honor politician Al Smith, who, in 1928 was the first Catholic U.S. presidential nominee. But the goodwill did not last long.
"Hillary believes that it's vital to deceive the people by having one public policy," Trump said.
The well-heeled crowd booed some of Trump's nastier jabs.
"Here she is tonight in public, pretending not to hate Catholics," Trump said, followed by boos.
Trump feigned offense that the media praised First Lady Michelle Obama's 2008 convention speech, but criticized Melania for plagiarizing it.
"My wife Melania gives the exact same speech and people get on her case and I don't get it. I don't know why," Trump said.
And Clinton nodded to her habit of avoiding questions from the press.
"And look at this dais. We've got Charlie Rose and Maria Bartiromo, and Chris Matthews, and Gayle King and Norah O'Donnell and Katie Couric. This counts as a press conference, right?" Clinton said.
The third debate began and ended with the two refusing to shake hands. But on that stage Thursday night, they actually shook on it.
The charity raised $6 million for impoverished children in New York.
Thanks for reading CBS NEWS.
Create your free account or log in
for more features.