1975 CBS News footage shows dramatic evacuation of Saigon
This feature, The Way It Was, resurfaces and explores past stories from the CBS News archives. If there's a topic you'd like to see, leave a suggestion in the comments section or send us a tweet at @CBSEveningNews.
---
Thursday marks the 40 year anniversary of the fall of Saigon - the end of America's war in Vietnam. On that day, as it had throughout the conflict, CBS News covered the events from the ground. The images captured that day are nothing short of astonishing: helicopters plunging into water; pilots leaping out of aircraft; Vietnamese swimming for boats; hordes of evacuees desperately looking for a way out.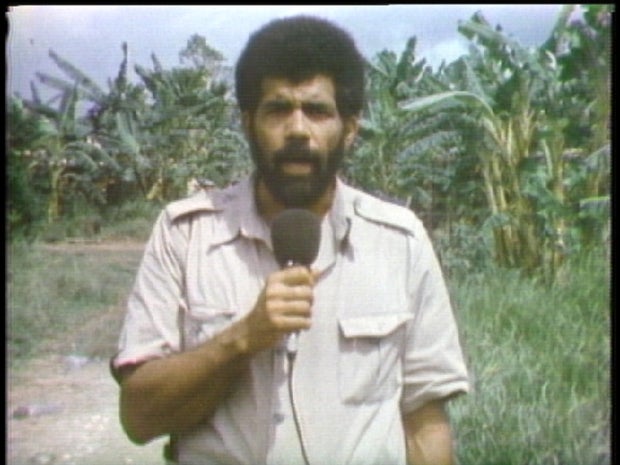 Former CBS News correspondent Ed Bradley filed a report that many at home would see on the "CBS Evening News" on April 30, 1975. Bradley's reporting focused on the evacuation that was unfolding as North Vietnamese forces - the South's enemy, and America's - closed in on Saigon.
Bradley's report began with crowds of Americans and other foreigners lined up in installations around Saigon waiting for buses to take them out.
"Some Americans who pushed towards the bus tried to pull their Vietnamese wives and children along with them," reported Bradley. "There were desperate scenes of families separated and crying out for help, pleading not to be left behind, clutching at the last straw of hope."
Bradley's crew drove in a bus on the streets of Saigon for more than four hours, unable to find a way out or anyone who could tell them where to go. Once they reached Ton Son Nhut airport, Bradley reported, armed paratroopers turned their buses back. Eventually they reached the Saigon waterfront where American helicopters circled the city, as Vietnamese swam in the water below, trying to reach departing vessels.
"No one wanted to be left in this crowd, that at time was strangely quiet but that always was on the verge of panic," reported Bradley. "We all decided to try and reach the United States Embassy and once there we found it surrounded by Vietnamese looking for a way in and a way out."
Once at the embassy, helicopters could be seen landing on the roof and inside the compound. Bradley's crew tried to make their way toward the back of the consulate, only to find an even more desperate situation.
"We had to push and shove our way through a crowd of several hundred Vietnamese trying to scale the walls, only to be knocked back by U.S. Marines," reported Bradley. "Once inside the compound, for the Americans and those Vietnamese who managed to get in with legal documents and the many who managed entrance without, the rest was easy. It was just a matter of waiting your turn for a helicopter to take you to one of the ships on station off the Vietnamese coast."
And it was on those ships where some of the most dramatic images of that day emerged. South Vietnamese pilots loaded their helicopters with their family and friends, hovering above the vessel's deck to unload the passengers, but there was one major problem: The pilots were unfamiliar with landing their aircraft on a moving ship.
"South Vietnamese pilots just hovered long enough to unload their passengers and then headed for the side of the ship and just jumped out with their life vests to be picked up by U.S. sailors, their helicopters crashing into the seas," reported Bradley.
One Vietnamese pilot crashed his helicopter into the side of the U.S.S. Blue Ridge, while others managed to crash land on the deck of the ship. Those that did manage to land on the vessel were pushed off by U.S. Marines and sailors to make room for the returning American choppers, filled with evacuees from Saigon.
Bradley's report ended with the arrival of one of the last evacuees from Saigon, U.S. Ambassador Graham Martin, the final American ambassador stationed in South Vietnam.
"After so many long years, the American involvement in Vietnam was over," reported Bradley.
Thanks for reading CBS NEWS.
Create your free account or log in
for more features.