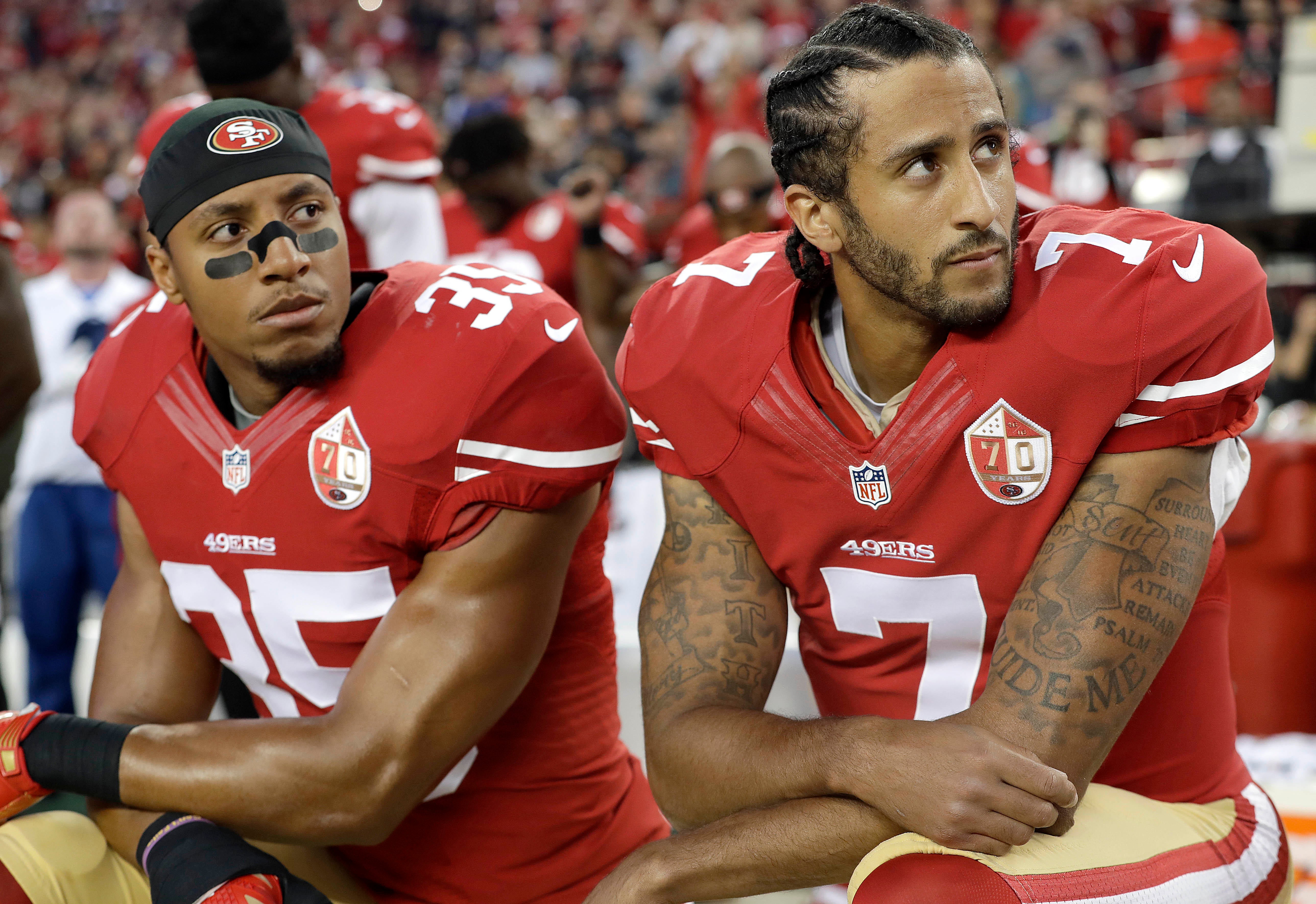 1968 raised-fist protesters say they support Colin Kaepernick
WASHINGTON D.C. -- Tommie Smith and John Carlos voiced their support for Colin Kaepernick and other athletes staging national anthem protests, 48 years after they raised their gloved fists on the medals stand in a symbolic protest at the Olympics.
The American sprinters who were sent home from the 1968 Mexico City Olympics for what they called a "human rights salute" say the San Francisco 49ers quarterback and others are right to use their platform to raise awareness about racial inequality and police brutality.
"Don't hate the kid because he stood up for something to change," said Smith, who won the gold medal and set a world record in the 200 meters in 1968. "He stood up for the right to exercise Amendment 1."
Speaking Wednesday at the Team USA Awards, the first U.S. Olympic Committee event they've been invited to since their protest, Smith says he's backing Kaepernick because his protest is proactive and Carlos says there's no better platform than sports to stand up for something, even if it brings criticism.
"Protest is a good thing because you're trying to expose certain things through protest," Carlos said. "Then when you sit back and say, 'Well, I don't know whether it's the right place to make statement here or there.' In any protest, I think you make a statement to try and reach the far ends of the earth. What better way to do it than if you're in a sport."
Several athletes have followed Kaepernick, who sat for the anthem, then modified his protest to kneel during it. Some have raised their fists like Smith and Carlos.
Most recently, Nebraska football players Michael Rose-Ivey, Mohamed Barry and DaiShon Neal kneeled during the anthem before a game at Northwestern, drawing criticism from university officials.
"It is a sacrifice to deal with anything other than status quo," Smith said. "As we know very well."
So well that Smith and Carlos have been on the outside looking in at the USOC for almost half a century. They're back in the fold now and glad that the USOC welcomed them back.
"We never denounced what we stood for," Carlos said. "We stood for humanity. At the same time they loved the fact that we had courage. That's what you need in athletics. For them to come and lower the drawbridge so to speak and welcome us across with open arms, it's a beautiful situation. I don't think it gets any better."
On Tuesday, Kaepernick made headlines for his harsh assessment of Hillary Clinton and Donald Trump a day after the first presidential debate.
"To me, it was embarrassing to watch that these are our two candidates," Kaepernick said Tuesday. "Both are proven liars and it almost seems like they're trying to debate who's less racist. And at this point, talking with one of my friends, it was, you have to pick the lesser of two evils, but in the end, it's still evil."
Kaepernick also responded to a statement Trump made during an August radio interview in which he said Kaepernick's anthem protest wasn't "a good thing" and that the athlete might want to find a country that works better for him.
Kaepernick said it was "a very ignorant statement, that if you don't agree with what's going on here and that if you want justice and liberty and freedom for all that you should leave the country."
The quarterback has previously said he will continue to kneel during the anthem.
"When there's significant change and I feel like that flag represents what it's supposed to represent, this country is representing people the way that it's supposed to, I'll stand," he said.
Thanks for reading CBS NEWS.
Create your free account or log in
for more features.