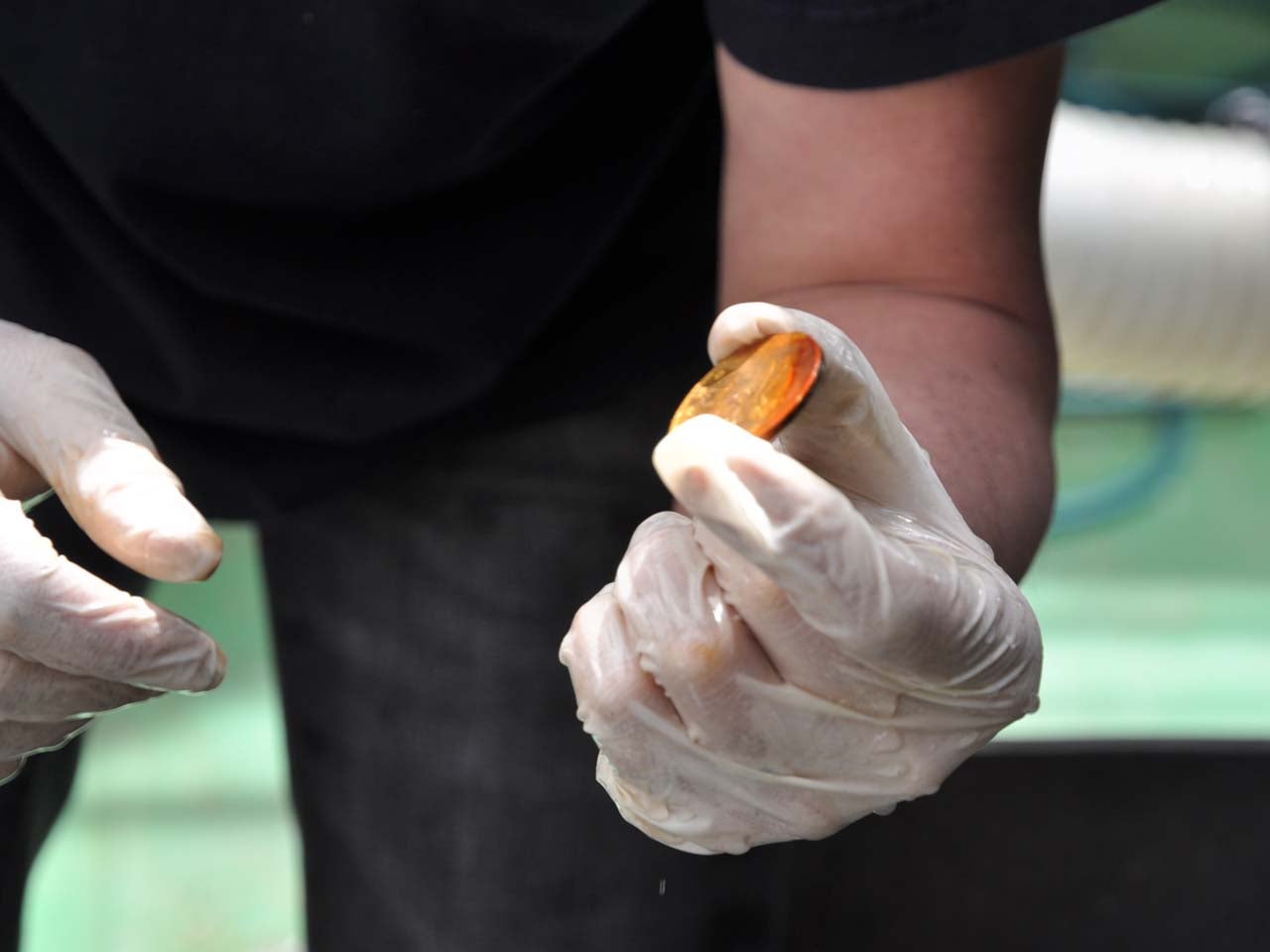 150 years later, a Gold Rush ship yields treasures
More than 150 years ago, the Gold Rush-era vessel SS Central America was carrying a large gold consignment when it was hit by a hurricane off the coast of South Carolina and sank. With U.S. banks never getting delivery of that gold, the disaster contributed to the financial crisis known as the Panic of 1857.
But the ship is now providing a new lucky strike for Odyssey Marine Exploration (OMEX), which has recovered 1,000 ounces of gold from the ship, which lies at a depth of 7,200 feet. The recovered items include two $20 Double Eagle coins and five gold ingots, the company said on Monday.
Odyssey Marine, which was awarded an exploration contract in March after two decades of legal issues and battles over ownership were finally cleared, has now become the first company to revisit the shipwreck in decades, with its recovery efforts confirming that more gold remains to be salvaged. Gold ingots and other artifacts were "clearly visible on the surface of the site," the company said in a statement. Other items recovered included a piece of pottery, a sample of the vessel's wooden structure and a bottle.
"This dive confirms for me that the site has not been disturbed since 1991, when I was last there," Bob Evans chief scientist and historian for Recovery Limited Partnership, in the statement. Recovery Limited Partnership was ruled the legal owner of the shipwreck.
The recovery effort comes after excavations from 1988 to 1991 pulled up gold coins, bullion and raw gold. While the exact value of the remaining treasure will be based on some unknowns -- such as how much is exactly still there, as well as its quality -- Odyssey Marine president Mark Gordon told investors in March that the remaining gold could be worth as much as $85 million, The New York Times notes.
The company on Monday said experts estimate the ship holds a commercial shipment of gold valued at $93,000 in 1857, as well as a "substantial amount of passenger gold," with an estimated Gold Rush-era value of as much as $1.28 million. On Ebay, a $20 gold coin billed as salvaged from the wreck is now selling for $26,500.
So what's next for Odyssey? The company will first take a full "pre-disturbance survey," and then undertake an archeological excavation to recover the remaining gold. Scientific research will also be undertaken with Dr. Timothy Shank of Woods Hole Oceanographic Institution.
Odyssey, whose shares have gained about 8 percent this year, will receive 80 percent of the recovery proceeds until a certain threshold, and then will receive 45 percent after that. The company said it may not announce the recovery of more treasure until it has stored the gold safely on shore.
Thanks for reading CBS NEWS.
Create your free account or log in
for more features.