Crews Battle Fire At Newport Storage, Trucking Company
MINNEAPOLIS (WCCO) – Authorities say a storage and trucking company in the southeast Twin Cities metro sustained significant damage in a fire Monday night.
The Washington County Sheriff's Office says a call came in of a fire at about 4:19 p.m. at 200 Hastings Avenue in Newport. Multiple agencies responded to the scene near Highway 61.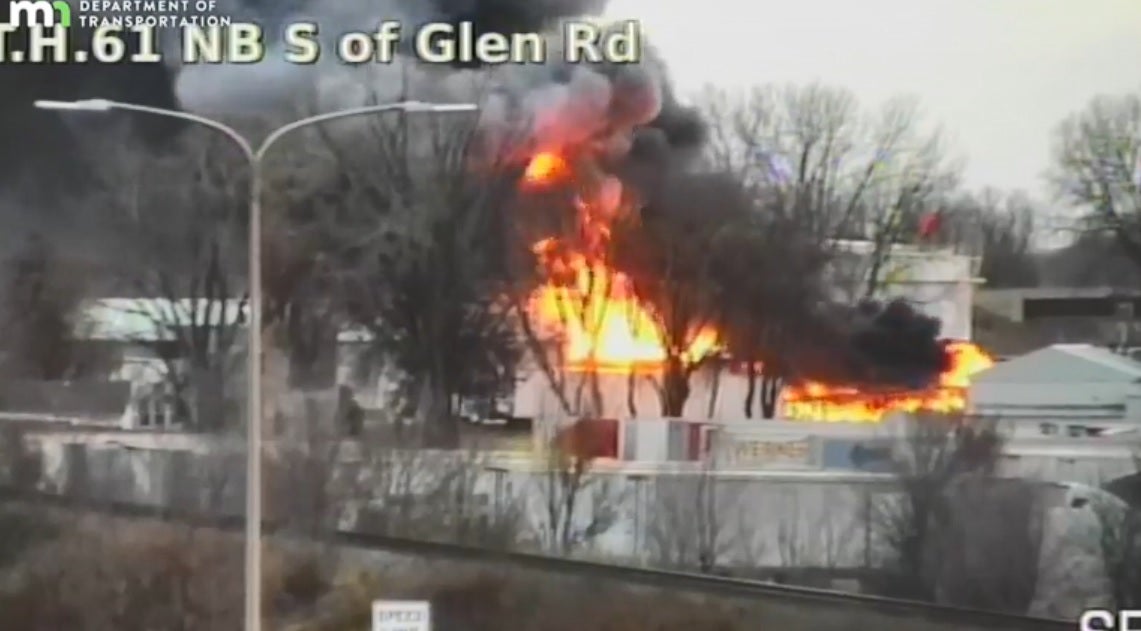 As the day turned to night, bright flames shot into the sky near highway 10 in Newport, catching the eye of Werner truck driver James Ticheli, who coincidentally was scheduled to drop off his trailer at the storage building.
"I called Werner and I said, 'I can't deliver.' And they said why. 'Cause the building's burning.' What building? 'The building I'm supposed to deliver it to,'" Ticheli said.
Investigators say the fire started in a building own by Quade -- a cold storage company. They say the steel structure is where they perform maintenance on semis.
"There were two employees in the building about a half hour before the fire," said Chief Steve Wiley with the Newport Fire Department. "Somebody went back in 20 minutes later and noticed that the building was involved."
Ticheli says it wasn't just the fire that caught his attention.
"It was full of tires, you can hear the explosions go off as the tires swelled up and they would blow up," Ticheli said. "There was a couple explosions inside the building."
"Could have been tires on the semis or propane tanks on the forklifts," Wiley said.
Firefighters say the cold weather and difficulty getting a water supply were challenging.
"We're still trying to get our arms around the extent of the damage here, but quite a few semi-trucks in addition to the business," Wiley said.
Although a few hot spots are all that's left, firefighters say their job is far from finished.
"It's gonna take all night with the instability of the structure," Wiley said.
Ticheli now has a new stop for his trailer, a destination he hopes isn't as adventurous as this one.
"As far as the worst things I've seen, this is the worst thing I've seen," Ticheli said.
Investigators say nobody was hurt in the fire, including firefighters. The cause of the fire hasn't been determined.
Thanks for reading CBS NEWS.
Create your free account or log in
for more features.