Kim Potter Trial, Dec. 9: Newly Released Body-Worn Camera Shows Aftermath Of Shooting
MINNEAPOLIS (WCCO) -- Testimony entered its second day in the trial of former Brooklyn Center police officer Kim Potter, who is charged with first- and second-degree manslaughter in the shooting death of Daunte Wright.
After a day of new body camera footage from the day of the incident and compelling testimony from Wright's mother, the state is calling more witnesses to the stand, including the woman who was inside the vehicle with Wright.
Below are updates, beginning with the latest.
----
UPDATE (4:22 p.m.) - The day wraps up after the state brings forward their ninth witness of the day.
State calls Dustin Johnson, a paramedic with North Memorial Ambulance. He said he was at a fire station on April 11 with his partner, when he heard a call for the shooting.
He says when he approached the scene, he saw paramedics attending to Wright. He provided medical care to Albrecht-Payton, the woman in the car with Wright during the shooting, noting that she had blood coming out of her ear. After walking her to the ambulance and taking her to North Memorial Hospital, he handed off her care.
The defense does not cross examine, and Judge Chu tells the jury that court will resume at 10 a.m. on Friday.
After the jury leaves the room, Chu determines that the state must look through autopsy photos and eliminate duplicates, after a series of "cumulative" objections from the defense. She adds that any photos of Wright's eyes open must be cut off from the nose above, because the jury is not deciding the case based on empathy.
Engh then approaches the lectern and moves for a mistrial, arguing that the case revolves around the moment Potter yelled "Taser, Taser, Taser," not the crash and the medical response afterwards.
The state argues that they have filed a Blakely notice, which seeks a longer sentence for Potter. In order to prove a need for a longer sentence, Frank says the prosecution needed to argue that her conduct presented a danger to people outside the immediate area of the shooting. He adds the medical testimony presented Thursday was in part to beef up their case for the Blakely notice, and to establish cause of death.
Chu denies motion for a mistrial and says she will determine Blakely decisions.
UPDATE (3:44 p.m.) - The state then calls Michael Morelock, an ambulance supervisor with North Memorial Ambulance.
He said when he got to the scene, he saw a woman being escorted out of a car and saw Wright receiving CPR. He said he approached Wright and determined he did not have a pulse.
He said he saw a gunshot wound on Wright and declared him dead at 2:15 p.m., which he clarifies does not determine the moment his heart stopped beating.
During his questioning, Prosecutor Erin Eldridge attempted to show a photo of Daunte Wright's body, in order for Morelock to identify himself. However, Judge Regina Chu determined the photo was cumulative, and the jury did not need to see it.
Court takes a 15 minute break.
UPDATE (3:30 p.m.) - Court resumes following an afternoon break, and the defense cross-examines Officer Daniel Irish.
When the defense asked, Irish said that he would call the scene "dangerous" because of the shots fired call and the crash. Irish is then released from the stand.
Prosecution then calls Brooklyn Center Police Officer Jeff Sommers, who was in the report-writing room at the police department at roughly 2 p.m. on April 11. He said he heard a traffic stop call from Officer Luckey, who immediately asked for assistance and then said he heard Luckey make a "shots fired" call, which he responded to.
State then plays Sommers' body camera video starting when he arrived at the scene of the crash. In the body camera video, Sommers is standing with his gun drawn behind the opened passenger side door of Salvosa's police squad. Salvosa is standing on the driver's side.
Video continues of Sommers approaching the Buick along with other officers to offer life-saving measures to Wright.
Following an objection from the defense, Judge Chu determines the video is cumulative. She allows Larson to continue questioning Sommers, but says the video will not be played.
Defense does not cross-examine Sommers.
UPDATE (2:18 p.m.) - After a lunch break, the state called Officer Daniel Irish with the Champlin Police Department, a 19-year veteran of the force, to the stand.
Irish describes arriving on scene and assisting with medical support. Paramedics arrived shortly after, and told him to stop life-saving efforts because "the party was deceased."
After Wright was pronounced dead, Irish said he helped get a sheet from the paramedics to cover his body.
Prosecution shows Irish's body camera video of officers pulling Wright's body out of the car.
Defense objects multiple times arguing that the body camera video is "cumulative," meaning the officer has spoken repeatedly about the incident and the video is also repetitive.
Court takes an afternoon break, following a discussion between the judge and attorneys.
UPDATE (12:24 p.m.): After over an hour of testimony from Brooklyn Center Police Officer Alan Douglas Salvosa, the defense begins its cross-examination of the 12-year veteran of the department.
Defense asks if officers were attempting to revive Wright after the shooting, Salvosa agrees. He said his medical bag was given to those treating Wright before paramedics arrived.
Salvosa said he first learned that it was an officer-involved shooting "much later." He said he learned about it shortly before he left the scene.
Defense asks if Salvosa saw Wright move inside the vehicle when he was holding the vehicle at gunpoint, and if that indicated that he was alive at the time. He agreed.
State has quick redirect and Salvosa is excused.
Court takes a lunch break.
UPDATE (11:20 a.m.): Prosecution calls Officer Salvosa to the stand. He is a field training officer and a member of the SWAT team.
Salvosa said he's worked with Potter and he's known her since he's become a police officer. He said he's worked with her, since she was head of the police union.
Prosecution begins asking him about the events of the April 11. He was working at the time, and was getting lunch when he heard of the traffic stop.
Salvosa said he responded to the traffic stop and heard that there was a possible warrant involved. He said he was arriving in his vehicle as Wright's vehicle took off from the traffic stop and crashed.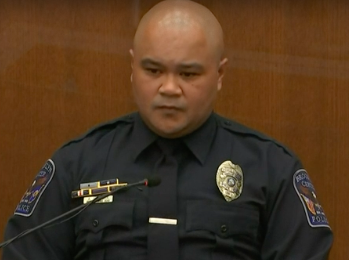 Salvosa said since the vehicle appeared to flee the traffic stop, he got out his gun and pointed it at the vehicle after the crash.
"I was yelling at the car, telling them to put their hands up," he said.
Salvosa said he had no information whether or not there was a weapon inside the vehicle at the time. He said he could see Wright slumped over in the driver's seat.
Prosecutor asked if Salvosa held the occupants of the white Buick at gunpoint for several minutes. He says yes. Salvosa says officers from multiple agencies were arriving on the scene. He said it was hard to see into the vehicle due to its tinted windows. He said that Wright and the passenger were in the vehicle for up to 10 minutes upon his arrival at the scene.
He said when Wright was taken out of the vehicle, he provided a medical bag and AED to officers who were providing medical care. He was then ordered to tape up the scene.
Salvosa said he had received confirmation that Wright died and had been shot, but didn't know at the time that it was an officer-involved shooting.
Salvosa said he "briefly spoke" to Wright's relatives, including his mother, who responded to the scene.
Salvosa said once informed the incident involved an officer firing shots, he says he was put in isolation as a potential witness. Prosecution introduces his dash camera video into evidence, it shows that the squad was behind the vehicle struck by Wright's vehicle.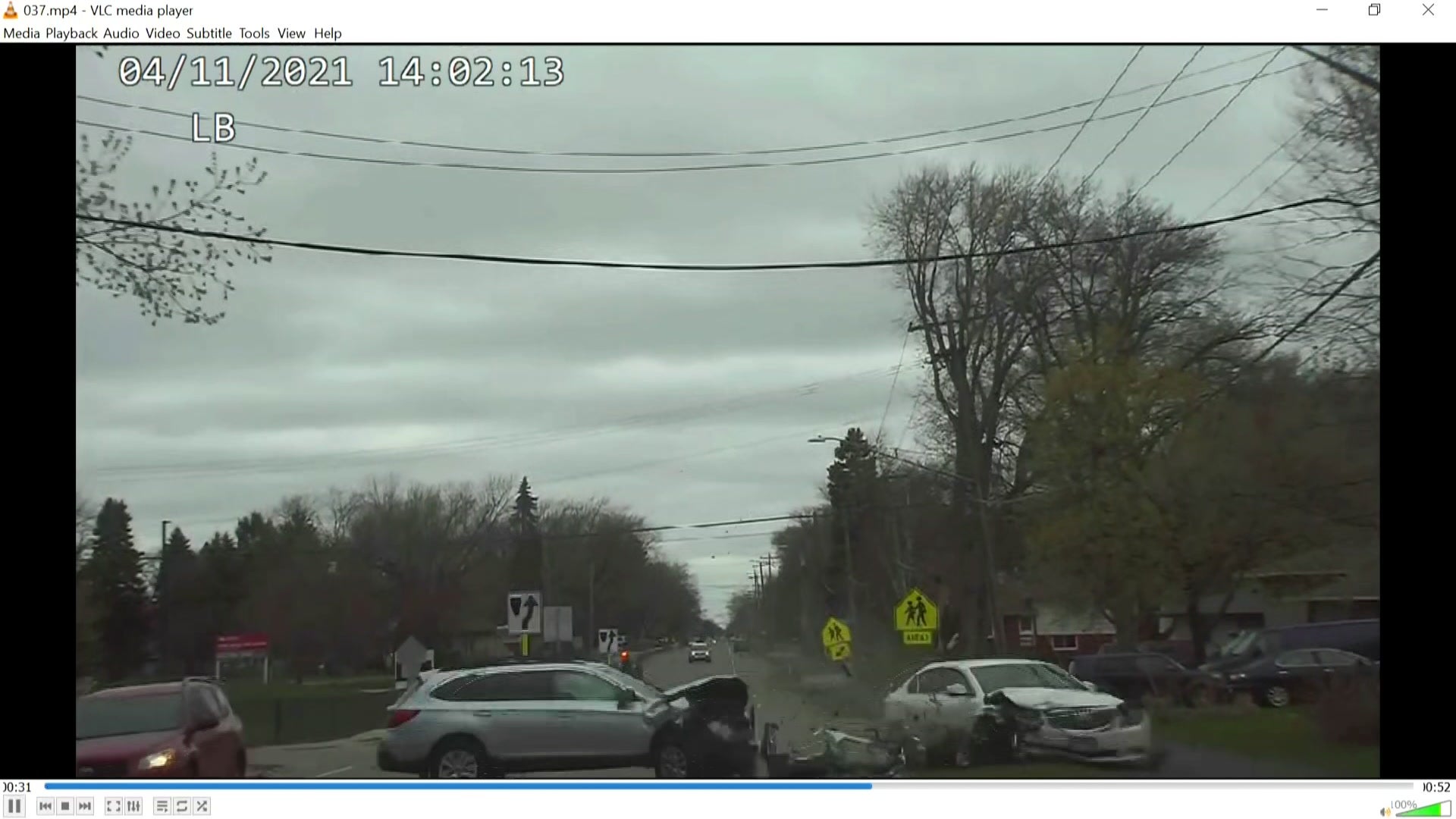 State shows video of surveillance video synced with Salvosa's body worn camera, later showing video of just the body camera footage. A number of minutes into the video, the first paramedic from North Memorial arrived on scene.
"He's (Wright's) not breathing," one officer in the video says. "We'll deal with that when we deal with it," another says.
The video later shows Salvosa bringing officers a medical bag as they work on treating Wright.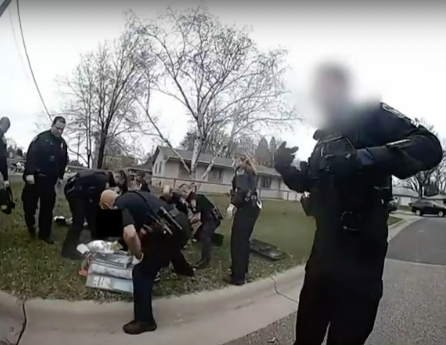 A police officer can be heard saying "Jesus f---- Christ, I don't think he's going to make it."
The video finishes after Wright's body is covered by a sheet. The video ran for 17 minutes, 25 seconds.
UPDATE (11 a.m.): Testimony resumes with prosecution calling Kerry Blanski to the stand. She lives in the neighborhood where Wright was killed. Surveillance video from her home captured part of the event.
She said she went outside after the crash and described seeing Wright's mother, who was distraught when she arrived.
Blanski excused from the stand after no cross-examination from defense.
UPDATE (10:25 a.m.): The state's next witness is the daughter of Patricia Lundgren, Denise Lundgren-Wells.
She said she received a voicemail from her mother saying: "We've been in an accident. The car is totaled. The guy in the other car died. We're tired and going to bed. Don't call us."
Lundgren-Wells is describing the health issues that her father has had, including his decline in health following the crash. He is currently in hospice.
She said his health decline "accelerated quickly" and said he is unable to even swallow a pill.
In a short cross-examination, defense asks if she learned Wright was driving the vehicle that crashed into her mother's vehicle. She agreed.
Court takes a mid-morning break.
UPDATE (10:15 a.m.): Defense begins cross-examining 84-year-old Patricia Lundgren, a Brooklyn Park resident who was driving with her husband when her car was struck by Wright's vehicle after the shooting.
Defense Attorney Earl Gray asks about her saying that they got "hit hard" immediately following the incident. She agreed that her husband and her would have died if they weren't wearing seatbelts.
Lundgren agrees that Wright was the driver of the car.
After short questioning from defense, state does not redirect and Lundgren is excused.
State calls next witness to the stand.
UPDATE (10 a.m.): State calls its next witness to the stand, 84-year-old Patricia Lundgren. She's a Brooklyn Park resident who was driving with her husband when her car was struck by Wright's vehicle after the shooting.
Lundgren said Wright's vehicle crossed the center line and struck her vehicle head-on.
She said she was surprised that "no one was helping me" after the accident, which usually happens. She said she wasn't injured, but her husband was.
The state showed a picture of her vehicle damaged following the crash.
Lundgren said she needed to help her husband, Kenneth, out of the vehicle because the door wouldn't open from the inside following the crash. She said "he didn't know where he was" and that his head was hurting. She said she opened the door and had to lower her husband's head while helping him out due to the airbags.
She said she remembers hearing police demanding the driver of the other vehicle to get out.
UPDATE (9:40 a.m.): Defense begins cross-examining Alayna Albrecht-Payton, beginning with questions about Wright's reluctance to get out of the vehicle. She said she didn't remember telling him to "just get out" of the vehicle after the traffic stop.
When asked when she first met Wright in person, she said it was later in March. Court goes into sidebar when defense presses her on what they did when they first hung out, and state objects.
Judge Regina Chu granted and denied objection in part.
Defense asks Albrecht-Payton if Wright smoked marijuana the morning he was shot, after he got up. She said they both did, but didn't have any "disabling effects."
Albrecht-Payton says her father had a criminal history and had multiple interactions with law enforcement, saying the encounters with police were bad "most times."
State questions witness again, asking Albrecht-Payton clarification on whether the car was turned on or off during the incident. The defense raises multiple objections.
Albrecht-Payton says she does not recall if the car was on or off.
Albrecht-Payton is excused from the stand.
UPDATE (9:13 a.m.): Court proceedings begin after a short delay.
The state calls Alayna Albrecht-Payton to the stand. She was in the car with Daunte Wright when former officer Potter shot and killed Wright.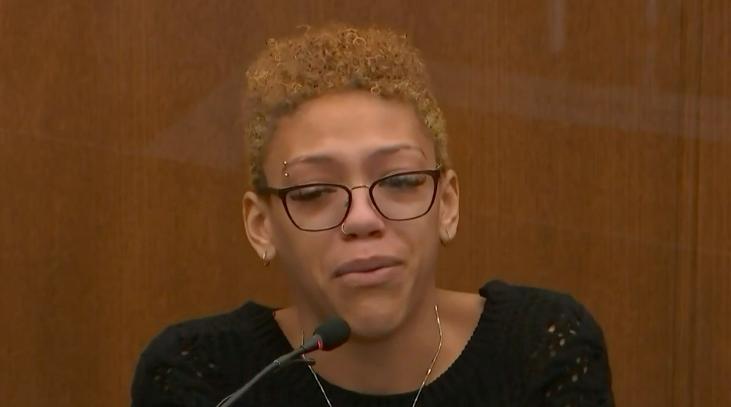 She said that Wright and her were just becoming boyfriend and girlfriend, but were "never really official" prior to the incident.
When asked about Wright being pulled over, she said that police told them multiple reasons why they were pulled over.
"It was the air freshener, it was the tabs, it was the warrant," she said.
As she recounted the incident, Albrecht-Payton began to cry, saying that Wright was "really scared" and that she never saw him like that before. She said he wasn't armed.
"I remember hearing the boom, the bang of the gun," she said.
She said after the shooting, she tried talking to him and putting pressure on his chest. She said he was gasping, struggling to breathe.
"I didn't know what to do," she said.
Albrecht-Payton said the memory of Wright struggling to breathe and talk stays with her.
Shortly after the shooting, she said she answered a FaceTime call from Wright's mother. Crying on the stand, she apologized to Wright's mother, Katie, for pointing the phone's camera at Wright's body. She said she was in shock and no mother should see something like that.
The state played body cam video of Albrecht-Payton being taken into custody by police. Police restrain her hands, but say she's not under arrest. She's heard saying that there was no one else in the car but Wright and her.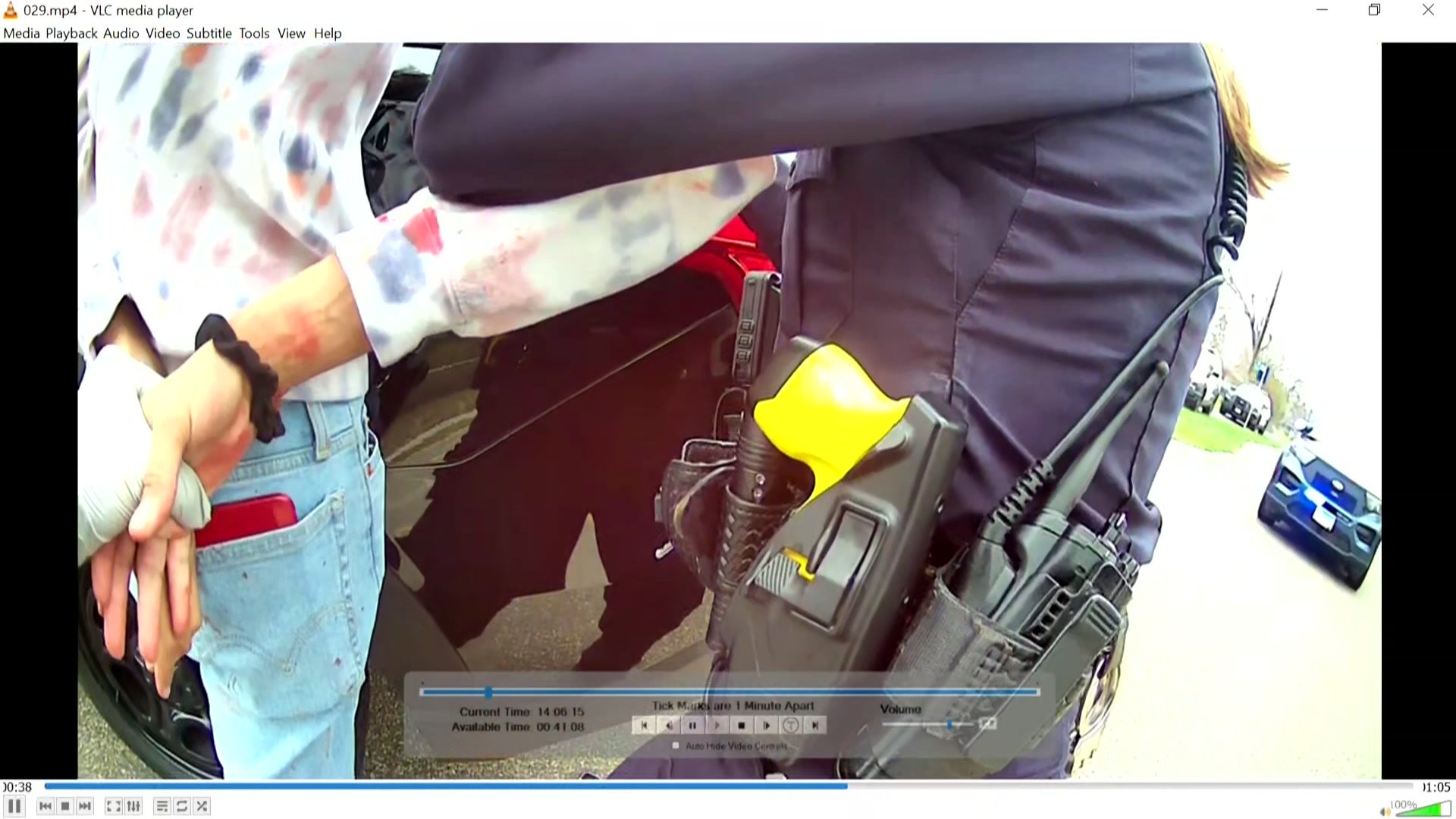 Albrecht-Payton described the injuries she suffered in the incident, including a laceration to both her lip and ear, and a concussion. She says she's still affected by the injuries.
----
Opening statements were made Wednesday in the trial of former Brooklyn Center police officer Kim Potter, who is charged with first- and second-degree manslaughter in the shooting death of Daunte Wright. New footage of the fatal shooting was played in court when witnesses were called to the stand, the first of which was Wright's mother, who testified that the day her son died was the worst day of her life.
Katie Bryant shed tears on the stand as she described how her 20-year-old son was a "jokester" and a "wonderful father" to a 1-year-old child. She said that on April 11, she was watching her grandson when Wright stopped by their home to pick up cash for a car wash and gas. It would prove to be the last time she saw her son alive.
Body camera video presented in court showed Bryant arrive at the scene of the shooting, asking officers why Wright was shot. She testified that she could tell her son's body was under a sheet near his car because she recognized his tennis shoes.
"I wanted to comfort my baby," she said. "I wanted to hold him. I wanted to protect him, because that's what mothers do."
The second person to take the stand during the first day of testimony was Brooklyn Center police officer Anthony Luckey. The 31-year-old Brooklyn Center native was undergoing field training officer, and Potter was his partner.
Composite video of dash camera and body camera footage played during Luckey's testimony. The video showed the officer stopping Wright's car, Luckey running a check on Wright and attempting to arrest him on an outstanding misdemeanor weapons warrant. When Luckey tried to handcuff Wright, he said he could feel Wright tense up. "Don't do it, bro," Luckey can be heard saying.
When Wright tries to get back into his car and a struggle ensues, Potter can be heard saying "I'm going to Tase you." She threatens to Tase Wright again before yelling, "Taser, Taser." A moment later, a single shot rings out.
Immediately after, Potter says, "I just shot him...I grabbed the wrong f------ gun." The footage shows her crying, kneeling on the ground and screaming, "Oh my God." At one point, Potter says, "I'm going to go to prison," at which Luckey responds, "No, you're not."
Earlier in the day, during opening statements, prosecutors told the jury that police officers must always be mindful of the welfare of others. Attorney Erin Eldridge said that Kim Potter's duty that day was to protect life, not take it.
"This case is about an officer who failed," she said.
The prosecution's argument will not hinge on whether Potter intended to kill Wright, but that she was reckless and negligent. The state plans to argue that Potter should not have even tried to Tase Wright, as it's against the department's policy to Tase a fleeing suspect.
On the other hand, Potter's defense said in opening statements that her "good name has been besmirched" by false allegations and "slanted" press coverage. Defense attorney Paul Engh told the jury that all Wright had to do was surrender and he would "still be with us."
"[Potter] made a mistake," Engh said. "This was an accident. She's a human being. "
The defense plans to have Potter take the stand. Also testifying will be a police psychologist, who will speak on the concept of "action error," when someone does on thing while meaning to do another.
Others expected to testify in the coming days include the woman who was in the car with Wright when the shooting happened and Potter's former boss, Tim Gannon, who was fired as police chief in the days after Wright's death.
In the end, it'll be up to the jury to decide whether Potter's mistake was criminal or not.
Outside the courtroom Wednesday evening, protesters took to the streets of downtown Minneapolis, demanding justice for Wright. Courtney Ross, George Floyd's girlfriend, spoke to the crowd, saying that Potter needs to face consequences for taking Wright's life.
"If she was a woman of honor, she would have admitted her guilt and faced the consequences," Ross said. "But she's not. She's a coward. She's a murderer."
Testimony in the trial is set to continue Thursday morning. CBSN Minnesota will have gavel-to-gavel coverage.
For more background information on the trial, click here.
Thanks for reading CBS NEWS.
Create your free account or log in
for more features.