Coronavirus In Minnesota: Vice President Mike Pence Visits Mayo Clinic, Observed Not Wearing Face Mask
Coronavirus: Latest News | Community Resources | COVID-19 Info | Download Our App | CBSN Minnesota
MINNEAPOLIS (WCCO/AP) -- Vice President Mike Pence returned to Minnesota Tuesday to tour Rochester's Mayo Clinic to learn about a new coronavirus testing partnership.
Shortly before noon, Pence arrived in Rochester on Air Force Two and was greeted with an elbow bump by Gov. Tim Walz. Congressman Jim Hagedorn also greeted the vice president.
While touring the Mayo Clinic, Pence was observed speaking with healthcare workers and plasma donors, along with touring a coronavirus testing lab to get an explanation of the lab's capabilities. However, he was notably not wearing a face mask.
The clinic's policy, per their website, is as follows: "Part of our protocol for ensuring your safety is to require all patients, visitors and staff to wear a face covering or mask while at Mayo Clinic to guard against transmission of COVID-19."
The Mayo Clinic tweeted that he had been informed of the mask policy prior to his visit, but then deleted the tweet shortly after. When WCCO reached out to the Mayo Clinic for further comment, they responded: "Mayo shared the masking policy with the VP's office."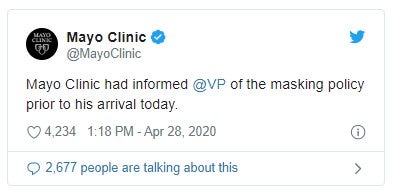 WCCO-TV's Esme Murphy asked Pence why he wasn't wearing a mask during the visit.
"You know in my role as vice president, I'm tested for the coronavirus every day and literally everyone around me is tested on a regular basis," Pence said.
During the visit, Walz was scheduled to walk Pence through the state's partnership with Mayo and the University of Minnesota to expand testing for COVID-19. The partnership is expected to boost the state's capacity to 20,000 tests a day.
"This is not a state that's just going to get through COVID-19; this is a state that's going to lead this nation and the world out of this," Walz vowed of his "moonshot."
After touring the Mayo Clinic labs the vice president heaped praise on the state and Democratic Gov. Tim Walz.
"I also want to say how much we appreciate Gov. Tim Walz and the partnership you forged, not just with our taskforce, but with our president," Pence said.
And while Walz and the Trump administration have been at odds, Walz also offered his thanks.
"I want to thank you and the president, I think there's a bond with the governor's," Walz said.
The vice president, who is the head of the president's coronavirus task force, gave an optimistic outlook of when the crisis could end.
"We could well have much of the coronavirus epidemic behind us by early June, but it will take all of us to continue to do it," Pence said.
The visit comes a day after President Donald Trump announced new guidelines for expanded testing and tracing. Members of the president's coronavirus task force say the country will be capable of testing eight million people next month.
The Mayo Clinic has also been doing pioneering work in the research on blood plasma from survivors, which has show some promise as a potential therapy for COVID-19 patients.
Minnesota has one of the lowest confirmed cases per-capita in the country, but its testing has lagged behind what the Walz administration says is needed. An Associated Press analysis of data from the COVID Tracking Project shows that Minnesota now ranks among the lowest states in per-capita testing, sixth from the bottom at 10.51 per 100,000 residents, with Kansas last at 9.01. Rhode Island is the highest at 50.51. while New York, the hardest hit state, ranks second at 41.21.
CONTACT US: Do you have a story about the COVID-19 pandemic to share with us? Please contact us here.
Thanks for reading CBS NEWS.
Create your free account or log in
for more features.