'Her Son's Life Matters': Family Overjoyed After Former LASD Deputy Charged With Manslaughter In 2019 Shooting Of Ryan Twyman
LOS ANGELES (CBSLA) — A former Los Angeles County Sheriff's Deputy was charged with manslaughter Wednesday for his role in the fatal shooting of Ryan Twyman, an unarmed black man in 2019.
The charge was announced by Los Angeles County District Attorney George Gascón, who officially charged Andrew Lyons, 37, with one felony count of voluntary manslaughter and two felony counts of assault with a semiautomatic firearm.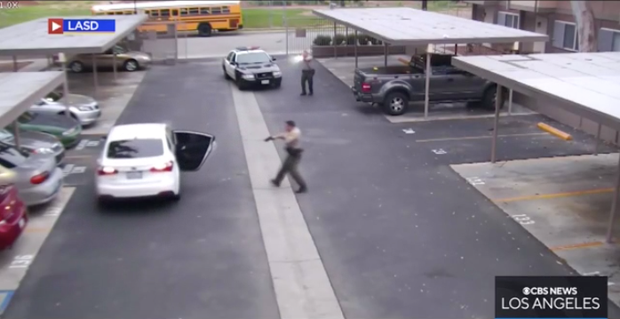 "Protecting public safety is the highest responsibility for the entire law enforcement community. That extends first and foremost to those sworn to protect it," said Gascón. "Policing is a difficult and trying job, but it does not excuse anyone from accountability under the law - especially when a human life is lost."
Lyons' arraignment is scheduled for Friday afternoon.
The deadly shooting occurred on June 6, 2019 at around 7:30 p.m. at an apartment complex in Willowbrook, where Ryan Twyman, 24, and another unidentified person were sitting in his vehicle.
RELATED: 'My Son Was Murdered': Family Wants Justice For Man Shot 34 Times By Deputies In Willowbrook
Deputies responded to the scene following a tip on Twyman's location, as they were investigating the victim for allegations of possession of stolen firearms, which were found in his apartment some months earlier. When they found Twyman in his vehicle, they approached with firearms drawn.
Via security footage, one deputy can be seen opening the vehicle's rear passenger side door to speak with Twyman, before Twyman appears to put the car in reverse.
The deputies then opened fire on the vehicle, which came to a stop a short time later. The District Attorney's Office then detailed that Lyons supposedly grabbed a semiautomatic assault rifle from their LASD squad car and fired into the stopped vehicle.
The passenger in the vehicle was not struck by any gunfire, but Twyman was shot 34 times, suffering gunshot wounds to the neck and upper body. He was pronounced dead at the scene.
The Twyman family attorney Brian Dunn released a statement Thursday following the announcement from the DA's Office:
"The family is surprised and overjoyed. They had resigned themselves to the belief that once again the criminal justice system would not be there to honor their son's life and to hear the news after all of these years reinforces a belief in the family that the justice system can actually work for them. We applaud the courage of the women and men of the Public Integrity Division of the District Attorney's office for actually speaking with their actions about what the definition of murder really is."
In Nov. 2020, the Twyman family received a $3.9 million settlement from Los Angeles County to resolve a federal lawsuit stemming from the shooting.
The case remains under investigation by the Los Angeles County Sheriff's Department. The other deputy involved in the shooting was suspended for 30 days.
Twyman's death initially brought outrage from the Southern California community, and during the 2020 protests for George Floyd and Breonna Taylor, Angelenos could be heard chanting Twyman's name as well as they marched through Southland streets demanding social justice.
"This was right in the heart of the community, right at an hour when everyone was present. It was flagrant and it was completely unexpected," said Dunn.
When speaking with CBS reporters Thursday, Dunn noted the meaning of the momentous decision.
"I thought I had a bad connection, because she was just sobbing on the phone," he said. "Just sobbing, because what it shows is that her suffering matters. Her son's life matters."
LASD Sheriff Alex Villanueva supported the DA's decision, noting that the deputy was fired in November after the department performed an investigation on the incident.
However, charges do not equal a conviction, and now that charges have been filed against the deputy, the case will be taken to court to determine the true outcome.
Even so, three years later, the Twyman family finally feels like they are a step closer to the justice they've been seeking.
"Very few of us believe that things can change. I'm not quite ready to say that it's a time of things to come, that we've come over the hump, but it is certainly a step in the right direction," Dunn said.
Thanks for reading CBS NEWS.
Create your free account or log in
for more features.