2 Young Brothers Killed In Westlake Village Crash; Woman Arrested For Vehicular Manslaughter
WESTLAKE VILLAGE (CBSLA) — Two young brothers have died after a crash in Westlake Village on Tuesday night.
Mark Iskander, 11, and Jacob Iskander, 9, were hit by a car as they crossed the street in a crosswalk at about 7:10 p.m. at the intersection of Triunfo Canyon Road and Saddle Mountain Drive. One boy was pronounced dead at the scene.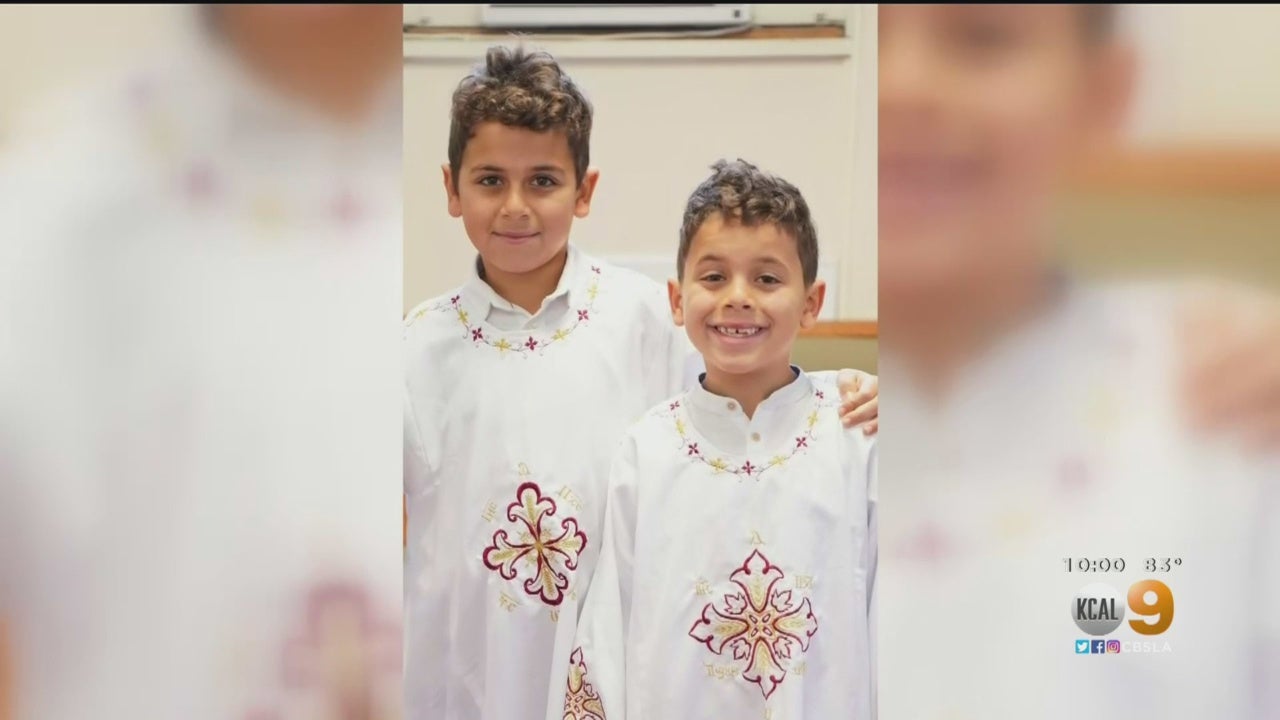 The second was taken to a local hospital where he was pronounced dead a few hours later, according to the Los Angeles County sheriff's Department.
Authorities said that the boys were walking with their family in the crosswalk when they were hit.
"The family was in a marked crosswalk," said LASD Capt. Salvador Becerra. "As [their mother] realized two cars were speeding her way, she was able to reach out and grab one of her children off of a Razor scooter, with another child in the stroller as the car entered the intersection and hit the other two."
Rebecca Grossman, 57, was arrested on two counts of vehicular manslaughter and is being held on $2 million bail. She did not stay on the scene, and her white Mercedes with front-end damage was towed away about a half-mile from where the boys were struck.
Grossman is the founder and chair of the Grossman Burn Foundation, and has also been recognized for her humanitarian work across the world.
Authorities say she was under the influence when the accident occurred.
"It's senseless because it could have been avoided by using Uber or Lyft or even calling a friend," Becerra said. "Now, two Westlake families are going to be affected by this for generations."
Residents in the area say Triunfo Canyon is a popular place to walk because it is an easy loop with a view of Westlake Village's lake. But they also say drivers do not pay attention to the 45 mph speed limit.
"I know on this street, they really do speed quite a bit throughout the day," resident Robert Heninger said.
Authorities have not said whether speed was a factor in the crash, but the sun had set by the time of the crash, and the street can be dark.
"When it's dark, it can be hard to see people that are out, but the driver should be paying better attention," Heninger said.
Paolina Bartalucci said she hoped that the fatal crash would lead to changes that would make the street a safer place to walk.
"I was just telling my friend that there should be a stop light, or something placed here -- a stop sign? -- to kind of deter people from speeding," she said.
On Wednesday night, a vigil was held for the boys.
"Lack of thought, or lack of time spent thinking what my consequences might be, has impacted thousands of families," said one person who attended the vigil.
Authorities are seeking more information on the second vehicle involved. Anyone who was a witness or may have information about the crash can contact the Malibu/Lost Hills Sheriff's station's traffic investigators at (818) 878-1808.
Thanks for reading CBS NEWS.
Create your free account or log in
for more features.