Dez Tweets Discontent While Not On A Team During Training Camp
DALLAS (CBS SPORTS) - Former Dallas Cowboys wide receiver Dez Bryant went on a Twitter tirade, ripping into his former team Friday.
It started after Bryant caught wind of an interview that Cowboys executive vice president Stephen Jones did with SiriusXM NFL radio on Friday. In the interview, Jones basically blamed Bryant for Dak Prescott's struggles in 2017.
"Dak is working on his game and accuracy. He has to trust the system," Jones said. "I think that was tough last year with Dez Bryant in his ear. I think he'll have the year he had [in 2016] if not better."
Bryant didn't take kindly to being called out by Jones and he immediately let his 3.5 million followers on Twitter know it. According to Bryant, he wasn't the reason why the Cowboys offense struggled last year, the reason the Cowboys offense struggled last year is because of "garbage ass" playcalling and the fact that the Cowboys ran a predictable offense.
"Everybody lined up in the same spot for 17 weeks," Bryant wrote.
You can see his tweet below.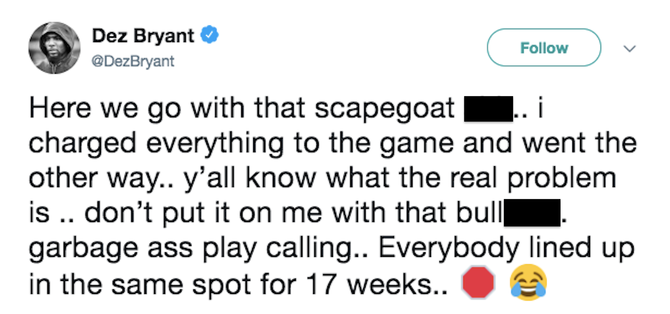 And just for the record, the words that we covered over both rhyme with "hit."
Bryant's accusation that the coaching staff is killing the Cowboys offense is actually pretty interesting, because he's not the only player in Dallas who felt that way last year.
Just before the Cowboys played their regular season finale in 2017, NFLNetwork reported that multiple Cowboys players were unhappy with the way the team's offense was being run.
Besides ripping into the Cowboys offense, Bryant was also throwing out other conspiracy theories. According to the receiver, one of the reasons he was cut by the Cowboys back in April is because Sean Lee conspired to get rid of him.
The Lee accusation came out after a fan called Stephen Jones "clueless" in a tweet sent to Bryant.
Here was Bryant's response.

Thanks for reading CBS NEWS.
Create your free account or log in
for more features.