'Claws, Teeth Seemed To Stay': Travis Kauffman Describes Fighting Mountain Lion In Attack
FORT COLLINS, Colo. (CBS4) - Weeks after surviving a mountain lion attack, the runner who killed the lion with his bare hands, was finally ready to talk about it. Thursday, Travis Kauffman talked to CBS4's Jamie Leary about what happened after he addressed a throng of reporters from across the country.
"It was definitely a little bit of a surreal experience." Kauffman told CBS4's Jamie Leary.
The 31-year-old was able to relax a bit as he spoke to CBS4 from the comfort of his kitchen. Even joked about the news conference.
"It wasn't like getting attacked by a mountain lion so that was easier than that," He said.
He laughed about some of the questions he had to answer earlier in the day.
"Some of them were a little crazy like, what kind of running shoe I wore, or what the cat's breath smelled like. Just stuff like that - If I wanted to have the cat mounted. I was like, 'No, not especially.'"
The headlines have made national and international news. There was even someone who came forward claiming it was him who killed the lion. This, especially, gave Kauffman a good chuckle.
The attack took place at Horsetooth Mountain Open Space in Larimer County on Feb. 4, and Kauffman has numerous wounds from it including lacerations on his nose and cheek. He had to have about 20 stitches.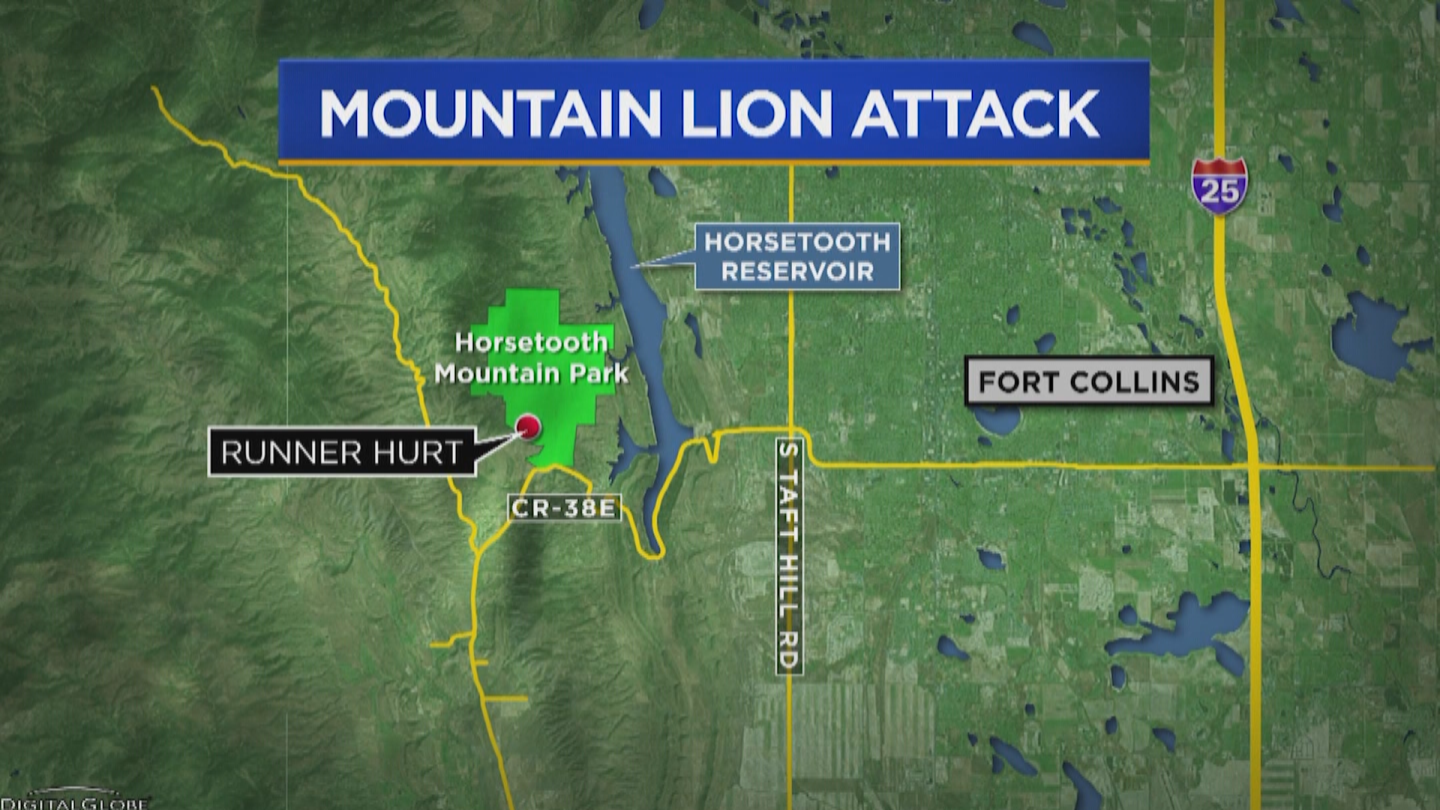 Kauffman, originally from Arkansas, has lived in Colorado for a little more than 5 years and has been trail running for about 1. He says he often ran in the trail systems west of the city.
He was planning to go on a 12 to 15 mile run on the day of the attack. He started at Lory State Park and ran south through the park into neighboring Horsetooth Mountain park.
While he was able to joke about certain things, he was serious as he recalled the moment of the attack. It lasted 10 painstaking minutes. Kauffman said in the beginning he wasn't sure it was a battle he would win.
Kauffman heard the cat coming before he saw it and was able to brace for impact.
"I looked and I saw the cat chasing after me and at that point I just stopped and threw my hands up, I faced it and started yelling and then it just kinda kept coming."
The lion jumped onto him, wrapped it's paws around Kauffman's back and dug in. He said the animals strength wasn't even the biggest issue.
"It was mostly the fact that whenever its claws or teeth sink in, they seem to stay. So it was like a matter of like pulling it off but everything wanted to just completely stay clamped down," Kauffman continued, "As we rolled down the hill, it just kept on thrashing and claws were kind of flying around."
Kauffman said he finally managed to get on top of the animal.
"I was able to get a good amount of weight pinned on it and I was just kind of looking for things around me that I could use to help get it off of me."
Kauffman ended up suffocating the animal under his weight.
"I was hoping that I could kind of get in a few hits on it and then convince it to scram but it was still really aggressive the whole time and really latched onto my wrist and didn't release until the moment it finally suffocated."
Kauffman's wrist to took the brunt of the force. He says it's still sore and he has yet to regain the feeling in two of his fingers.
"It's mouth was latched onto my wrist so I just had some puncture wounds in my wrist, kind around my ulna and another tooth penetrated pretty deep on the palm of my hand."
Kauffman also point to his lip where the lion's tooth went through. The lions claws miraculously missed his eye but left a deep gash across his cheek and nose. It took dozens of stitches to patch up.
"I had 17 here, there's some deeper ones that are in there and then they did some more superficial ones."
Immediately following the attack, Kauffman says he ran as fast as he could. His biggest fear was that there may be other lions lurking in the area.
Once he reached the trailhead, he was able to assess his injuries.
"I had some bloody spots on my arms and kind of dripping down my neck but nothing seemed like it was spurting so I felt really good about that and I started to jog down."
The winter layers, he was wearing prevented his injuries from being more severe.
"It was really fortunate that I had on double layers of long sleeves and gloves. Yeah I really feel like if I didn't have gloves on my hands would've been a real big time mess."
He says he is also glad he choose to run without headphones. Had he not heard the lion coming, he fears the outcome would have been much different.
WATCH: Travis Kauffman Describes Attack Before He Killed Mountain Lion
"I'm really glad that I was able to turn because it would've been a lot tougher fight if it had been able to get on my back and sink it's teeth into my neck instead of my arm."
Kauffman hopes his story helps inform people not scare them.
"I want them to know they shouldn't be reluctant about using the open spaces um but just to kind of be aware that there is wildlife in the area and take certain precautions."
The attack took place at Horsetooth Mountain Open Space in Larimer County on Feb. 4.
The attack has not deterred him from running but it may be some time before he returns to the trail where it happened.
"If I do go back its gonna be with maybe one or two other people, it'll probably still raise the hairs on the back of my neck whenever I go and hit that trail."
RELATED: Conservationist Explain Mountain Lion Activity In Larimer County
Watch Travis Kauffman's complete news conference below:
Thanks for reading CBS NEWS.
Create your free account or log in
for more features.