Stapleton Helps Conduct Research On School District Spending
By Shaun Boyd
DENVER (CBS4) - New analysis shows administration costs in most Colorado school districts are growing at a much faster pace than spending on classrooms. As a result, thousands of dollars that could have gone to increasing teacher pay have gone to administration instead.
State Treasurer Walker Stapleton -- who is running for governor -- helped conduct the research using data from the Colorado Department of Education, which validated the findings.
Stapleton says he's a numbers guy and when he started looking into education funding, the numbers just didn't add up.
"This confirmed some of my worst fears about how we're spending education dollars in Colorado," he said.
Stapleton looked at the growth in school administrators versus students and teachers from 2011-2018. He found statewide, the number of students has increased six percent and the number of teachers has gone up eight percent, but the number of administrators has shot up 35 percent.
In some districts, the spread was even greater, such as in Westminster.
"The number of students has decreased by almost seven percent, the number of teachers has gone down by six percent and yet administrative costs have gone up by 40 percent. That's concerning to me and should be concerning to parents," Stapleton said.
While administrators in the district saw a $4,000 increase in salary, he says, teachers' pay decreased by $300.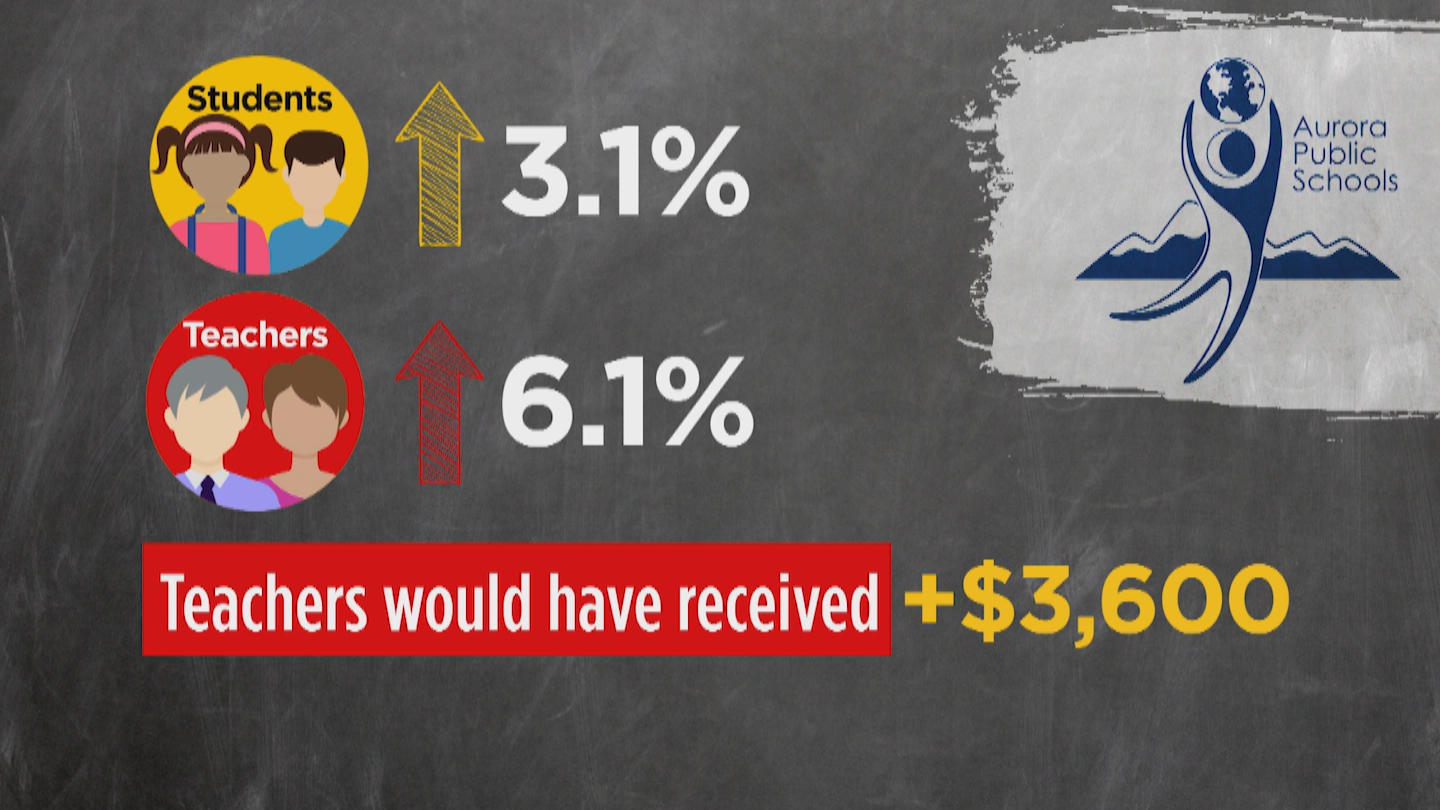 In Aurora Public Schools, there were slightly more students and teachers, but 78 percent more administrators. Without the increased administration, Stapleton says, teachers would have received $3,600 more in total compensation.
Denver saw a 105 percent increase in administration, and had the additional $38 million spent on administrators gone to teachers, Stapleton says, they would have received a $6,000 raise.
Then there are districts like Poudre, where there are nine percent more students, 56 percent more teachers, but no new administrators.
"I think the onus of responsibility should be on the school district to say 'If my administration costs outpaced the growth of teachers seven to one and the growth of students eight or nine to one, why was that? Why did that occur? And what can we do to reign in those costs in the future?'" he said. "I think it leads itself to really creative ways to address this problem -- either ways that the state of Colorado can offer bonuses or benefits to school districts that keep administration costs in check. Maybe it takes sense to offer administration caps."
Stapleton went on to say, "Obviously, this is a complex problem because what may work in a rural school district may not apply to our largest school district -- DPS -- but we have to start somewhere."
And the numbers, he says, are a good place to start.
"Numbers are hard to politicize, they're hard to deny the existence of, and they really illuminate challenges and problems with state government."
Stapleton's Democratic opponent Jared Polis says he's also concerned more money is not going to things like teacher pay. He says he's in favor of attaching strings to money the state gives school districts.
A November ballot measure asks voters to increases taxes for education. Stapleton opposes it. Polis has not taken a position on it.
Shaun Boyd is CBS4's political specialist. She's a veteran reporter with more than 25 years of experience. Follow her on Twitter @cbs4shaun.
Thanks for reading CBS NEWS.
Create your free account or log in
for more features.