Cameron Peak Fire: New Areas Ordered To Evacuate On Labor Day
LARIMER COUNTY, Colo. (CBS4) – More mandatory evacuations were ordered Monday morning and afternoon around the Cameron Peak Fire, due to "immediate and imminent danger."
Officials have ordered mandatory evacuations for:
Glacier View;
The area between Stove Prairie Landing south on County Road 27 to County Road 44H and east, to include Stratton Park;
Along Highway 14 from Kelly Flats to Stove Prairie Landing;
Along Highway 14, from Stove Prairie Landing to Gateway Park;
County Road 27 from County Road 44H south to Big Bear Road;
County Road 52E (Rist Canyon Road) to include Davis Ranch Road, Whale Rock Road and west to County Road 27E.
Residents and businesses in Red Feather and Crystal Lakes
Lady Moon and Red Feather Highlands areas
Some of the areas were previously under voluntary evacuation orders but those have been upgraded to mandatory.
Members of the Colorado National Guard were directing evacuees on Monday afternoon.
A Colorado National Guardsman advised a motorist at Rist Canyon, "Don't be alarmed this evacuation is mandatory if something happens we will probably come and grab you."
Candace Andrasik grabbed what she could. She's had practice. Her home burned down during the 2012 High Park Fire near here.
"To go through this again is traumatizing emotionally," she told CBS4's Rick Sallinger.
Sallinger met her at an evacuation center. The Red Cross is assisting people with support however they need it at this critical moment.
Warren Parks and Amy Adams also evacuated their home in Buckhorn Canyon after the fire's rapid growth overnight. On Monday they stopped by the evacuation center at Cache La Poudre Elementary School to get help from the Red Cross.
"All the cards are in the air. You don't know if your house is standing or not. You don't know if your life is going this direction or that direction," Parks said.
When asked if incoming snow gave them hope for their home, Parks said it was likely "too little too late."
"It's bittersweet knowing it'll come too late," said Parks. "Probably everything we own is burned and now it'll be covered in snow."
PHOTO GALLERY: Cameron Peak Fire
The fire exploded in size over the weekend - a reported 96,452 acres as of Monday night. It is now the seventh largest fire in Colorado history. It is just 4% contained. It is burning 25 miles east of Walden and 15 miles southwest of Red Feather Lakes.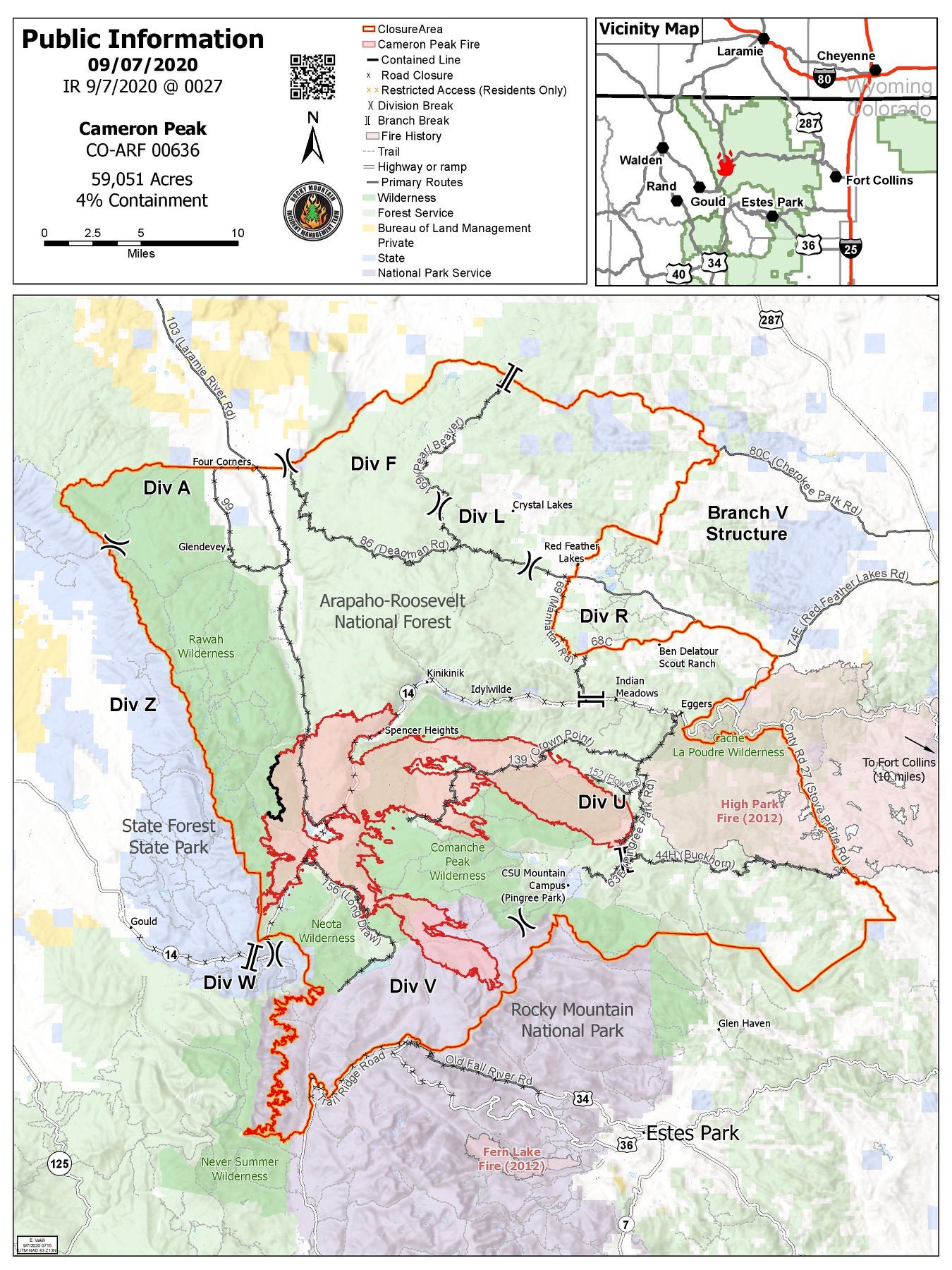 "We've seen tremendous growth," said Larimer County Sheriff Justin Smith on Monday afternoon. "It's getting into areas with structures. And we've had to pull the pin on evacuations at a level that we'd never expected."
Smith said the fire made "about a 10-mile run in a day or two."
On Sunday, people living on Buckhorn Road, from Pennock Pass to County Road 27, were ordered to evacuate.
On Saturday, mandatory evacuations were ordered for people living on Pingree Park Road, Highway 14 from the Fish Hatchery east to Kelly Flats.
LINK: NoCo Alerts
Cache La Poudre Middle School on County Road 54G in Laporte will serve as a shelter. Small animals can be taken to the Larimer County Humane Society. Those with large animals are asked to contact Troy Badberg at 970-443-3231.
Lilly Ellis was with friends at the evacuation center. She, too, had lost a home in a previous wildfire.
"We're kind of scared because our house burned down in the High Park Fire," she said.
Andrasik doesn't want to lose her home again, "Oh my goodness gracious, we were out about three years living in a friend's home, thank goodness for Habitat for Humanity that helped us build a home."
Rocky Mountain National Park officials closed Old Fall River and Trail Ridge Roads. They will remain closed because of "critical fire weather conditions, strong winds and active fire behavior." The closure includes access to vehicles, bicycles and pedestrians.
The fire created a huge plume of smoke that was be blown through Fort Collins, down to the Denver metro area, and out east across the state. It caused hazy skies and created unhealthy air conditions.
RELATED: Cameron Peak Fire Creates Huge Smoke Plume, Unhealthy Air Conditions
Those who live in the evacuation areas were caught between the forces of nature, hoping and praying that a cold front with snow would arrive before the flames.
Thanks for reading CBS NEWS.
Create your free account or log in
for more features.