Parents: Our Daughter Nearly Died From Vaping
CHICAGO (CBS) -- There was a major break Thursday night in the nationwide vaping crisis.
Public health officials said some of the marijuana products that recently sickened users across the country all contained the same chemical – a type of oil made from vitamin E.
The chemical is harmless when used as a supplement or skin ointment, but apparently is not safe for vaping – which has killed two and sickened many others.
On Thursday night, parents of two Illinois teenagers were sharing stories about how vaping almost killed their kids. As CBS 2's Dana Kozlov reported Thursday night, they went from healthy to death's door in a short time.
"It's terrifying," said Ruby Johnson. "I'd taken things away. I had thrown them away, confiscated them, grounded her, and you know, was told she wasn't doing it."
Ruby and Tim Johnson's daughter, Piper, had been using vaping devices. She had also been planning to start college and move into her dorm.
But those plans were quickly derailed when what she thought was a case of bronchitis turned into a near-death experience.
She and her parents left south suburban New Lenox heading for Colorado and college when Piper began coughing and complaining of pain trying to take a deep breath.
"I thought maybe I had bronchitis, and so I was like, 'Oh, it's fine. It'll go away,'" Piper Johnson said. "And then like I started getting more lethargic."
RELATED: Illinois Man Dies Of Vaping-Related Respiratory Illness | 'It's Very Scary': Teen Says Vaping Put Her In A Coma | FDA Calls Teen Vaping An "Epidemic," Threatens To Pull Products Off The Market
At an urgent care visit, doctors discovered Piper had what looked like "early pneumonia," her mom, Ruby Johnson, said.
Piper was admitted to the hospital. A doctor thought she had developed a more severe "diffuse pneumonia" all over her lungs.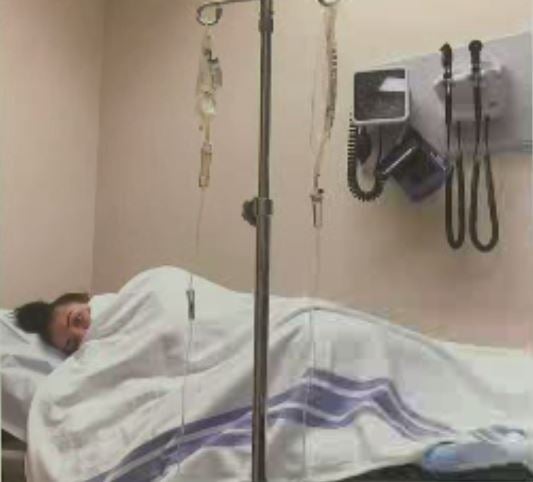 She needed liter after liter of oxygen, IV fluids, antibiotics, pain medications, anti-nausea medicine and a diuretic to clear fluid from her lungs.
As Piper needed more and more oxygen, she was transferred to the ICU.
"When you watch your 18-year-old child -- who was healthy a week ago -- in a hospital bed, in intense pain, and needing more and more oxygen, and being transferred to the intensive care unit, and you have no idea what's going to happen, or how much worse it's going to get, it's terrifying," her mother said.
Ruby said the doctors told her Piper had a "sudden and severe lung illness due to vaping" – nicotine in her case.
She said a doctor told her if they had waited one more day to take Piper in, she would have ended up unresponsive and on a ventilator.
Now her parents are sharing their story, because they say they don't want this to happen to anyone else's child.
"It's disgusting how these companies have designed these products," Ruby said.
She believes that vaping is targeted toward teens, but is more dangerous than tobacco.
After steroid treatment, Piper is back at school at Northern Colorado University. Adam Hergenreder is not.
"When I first got here, it was like a baby bear was on my chest," Hergenreder said.
Hergenreder, of Gurnee, admitted to vaping both nicotine and marijuana for two years before he really got sick – just like Piper Johnson. His pulmonologist also blamed vaping – saying there doesn't seem to be any other causes turning up in these cases.
"You never think it's going to happen to you, and then it does, and then it's like, 'Oh my God, all the stuff that I've been doing like the past two years that I thought was completely harmless has silently been killing me," Piper Johnson said.
According to the U.S. Food and Drug Administration, e-cigarettes, including the popular Juul brand and others, have become the most used tobacco product among teenagers.
The Johnsons' attorney cited the U.S. Centers for Disease Control and Prevention in saying vaping amongst high schoolers increased 80 percent between 2017 and 2018.
"E-cigarette makers are targeting our children by making them easier to hide or disguise, and more palatable; tasting good," said attorney Michael Gallagher.
"E-cigs have become an almost ubiquitous — and dangerous — trend among teens," FDA Commissioner Scott Gottlieb added in a statement. "The disturbing and accelerating trajectory of use we're seeing in youth, and the resulting path to addiction, must end. It's simply not tolerable. I'll be clear. The FDA won't tolerate a whole generation of young people becoming addicted to nicotine as a tradeoff for enabling adults to have unfettered access to these same products."
In a June 2018 interview with CBS News, Juul's chief administrative officer Ashley Gould insisted that the company never intentionally marketed to teens.
"Juul is a product for adult smokers. And they [teens] have adopted it," Gould said.
"We need better legislation, stricter regulation and we desperately need education," Ruby Johnson said.
Thanks for reading CBS NEWS.
Create your free account or log in
for more features.