Cubs 'W' Flag Has Long History Beyond Wrigley Field
CHICAGO (CBS) -- It's on T-shirts, towels, pins and even has its own hashtag, but the Cubs "W" flag has actually been around for almost a century.
"Back in 1919, there was a transport company called The Wilmington Transport company and it ran people back and forth from the California Coast to Catalina Island," said Ed Hartig, Cubs historian.
"William Wrigley Junior bought the island and the transport company, and the island for the better part of 30 years was the spring training home for the Cubs. The transport company's logo was a blue flag with a white W."
Later in 1937, the Wrigley family rebuilt the bleachers and the scoreboard and as part of that renovation, they put a masthead and yard arm at the top of the board. From the yard arm, they would hang the division standings.
Podcast
"They also used that yard arm to fly a single flag," Hartig said. "It was the won-loss flag after every home game. The idea being if you walked by the ballpark or ride by on the L, you could look up at the scoreboard and see the flag to see how the Cubs had done."
Long before radio, TV and social media, it was how Cubs fans who weren't at the game would find out the day's results.
"There were also lights along the yard arm," Hartig said. "They would turn on the blue light on the left-field side for a win or a white light on the right-field side for a loss."
The original flag matched the Wilmington logo. In the early 1980s, the flag colors were transposed.
"When they retired Ernie Banks' number in 1982, they decided Ernie's flag would look like a uniform, it would be white," Hartig said. "So that's when they changed the W flag to a white background and a blue W and match the entire numbers flags."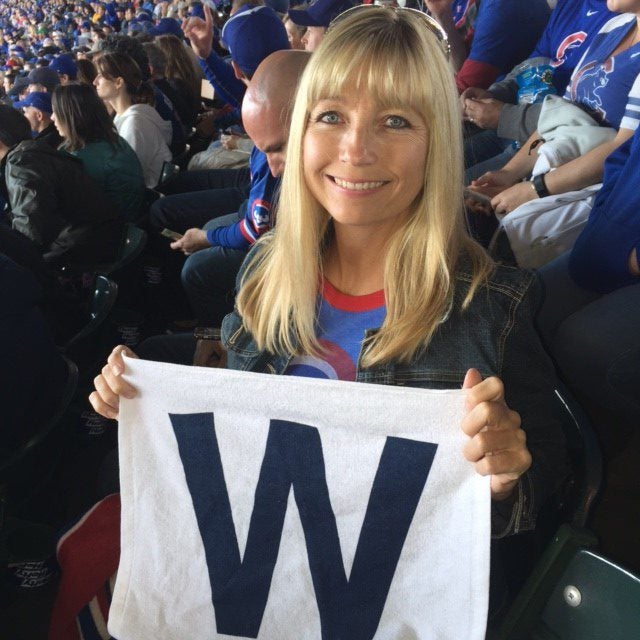 Now, the Cubs have a trademark on the W and you can see it all over the place now.
"Its on hats, T-shirts," Hartig said. "The Cubs use it in their advertising slogan. It's a simple slogan we can all get behind. We want to fly the W."

And more than anything, the flag has become a symbol of unity, loyalty, hope and pride, Hartig said.
"It's a tradition, it's something Cub fans have come to understand," he said. "You tell another fan, hey, we flew a W today, it's our communication."
Thanks for reading CBS NEWS.
Create your free account or log in
for more features.