(CBS) -- Andi Traynor and Max Montgomery's relationship nearly ended before it even started. They met through Facebook: Montgomery posted an invite asking friends to train with him for a marathon paddleboard event in New York City and Traynor answered.
After their fourth paddle session, Montgomery felt a burning sensation in his chest.
"I kept saying just make it to the car, make it to the car and I said I need to put the board down and I put the board down and then boom that was it," Montgomery said.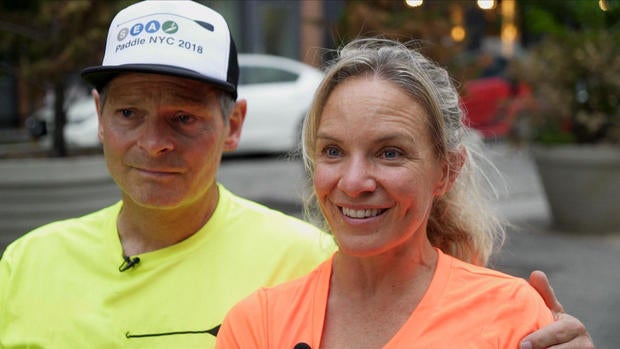 CBS NEWS
Montgomery went into cardiac arrest -- he didn't have a heartbeat for 17 minutes.
"I checked for a pulse and I didn't feel a pulse," Traynor said. "I just -- I thought he was dead."
Traynor -- a doctor -- got down on her knees administering CPR and mouth-to-mouth.
"I ran 10.4 miles the night before -- I had no idea I was gonna have a heart attack," Montgomery said. "Luckily I was with someone who knew CPR. Without it I'm not here."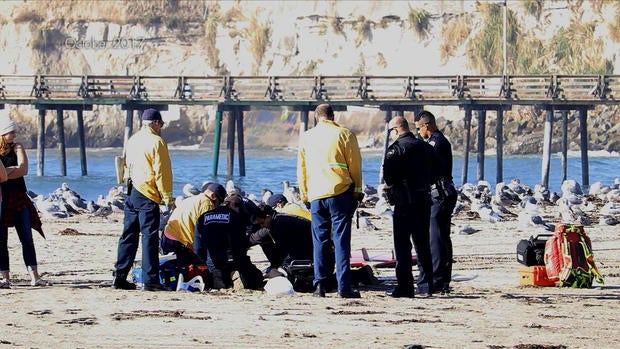 "CPR kept his brain alive so that he could be who he has always been," Traynor said.
It took six defibrillator shocks from the EMTs to get his heart beating again, but Montgomery says if it wasn't for Traynor he wouldn't be standing here today.
"That first kiss being CPR was obviously very magical because here I am and I'm very grateful that I'm able to experience further kisses," Montgomery said.
"I got the opportunity to share life with him and it doesn't seem awkward or anything that was our first kiss," Traynor said.
The couple is now sharing their story in hopes of saving lives.
"Anything can happen at any time to anyone," Montgomery said. We've helped start bringing this short 5-10 minute lifesaving instructions to teach people who to give CPR, to call 911, how to get an AED device."
"We want to empower people to do a lot of things but especially to know they have the power to save a life, too," Traynor said.
The whole incident was caught on a camera by a photographer who was recording bird migratory behavior.
Learn more about the couple's program by visiting their website here.