Chicago Weather: Severe Thunderstorm Warning Issued For Lake and McHenry Counties
CHICAGO (CBS) -- A severe thunderstorm warning has been issued for parts of Lake and McHenry counties in Illinois until 10:30 p.m.
This could include hail and winds up to 60 mph.
-----
A tornado warning has been issued for Cook, Lake and McHenry counties until 7:45 p.m. Wednesday.
The National Weather Service in Chicago has issued a Tornado Warning for Lake County in northeastern Illinois, southeastern McHenry County in northeastern Illinois, north central Cook County in northeastern Illinois until 7:45 p.m.
At 6:53 p.m. a severe thunderstorm capable of producing a tornado was located over Wauconda, moving east at 30 mph.
Flying debris will be dangerous to those caught without shelter.
Mobile homes will be damaged or destroyed.
Damage to roofs, windows, and vehicles will occur. Tree damage is likely.
This dangerous storm will be near Hawthorn Woods around 7:00 p.m.; Palatine, Kildeer, Third Lake and Forest Lake around 7:05 p.m.; Libertyville, Long Grove and Gages Lake around 7:10 p.m.; Wheeling, Mundelein, Vernon Hills and Green Oaks around 7:15 p.m.; Buffalo Grove, North Chicago, Park City, Lincolnshire and Bannockburn around 7:20 p.m.; Lake Forest, Deerfield and Riverwoods around 7:25 p.m.; Highland Park around 7:30 p.m. Glencoe around 7:35 p.m.
Other locations impacted by this tornadic thunderstorm include Mettawa, Lake Bluff, Round Lake Park, Fox River Grove, North Barrington, Fox River Valley, Round Lake Heights, Lake Barrington, Deer Park and Highwood. This includes College of Lake County, Great Lakes Naval Training Center, Lake County IL Fairgrounds, Lake Forest College, Moraine Hills State Park, and Six Flags Great America.
It also includes the following interstates: I-94 between mile markers 7 and 31 and I-294 between mile markers 7 and 31.
TAKE COVER NOW! Move to a basement or an interior room on the lowest floor of a sturdy building. Avoid windows. If you are outdoors, in a mobile home, or in a vehicle, move to the closest substantial shelter and protect yourself from flying debris and tornado indicated hail.
-----
According to CBS 2 meteorologist Mary Kay Kleist, there is a chance for storms Wednesday evening. Isolated strong to severe storms are possible, mostly north of I-80.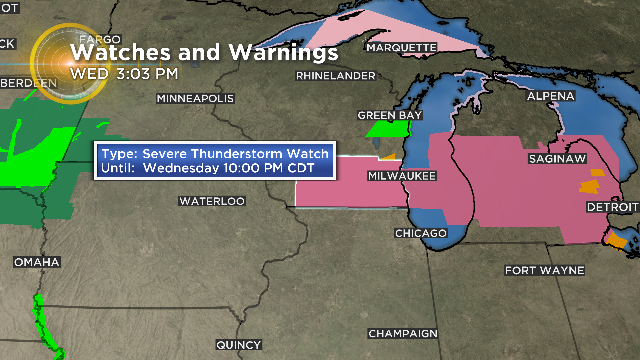 There is a severe thunderstorm watch in place for the Chicago area until 10 p.m. Wednesday.
Temperatures will be in the upper 80s, bringing high humidity. In some areas, CBS 2 meteorologist Megan Glaros said it could feel like 90 degrees.
Storms are expected overnight and into Thursday.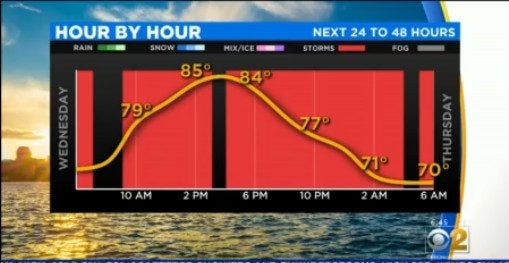 After a muggy week, sunny skies are predicted into the weekend with temperatures in the low 80s.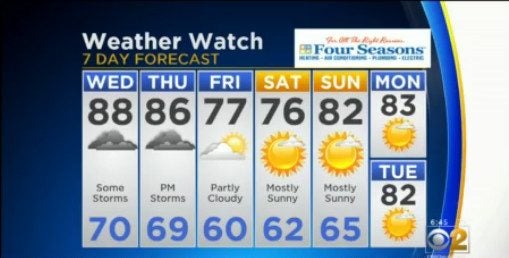 Thanks for reading CBS NEWS.
Create your free account or log in
for more features.