48 States Now On Chicago's COVID-19 Travel Advisory
CHICAGO (CBS) -- With the exception of Vermont, every state in the union is now on Chicago's travel advisory.
Last week, four other states were added to Chicago's COVID-19 travel advisory, meaning unvaccinated travelers from the vast majority of the United States are now urged to either quarantine or provide a recent negative COVID test when they arrive in the city.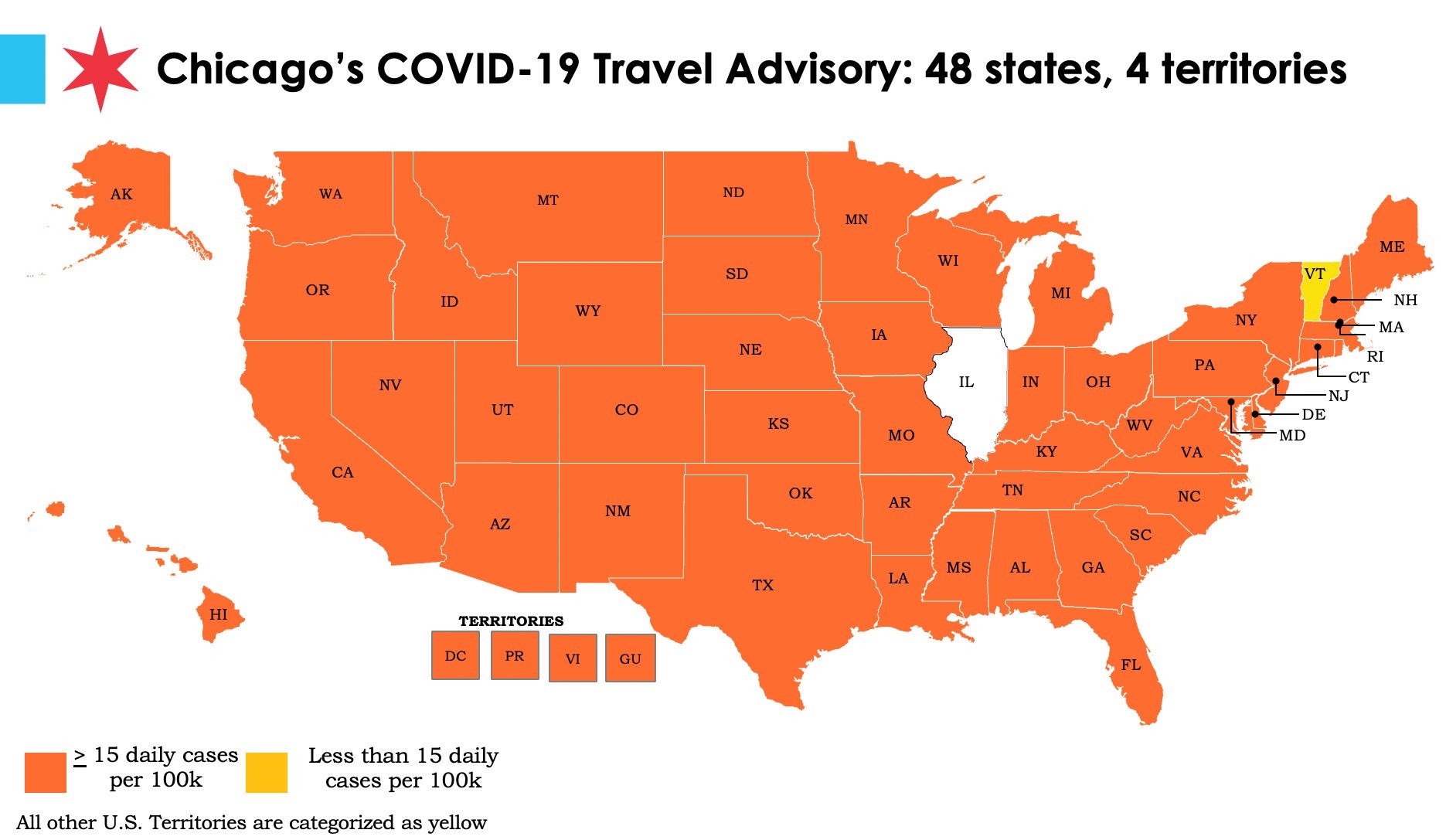 According to the Chicago Department of Public Health (CDP) unvaccinated people traveling from states or territories on the list are asked to obtain a negative COVID-19 test result no more than 72 hours before arriving in Chicago, or to quarantine for 10 days when they arrive. After arriving, the quarantine can be seven days with a test.
[scribd id=522552932 key=key-0v5VgdgXfChXdWGfwCZR mode=scroll]
Those who are fully vaccinated are exempt from the advisory to quarantine or test negative for the virus.
City officials said all travelers, regardless of vaccination status, are still subject to the city's indoor mask mandate, as well as the requirement to wear a mask on planes, buses, trains, and other forms of public transportation.
As CBS 2's Chris Tye reported Tuesday, the Chicago Department of Public Health is falling short of mandating travel restrictions rather than issuing advisories. But that could be next.
And even as it is now, the great end-of-summer road trip might have to be mothballed if you're headed out of state.
"I know that the timing of this is a little complicated with Labor Day coming up," said Chicago Department of Public Health Commissioner Dr. Allison Arwady.
Arwady also had a message for particular types of travelers.
"I would not recommend traveling, right if you have unvaccinated children - particularly younger children," she said. "The whole country is doing really badly from a COVID perspective right now."
Again, only a travel advisory is in place – not a mandate.
But school districts could take this cue to mandate travel restrictions ahead of the Labor Day weekend - requiring quarantines upon return as we saw commonplace last school year.
"It will be up to individual school systems. This is an advisory, not an order," Arwady said. "And this is the CDC advisory in the context of the worsening COVID outbreak across the whole country."
As schools return, Chicago Public Schools families have shared with CBS 2 photos of shoulder-to-shoulder hallways and students not wearing masks.
Arwady said parents need to address this at the school level.
"One day back, I wouldn't be surprised if there may be individual schools that may be thinking about needing to make some adjustments," she said.
Meanwhile, across the city of Chicago, the city reported numerous businesses have been given "a Notice to Correct" for not abiding by the new mask mandate in the last week. A total of 20 others cited for failing to follow COVID safety protocols - from soccer clubs to grocery stores.
There was some good news Tuesday in the city's COVID fight. In the last week, the test positivity rate for the city dropped from 4.5 percent last week to 4.4p percent this week.
Vaccinations in the city are up 15 percent since July.
Thanks for reading CBS NEWS.
Create your free account or log in
for more features.