George Floyd Death: Protesters Gather Outside Baltimore's City Hall, Some Demonstrators Got Violent
BALTIMORE (WJZ) -- A large crowd gathered outside Baltimore's City Hall Saturday night to protest the death of George Floyd, an unarmed black man who died in police custody in Minneapolis earlier this week.
Although the protest remained mostly peaceful for the second night in a row, some demonstrators got violent.
Video also captured a bottle being thrown in the direction of police outside City Hall, and a Baltimore Police car that had its rear windshield and rear passenger window smashed out earlier in the day.
WJZ Investigator Mike Hellgren reported that police arrived in riot gear around 9:30 p.m. after people set off fireworks outside City Hall and were seen standing on top of city-owned vans that were spray-painted with graffiti.
There were reports that arrests were made during demonstrations Saturday night.
Baltimore Police were actively monitoring the protest activity in the downtown area near City Hall where nearly three dozen remained late Saturday.
An order to disperse and stop criminal and destructive activity was given, the department said, however, Baltimore does not have a curfew and it is not illegal for the protesters to gather.
Baltimore Police also said the department has coordinated with Maryland State Police to activate additional resources to aid in order to keep the city safe.
During a press conference Saturday, Mayor Jack Young urged people to protest peacefully.
"We will protect your right for peaceful protests," Young said. "But I have zero tolerance for anything that approaches chaos and law-breaking."
"I can't have our city turned to chaos," Mayor Young added. "We will not let outside influencers come into the City of Baltimore and create chaos."
Earlier in the day, dozens of vehicles took part in a car caravan protest, which began in the city's Station North neighborhood. Some stood holding signs reading "No justice, no peace, no racist police" and #JusticeForGeorgeFloyd."
"We have said over the years, over and over, we want this to stop, and no one has listened," a protester told WJZ. "Now, they can't help but listen."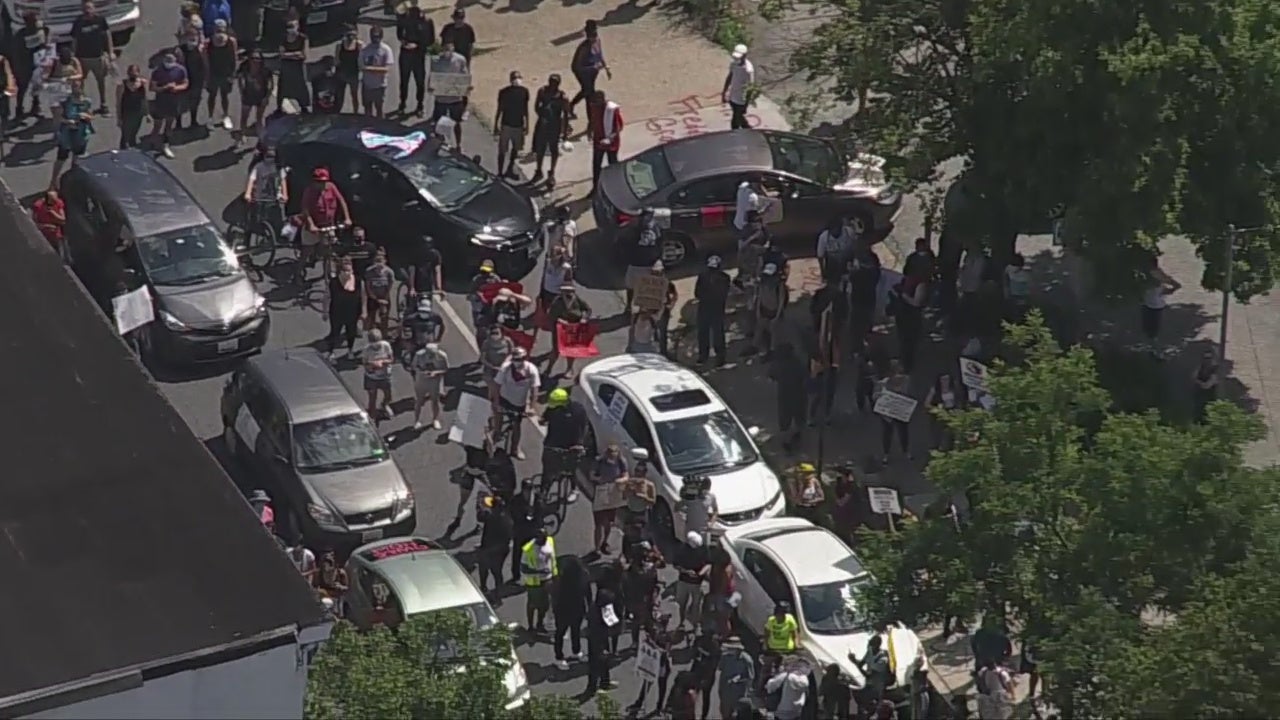 The group marched down North Avenue to Penn North at the beginning of the protest. The group later moved to outside City Hall where protesters chanted "I can't breathe."
Mayor Young said on Twitter Saturday night that the protests in Baltimore were largely peaceful, but that, "We've seen a few agitators taking advantage of peaceful protesters."
"If you are currently out on the streets of Baltimore, please go home!" the mayor said as the protests continued late into the night.
Baltimore isn't the only city where protesters gathered. Demonstrations continued around the country Saturday, including in Philadelphia, where protesters vandalized and tried to set fire to the controversial statue of former mayor and police commissioner Frank Rizzo.
Outside the White House, protesters gathered for the second straight day. At Lafayette Park, across from the White House, three lines of barricades separated protesters from a line of police officers in riot gear.
Protests were also reported in Los Angeles, Dallas, New York and other major cities.
On Friday night, a group of protesters gathered near the Inner Harbor before moving to City Hall. They blocked traffic along Light Street and remained peaceful.
Baltimore Police Commissioner Michael Harrison said the department is helping citizens exercise their First Amendment rights. He added that they are in a constant state of planning and in contact with Maryland State Police.
Read the latest coverage of the George Floyd protests in Minneapolis from WCCO-TV | CBS Minnesota.
Thanks for reading CBS NEWS.
Create your free account or log in
for more features.