UPDATE: High-Speed Stolen RV Pursuit Ends In Horrific San Ramon Crash
SAN RAMON (CBS SF) -- A speeding driver of a stolen RV, trying eluded pursuing police cars, ran a red light on Bollinger Canyon Road in San Ramon, slamming into another vehicle in a frightening collision.
The Wednesday night crash left the RV driver hospitalized with undisclosed injuries and the driver of Prius sedan with minor injuries.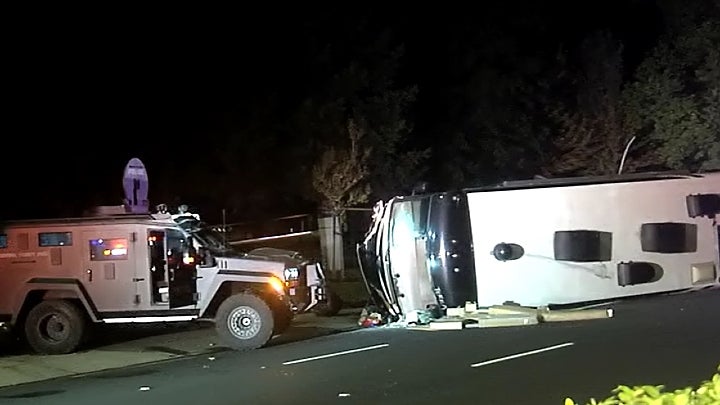 Robert Saunders was returning to his San Ramon home from work when he witnessed the collision.
"I was driving home from work, as I was going up a good grade there was a motorhome coming pell-mell down the hill, probably hitting about, I guess 90 mph," he said. "The motorhome was ripping down the hill. There was a whole line of cop cars chasing him. He was coming down to a crowded intersection."
Authorities said the driver ran a red light at the intersection of Bollinger Canyon Road and Alcosta Boulevard, slamming into the Prius.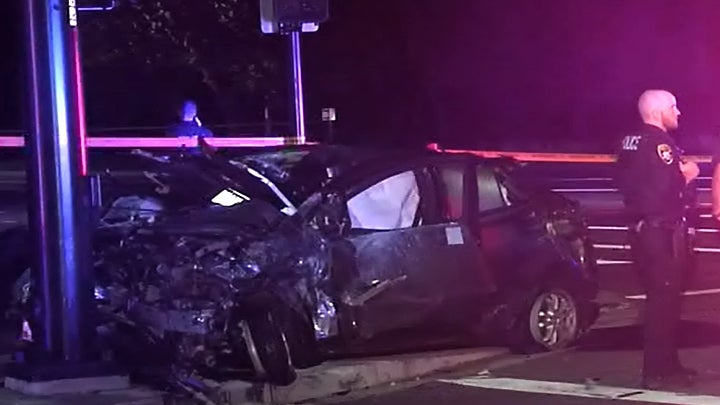 San Ramon police said the incident began at approximately 7:42 p.m. when officers were notified by the city's automated license plate reader system that a 2013 Fleetwood Motorhome, reported stolen out of San Francisco, had been spotted.
At around 7:47 p.m., officers located the motorhome on Bollinger Canyon Road near Dougherty Road and pulled it over near Camassia Way and North Wedgewood Road. Initially, the driver complied and stopped. However, as the officers approached the RV, the driver fled.
Officers pursued the vehicle for roughly 2 miles onto Bollinger Canyon Road. Officers continued to follow the motorhome with their lights and sirens activated.
Approaching Alcosta Boulevard, police said, the suspect encountered several other vehicles and made rapid movements to avoid them while also entering the intersection against a red light.
At the same time, the Prius was attempting to turn left from southbound Alcosta Boulevard onto eastbound Bollinger Canyon Road. The vehicles collided.
Initially, officers did not see the driver -- 42-year-old Eric Games of San Francisco -- inside the overturned RV, but spotted him using a drone flown into vehicle as he lie injured underneath a sofa.
He was extricated and immediately transported to the John Muir Medical Center in Walnut Creek for treatment.
Investigators said once Games is released from the hospital, he will be charged with several counts including – vehicle theft and attempting to elude police. Games already was facing two previous charges in San Francisco.
Thanks for reading CBS NEWS.
Create your free account or log in
for more features.