(CBS News) -- A sprawling investigation unfolded Wednesday as authorities scrambled to respond to a series of suspicious packages. The Secret Service intercepted two packages that were addressed to former President Obama's home in Washington and Bill and Hillary Clinton's residence in Westchester County, New York.
Another package was addressed to former CIA Director John Brennan at the New York City offices of CNN, prompting CNN's bureau and the Time Warner Center to evacuate.
A package that was originally addressed to former Attorney General Eric Holder didn't arrive at the address it was intended for and was rerouted to the return address on the label -- the Florida office of former DNC chair Debbie Wasserman Schultz.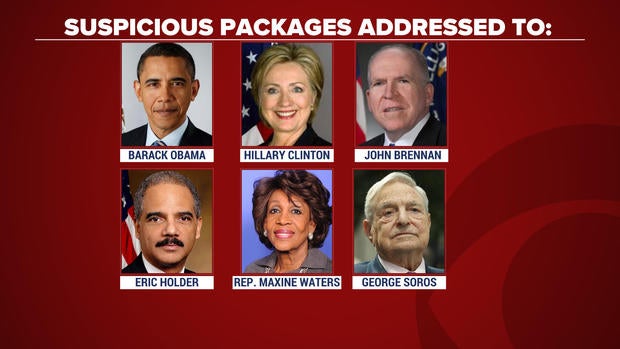 Crude but functional low-ordnance explosive devices found in at least two of the packages consisted of a pipe, wires and black powder, a law enforcement official told CBS News senior investigative producer Pat Milton.
Investigators probe devices for clues