UPDATE: Atmospheric River Winds Flip Trucks On Richmond-San Rafael Bridge; Topple Dozens Of Drought-Weakened Trees
SAN RAFAEL (CBS SF) -- Winds topping more than 50 mph howled through the San Francisco Bay Area Sunday, toppling two big rigs on the Richmond-San Rafael Bridge, ripping down dozens of drought-weakened trees and forcing residents in San Francisco's Forest Hill neighborhood from their homes.
As the storm grew in intensity, the winds whipped through Richmond-San Rafael Bridge, leading to accidents that left a pair of big rigs flipped on their sides. There was no word of injuries, but traffic was slowed to a crawl across the span.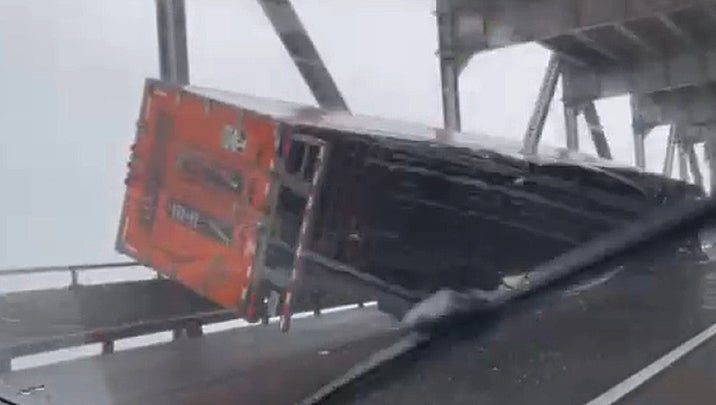 As of around 5:20 p.m., CHP said that the big-rig still had not been cleared and the left and center lanes remained blocked.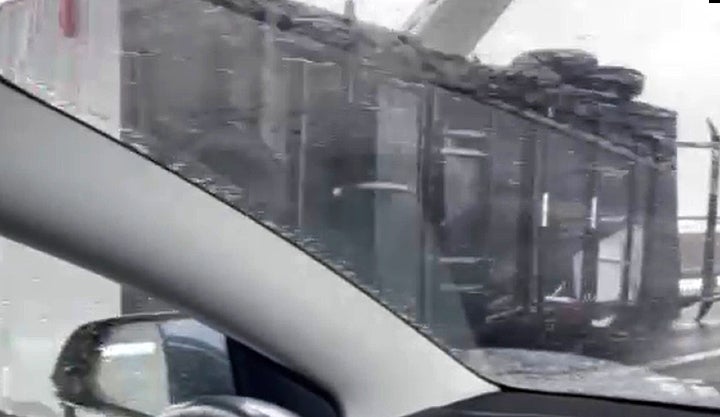 Instagram user Aman Madhar posted video that showed the moment the big rig was buffeted by the winds and pushed into other vehicles before being flipped onto its side.
The National Weather Service issued a wind advisory for much of the region until 8 p.m. as a potent atmospheric river roared into the Bay Area, packing near hurricane force winds and driving rain showers.
"Peak gusts have been around 70 mph on higher peaks with 40 to 50 mph gusts filtering into lower areas," the weather service said. "Expect the winds to linger within the main rain band but cut back before the rain begins to let off."
From Santa Rosa to San Rafael to San Francisco, work crews were being dispatched to neighborhoods to clear the downed trees and large limbs.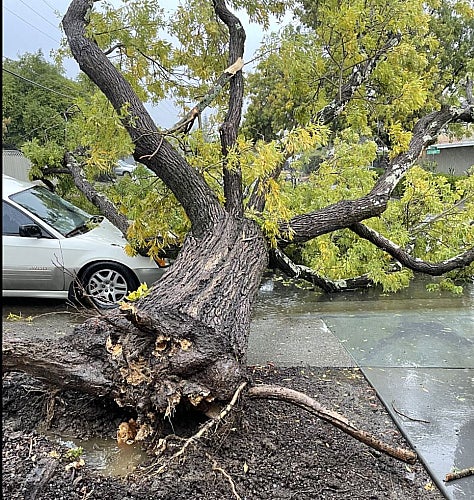 In San Rafael, a large tree toppled onto a car on Las Pavadas Ave. San Rafael police issued two advisories at around 11:35 a.m. about road closures in the 200 block of Prospect Drive and Woodland Avenue between Octavia and B streets.
The lower Great Highway in San Francisco was temporarily closed in both directions between Moraga and Lawton by another tree ripped down by the winds.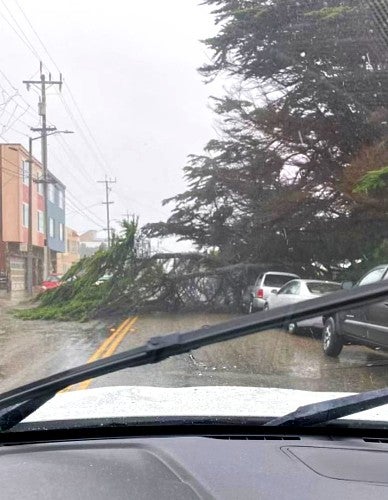 In San Francisco's Forest Hill neighborhood, fire officials issued a mandatory evacuation order for homes along a block of 9th Avenue. A 100-foot tree was leaning dangerously, threatening at least three structures.
In Golden Gate Park, Stow Lake Drive was temporarily closed Sunday afternoon due to a fallen tree.
In Los Altos, a large tree toppled on a passing vehicle, but fortunately no one was injured.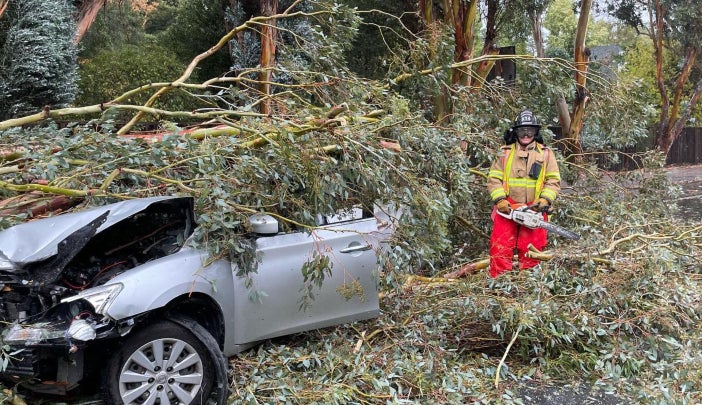 The howling gale forces winds also were whistling through the railing grates of the Golden Gate Bridge, creating an eerie soundtrack for the storm as it ripped through the San Francisco Bay Area.
The humming noise can be heard for miles and has been a source of annoyance for San Francisco residents ever since a handrail retrofit, designed to make the span more aerodynamic on gusty days, was put into place last year.
The slants are much narrower than the old handrails and vibrate in a strong wind.
Thanks for reading CBS NEWS.
Create your free account or log in
for more features.