Bucks County SPCA Offering $3,000 Reward After Cat Was Shot, Killed In Upper Southampton Township
UPPER SOUTHAMPTON TOWNSHIP, Pa. (CBS) -- A Bucks County family says their cat was shot and killed just days before Christmas. Now, a reward is being offered for information leading to an arrest and conviction.
As Upper Southampton Township Police are investigating the death of "Bambean," the heartbroken owner says this Christmas won't be the same without her beloved cat.
"It's just devastating, just devastating," Bambean's owner said.
She didn't want her face shown on camera out of concern for her safety, but you can hear the emotion in her voice as she speaks about her short-haired, four-legged pet.
"This cat just meant the world to me," the owner said.
Bambean's owner says she went outside her Upper Southampton Township home and realized Bambean escaped. The incident happened back on Wednesday, Dec. 8.
She tells CBS3 the 2-year-old indoor house cat possibly ran onto a neighbor's property in the area of Dogwood Drive, not far from Street Road when she heard a single gunshot.
"As he had gotten out, I was outside in 1- minutes, the gunshot went off that I heard that was so loud," the owner said. "And it's just not OK for a gun to go off at 2 o'clock that loud."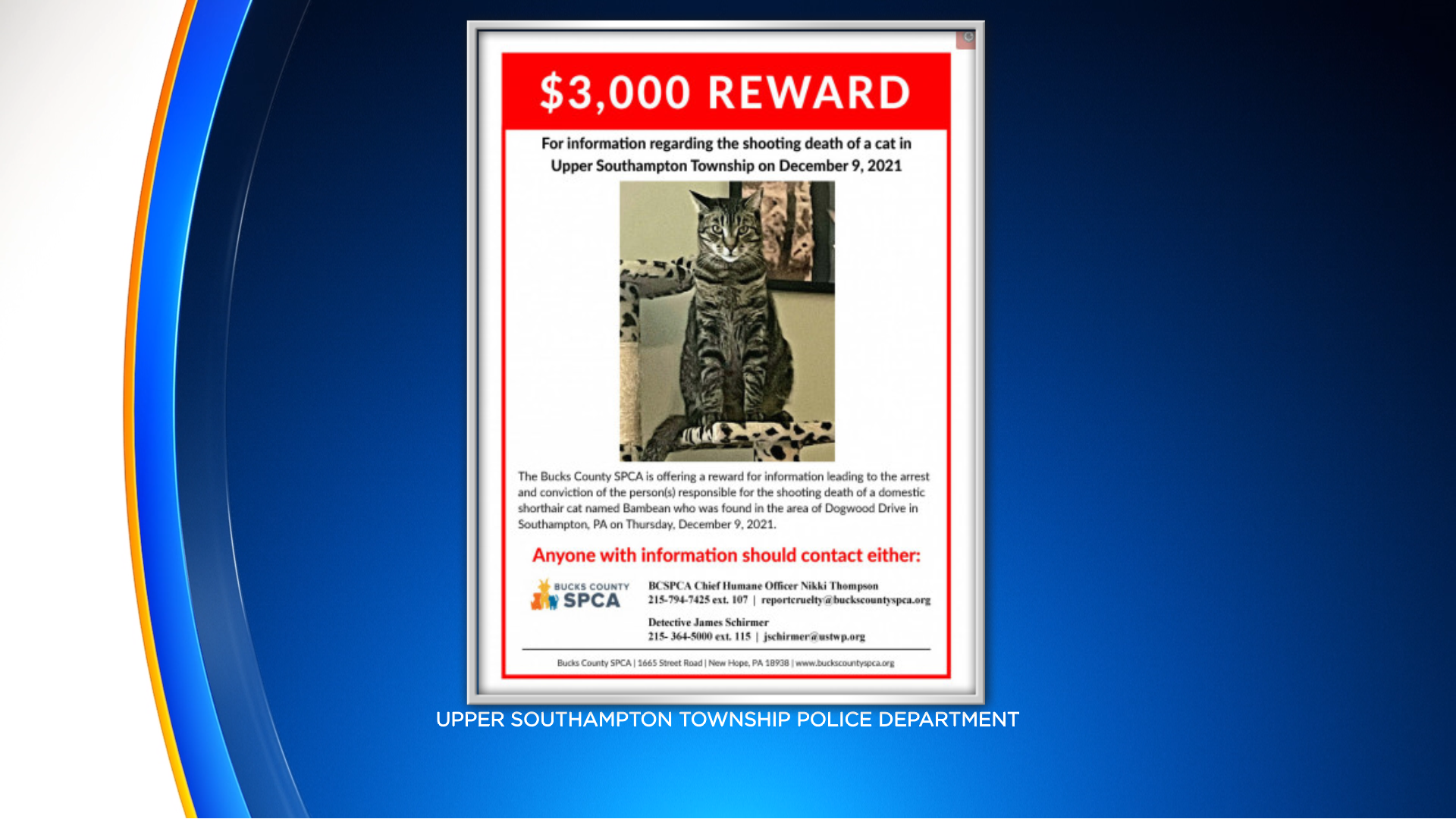 She called the police and when officers arrived, they found Bambean and rushed him to the Bucks County SPCA, but he didn't make it.
"Our vet did confirm that there was a bullet in the cat and that would have been the cause of death and so it's just really unfortunate," Cindy Kelly, with the Bucks County SPCA, said.
The Bucks County SPCA is offering a $3,000 reward for information leading to the arrest and conviction of whoever was responsible for this act.
"Violence to animals is sometimes a clue that there's also a concern about people who can be violent towards people," Kelly said. "And so it's not something to be taken lightly."
Bambean's owner has a message to the gunman.
"I would just want them to admit they're wrong. I just don't want this to happen to any other animals, that's what needs to be stopped," the owner said.
Anyone with information is asked to contact Det. James Schirmer at jschirmer@ustwp.org or 215-364-5000.
Thanks for reading CBS NEWS.
Create your free account or log in
for more features.