By Plane, Train Or Car, Philadelphia Travelers Head Out Before The Thanksgiving Holiday
PHILADELPHIA (CBS) -- After many missed a year of travel because of the pandemic, lots of people are now heading out to see family and friends for Thanksgiving. And whether you are flying, riding the rails or driving - or waiting for someone to arrive - CBS3 has you covered on one of the busiest travel days of the year.
CBS3's Jan Carabeo was at Philadelphia International Airport early Wednesday morning as a steady stream of travelers went through the TSA checkpoints. There were times when TSA was really slow and then the rush would come in, but overall travelers were moving along.
However, that can always change. Due to COVID restrictions, an influx of travelers for the Thanksgiving holiday, plus limited parking at the airport, PHL officials are urging people to:
Arrive three hours before your boarding time
Use public transportation or get a ride
And bring a mask - it is still mandatory for flying
Airport officials anticipate more than 848,000 people will pass through PHL during the Thanksgiving holiday.
For some, this was the first time getting on a plane in nearly two years so they made sure to give themselves enough time to navigate the airport.
Parking is extremely limited. The economy lot is now permanently closed. The garages have 12,000 parking spots, but those go fast.
Travelers are being strongly encouraged to use the airport's nine off-site parking partners, with around 8,700 parking spots at additional lots. Public transportation or rideshares are also encouraged.
Travelers up bright and early on Wednesday said they're excited for a bit of normalcy but anxious for the changes.
"This is a first for me to fly during the pandemic, so I'm a little nervous. I don't know what to expect, especially with the kids," a woman told CBS3. "Hopefully people don't get too crazy."
She also said she is excited to see family despite the traveling.
"It's a family holiday, I'm looking forward to getting there," she said.
Gabriel Rounbehler, of Roxborough, said, "Everyone on our flight was really good about wearing their mask the entire time. Reminders from flight attendants things like that. Seemed like everyone followed guidelines so I felt safe."
Whether by air or by rail, passengers are getting in the holiday spirit. Nothing screams holiday like a train ride, and people are at the Amtrak station on 30th Street for a day of riding.
Amtrak staff have their system down, where the platform is closed off until it's time to board, then the way is cleared for passengers to board. Before they head on down, dogs sniff around to make sure all's well. Then everyone goes on their merry way.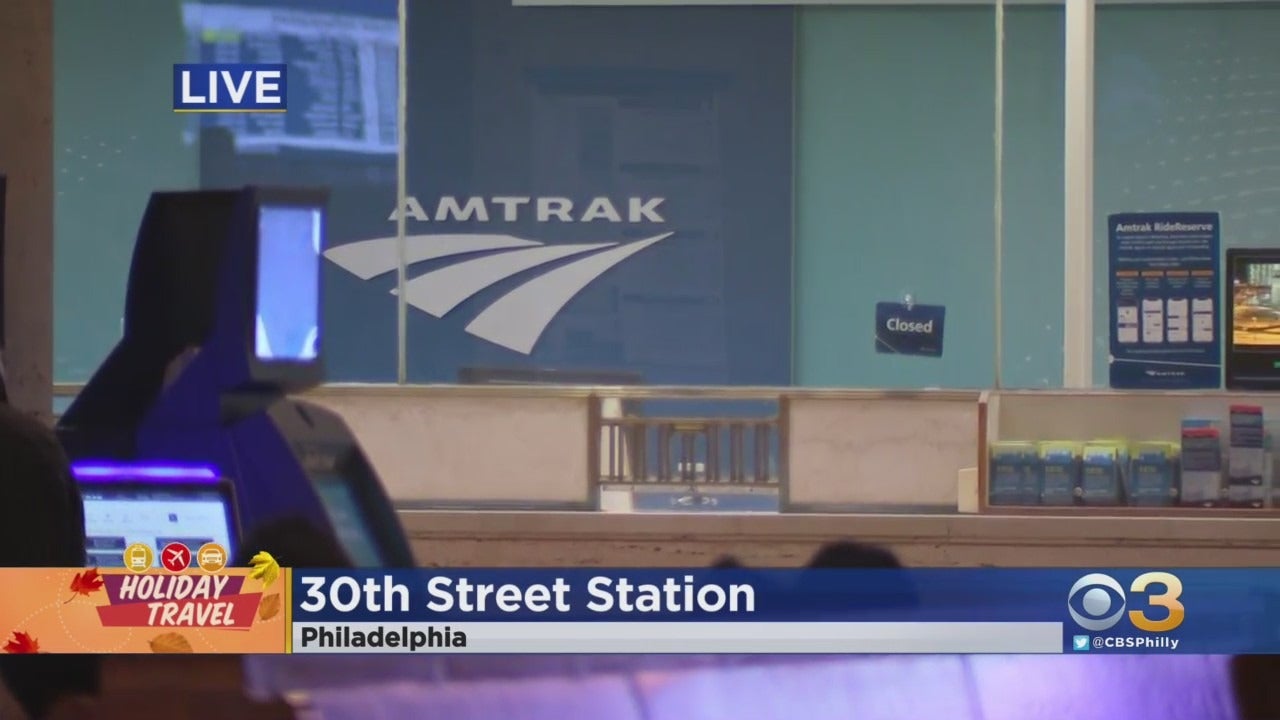 For some riders, getting on Amtrak is faster for shorter distances like New York City, and cheaper than flying for those heading longer distances. And they definitely don't have to deal with the traffic nightmare or gas prices.
Ridership took a huge hit between 2019 to 2020, especially during Thanksgiving week, mostly due to the pandemic. But as more people are getting vaccinated those numbers are going right back up.
Some riders simply prefer to take the train ride.
"I like it, it's comfortable, more comfortable than the bus," rider William Rosavo told CBS3. "I really like it, it's comfortable. I would like to go first-class, if you pay."
For those traveling on Amtrak this Thanksgiving, keep in mind:
Masks are required in all stations and on trains
The change fee is waived for reservations booked before Jan. 4, 2022
Enjoy contact-free travel by booking through the app or online at Amtrak.com. The conductor scans your ticket and you're all set.
For those worried about trains being overcrowded, you have the option to see how full each train is and can make changes without paying a fee.
If you're planning to drive to your Thanksgiving destination, here are Wednesday's gas price averages according to AAA:
In Pennsylvania gas is going for about $3.60 a gallon
In New Jersey, the average is $3.45
And in Delaware, it's $3.34 a gallon
For a complete holiday guide, including travel and Black Friday shopping, click here.
CBS3's Jan Carabeo, Wakisha Bailey, and Alecia Reid contributed to this report.
Thanks for reading CBS NEWS.
Create your free account or log in
for more features.