Off-Duty Police Officer Shot Multiple Times In North Philadelphia, Police Say
PHILADELPHIA (CBS) -- An off-duty Philadelphia police officer was shot multiple times, police said Wednesday afternoon. The shooting happened at 13th and Pike Streets in Hunting Park around 1:30 p.m.
Police Commissioner Danielle Outlaw said the officer was shot multiple times in both of his arms. The officer was able to drive himself to Temple University Hospital, where a police spokesperson confirmed to Eyewitness News he's in critical but stable condition.
Police are not identifying the officer at this time. They did say he's a 13-year veteran.
Chopper 3 was over the scene Wednesday afternoon, finding a large police presence.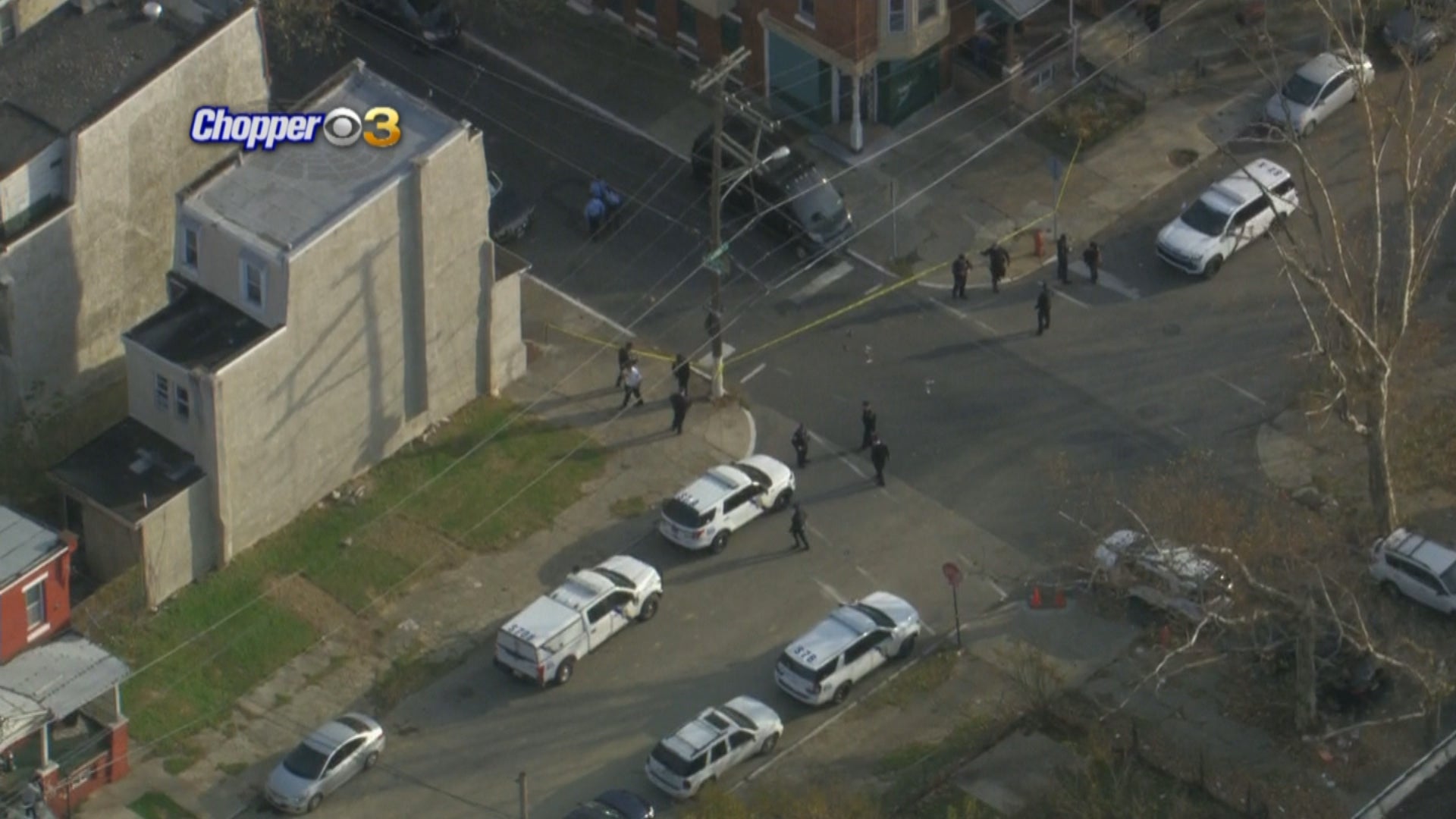 Investigators have not yet said what led up to the shooting but did say the officer was inside his vehicle when a gunman opened fire at him several times.
"It appears our officers became involved in some form of a verbal altercation with a passenger that was in another vehicle, which we believe at this point was a gray sedan that was in the area," Outlaw said. "The officer was struck multiple times in both arms, but he was still able to drive himself here to Temple Hospital and communicated with the hospital staff, who immediately took him to the operating room."
A witness told Eyewitness News he heard about six or seven shots.
Surveillance video obtained by Eyewitness News shows the moments before the 46-year-old officer was shot while sitting behind the wheel of a white four-door sedan.
The video shows a gray car making a left turn onto the 1300 block of Pike Street. Immediately after, the officer's personal car follows. And the end of the block, both cars are stopped at a stop sign. That's when the video appears to show the front passenger door of the gray car open and a person getting out. Next, multiple flashes -- likely gunshots -- are seen, enough to cause a third car to reverse abruptly to escape harm. Immediately after, the alleged gunman gets back into the gray car and its driver takes off.
Police said the suspect was last seen wearing a black jacket, leaving the scene in a gray Chrysler 300 heading northbound.
The police commissioner, the mayor and other police officials spoke about how they got lucky, alluding to the fact that this was a close call and could have been a potentially lethal encounter.
"We had the opportunity to speak with the officer's family, who is here on location," Outlaw said. "And quite frankly, we're just lucky. We're very, very lucky."
The city's out-of-control gun violence is cited as a driving force in an unprecedented crime surge, according to Mayor Jim Kenney.
"The flow of guns into this city, because of the lax gun laws in the state is causing us a lot of problems," Kenney said.
Fraternal Order of Police President John McNesby talked about the continued downward spiral when it comes to violence on the streets of Philadelphia and what officers are confronted with.
"It's terrible, it's terrible. I mean, what are you going to do? We can't have press conference after press conference talking about what we're going to do," McNesby said. "You're not going to pray your way out of it, you're not going to dance your way out of it. Cookies for cops ain't going to work. We got to get together and do old fashion police work the right way, respectful way with the community. The community wants that, believe it or not. They want to feel safe and right now, they're not doing that. Just look at the headlines every day. It's insane."
The FOP is offering a $10,000 reward payable immediately upon the arrest of the offender.
"We're offering a $10,000 reward, put up by the FOP to bring this guy in, whether it's today or tomorrow, drag him in, however you get him in," McNesby said. "You bring him in, you get paid tonight. You bring him in tomorrow, you get paid tomorrow. It's Christmastime, somebody saw what happened out there. Let's bring him in. Let's get this solved."
The shooting remains under active investigation.
For a list of gun violence resources in Philadelphia, click here.
CBS3's Matt Petrillo, Joe Holden and Alicia Roberts contributed to this report.
Thanks for reading CBS NEWS.
Create your free account or log in
for more features.