Lehigh County Man, Craig M. Bingert, Arrested By FBI For Role In US Capitol Riot
SLATINGTON, Pa. (CBS) - A 29-year-old Lehigh County man has been charged for his role in the Capitol chaos. Craig Michael Bingert, of Slatington, turned himself in on Monday.
Authorities say Bingert worked with other protesters to break through a police line.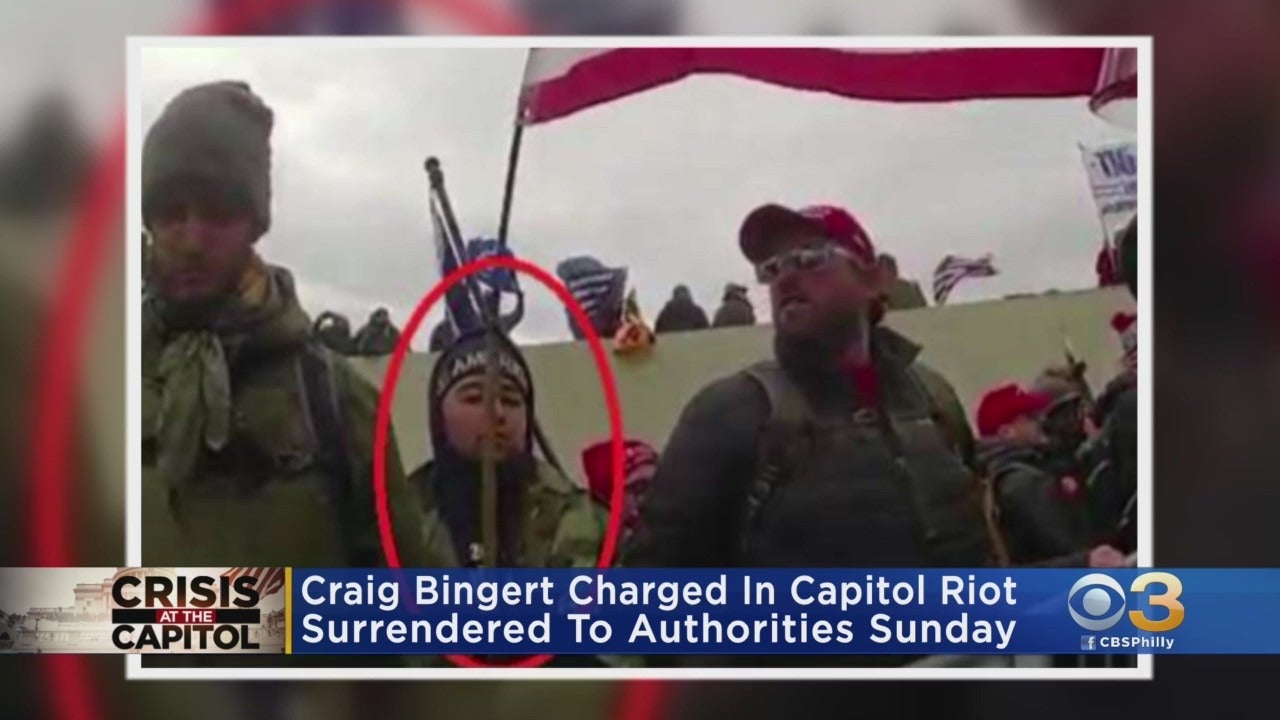 Officials say still images from a Metropolitan Police Department of the District of Columbia body camera show Bingert and the crowd pushing a barricade into MPD officers in an apparent attempt to gain access to the Capitol grounds and building.
In the video, Bingert is seen carrying an American flag.
According to court records, the group that included Bingert was shoving the barrier into the police officers, then they proceeded to lift the barrier in an attempt to break through the police line. The police then take a defensive posture and began spraying chemical irritants.
Authorities say at one point, Bingert who stayed in the area turns around to the crowd behind him chanting, "F--- the police."
Federal authorities also arrested Monday a Harrisburg woman who was wanted for her role in the Capitol uprising. Authorities say Riley June Williams allegedly stole a laptop from House Speaker Nancy Pelosi's office and was said to have plans to turn it over to Russia.
MORE ON CBSPHILLY.COM
Authorities Arrest Riley Williams, Pennsylvania Woman Accused Of Stealing Nancy Pelosi's Laptop During Capitol Attack
29-Year-Old Driver Killed When Gunman Opens Fire In South Philadelphia, Police Say
20-Year-Old Man Charged With Murder Of Milan Loncar, Temple Grad Killed Walking Dog In Brewerytown
Thanks for reading CBS NEWS.
Create your free account or log in
for more features.