New Jersey State Senator-Elect Edward Durr Apologizes After 2019 Anti-Islam Tweet Resurfaces
MULLICA HILL, N.J. (CBS) -- New Jersey state senator-elect Edward Durr is apologizing after his controversial posts on Twitter and Facebook. They first surfaced after Durr upset New Jersey State Senate President Steve Sweeney in Tuesday's election.
What a difference a day makes. On Thursday, Eyewitness News visited Edward Durr's home to talk about his surprise election upset over Sweeney.
On Friday, we were back to ask about his past offensive tweets that are raising concerns.
"I'm dealing with some stuff. I'm asking you to just give me a couple days, all right?" Durr said.
Durr didn't have much to say in person after a few of his past tweets resurfaced, including this one, where he referred to Islam as a "false religion" and "a cult of hate."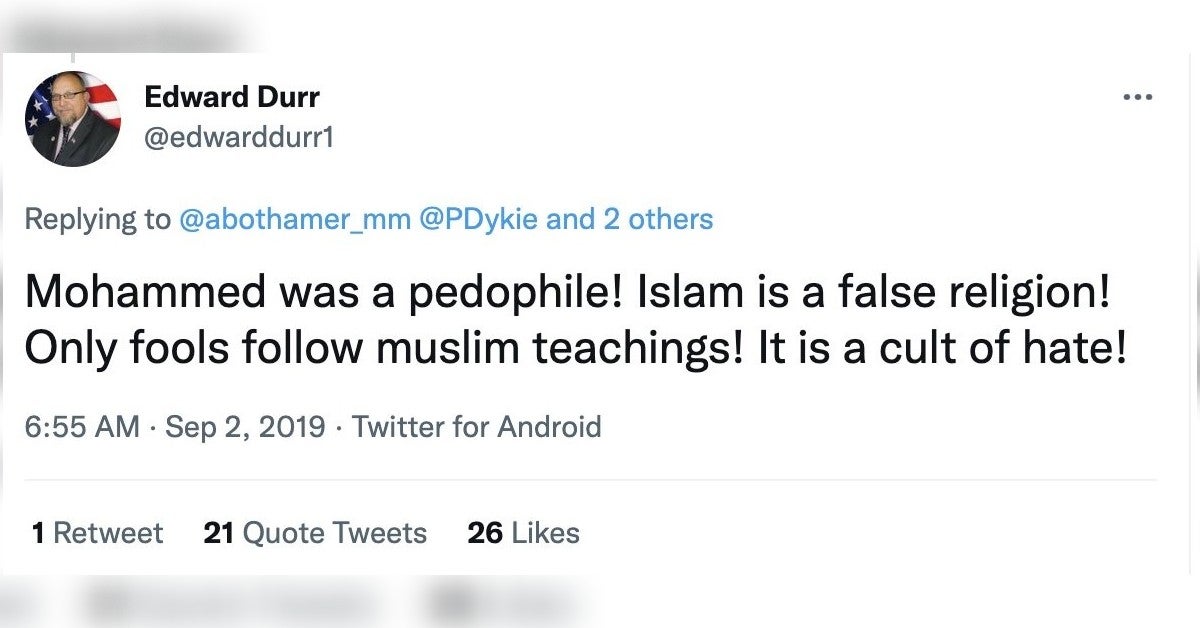 The Gloucester County Republican chairperson said Durr is taking care of his sick wife, his elderly mother, and grieving his father's recent passing.
"Has he made a mistake in the past? Absolutely. Does it define who he is? Absolutely not," Jacci Vigilante said.
The state senator-elect apologized, saying he is passionate and sometimes says things in the heat of the moment.
"I support everybody's right to worship in any manner they choose and to worship the God of their choice. I support all people and I support everybody's rights. That's what I am here to do, work for the people and support their rights," Durr said.
New Jersey Gov. Phil Murphy is appalled.
"The stuff that's on there is outrageous. I want to be unequivocal, I do not welcome this in any way, shape, or form," Murphy said.
Local GOP leadership says they won every county seat in Gloucester County, and they will protect Durr from what they say is cancel culture.
"Ed Durr is now the senator-elect. Ed Durr made a mistake in making a couple of tweets that people have now found and want to create the cancel culture around Ed Durr. We're not gonna allow that to happen," Vigilante said.
CAIR New Jersey has a meeting planned next week between Durr, their group, and local Muslim leaders.
Thanks for reading CBS NEWS.
Create your free account or log in
for more features.