20-Year-Old Critically Injured In Double Shooting At Bustleton Pool Party Expected To Survive, Father Tells CBS3
PHILADELPHIA (CBS) – A 20-year-old woman is in extremely critical condition after being shot in the leg at a ticketed pool party in Bustleton on Saturday night. The father of the woman told CBS3 the bullet hit a major artery, but she is expected to survive.
Tense moments at a house party led to several gunshots, according to witnesses and video captured.
Asia Tucker, 20, is one of two victims.
Her father says a bullet pierced a major artery in her thigh.
"I thank God she's alive," Wayne Tucker said. "She's going good, she's a fighter."
Police say an 18-year-old woman also suffered a gunshot wound and was taken to an area hospital. She was placed in stable condition.
The shooting happened at a home on the 9100 block of Verree Road in the Bustleton section of the city around 8:30 p.m. on Saturday.
It was a chaotic scene, as there were several items of clothes still left behind on Sunday as police waited to execute a search warrant.
One woman who didn't want to be identified said it was mostly college kids attending the party, which was promoted on social media.
"We just ran," a college student who attended the party told CBS3. "He unloaded a clip at a pool party, it was unnecessary. It was too loud, everybody was screaming, shaking and scared. People can't even have fun these days, that's the sad part. We can't get together and have a good time at a function because people start shooting, certain stuff ya'll shouldn't do. I don't get why people think that's acceptable."
CBS3 obtained a flyer that circulated around social media promoting the ticketed event which drew at least 100 people.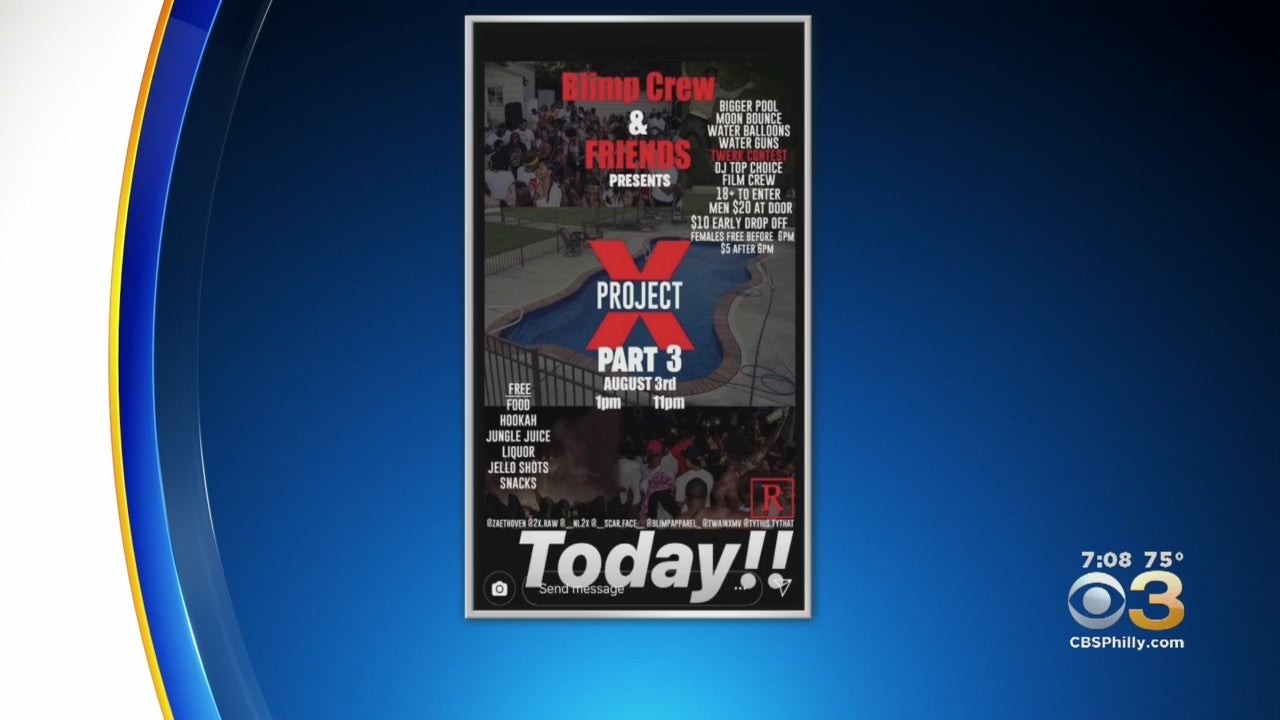 "I feel bad because I brought my friend to the party," the woman said.
Neighbors reported seeing a stampede of people in bathing suits and swimming trunks leaving the party after the shots rang out.
A resident who lives in the neighborhood says she tried to help those who were injured.
"I seen so many teens and young adults in swimming suits running barefoot," the neighbor said.
CBS3 spoke with the owner of the home who says she is a multiple amputee who allowed a friend to host a party but had no idea it was going to draw hundreds of people.
She says she was shocked to see so many people show up to her home and is devastated two women were shot.
As the community tries to make sense of another senseless act of violence, Asia's father is now wishing he could rewind time.
"Said she was going to a pool party, I asked her not to go," Tucker said.
When asked if this is every father's worst nightmare, Tucker responded "yes."
CBS3's Crystal Cranmore and Joe Holden contributed to this report.
Thanks for reading CBS NEWS.
Create your free account or log in
for more features.